Techniques & Tools
Spectroscopy,
Technology,
Genomics & DNA Analysis,
Translational Science
Breaking into Biomedicine with Raman
Sitting Down With... Wei Min, Professor, Department of Chemistry, Kavli Institute for Brain Science, Columbia University, New York, USA.
Wei Min | | Interview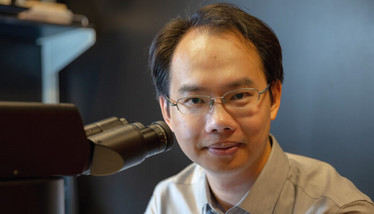 What's currently keeping you busy?
The most exciting project I'm working on is a powerful technique called supermultiplexed optical imaging, which uses Raman probes to allow simultaneous imaging of a huge number of molecular species inside cells and tissues – something no other current imaging techniques can achieve. Target molecules could be proteins, a DNA or RNA sequence, a type of lipid or sugar. We're also focused on further developing and then applying such techniques to real-world problems. For example, in neuroscience where research is constrained by the huge number of different types of neurons that interconnect at different places in the brain. Our supermultiplexed technique allows us to image different receptors so that we can identify different types of neurons at different locations in the brain.
Could you explain supermultiplexed optical imaging in a little more detail?
On the instrument side, we're using a stimulated Raman scattering, which is pretty new – the very first one was developed whilst I was a postdoc about 10 years ago. As for the probes, we were inspired by the community to develop special Raman dyes that have very sharp "colors." We synthesize these chemical agents in the lab to essentially create a "carbon rainbow" palette of probes, each one with a distinct Raman frequency.
What excites you about your field of research?
Raman spectroscopy is extremely powerful, but its role in biomedical applications has not yet been fully explored. The multiplexed technology I've mentioned doesn't really belong to the traditional field of Raman spectroscopy, but when you combine it with other areas it could be very powerful. I think we're currently in a new era for the Raman field – there are great opportunities for those who take Raman to the next level by interfacing it with other advances and other fields. Consider fluorescence microscopy, magnetic resonance imaging or ultrasound – they've all had an impact on biomedicine… Raman has yet to have that same impact – but I believe it can and will. With Raman, you have unique possibilities – beyond any other technology. I believe, with the right tools, it can play an important role in several highly important applications; for example, high-precision diagnosis, such as the sub-typing of cancers. Here, highprecision measurements using molecular information are essential; Raman spectroscopy fits this niche by offering high-precision spatial and temporal information for biological systems.
Would you describe yourself as an analytical scientist?
Well, almost everything we do – sequencing, DNA sequencing, RNA sequencing, microscopy, imaging – could be considered analytical science. I think the traditional concept of "separations" is now far too narrow. I'm glad the definition of analytical science is broadening to encompass new fields. Measurements are the first and most important thing in all areas of science – you have to understand your sample.
Raman spectroscopy is extremely powerful, but its role in biomedical applications has not yet been fully explored.
You've found yourself in a special place – a mix of synthetic chemistry, physics and biomedicine – how did you get there?
I studied chemistry at Peking University and then did my PhD studies in biophysics at Harvard with Professor Xie. I continued my postdoc training with him too. I was extremely interested by his work; in fact, I applied to Harvard because he was there! He was a pioneer of single molecule spectroscopy, and I was impressed by the physics techniques he had developed at that time to study biological systems. From very early on, I was interested by new spectroscopy developments and how they could be applied in new areas.
What do you consider your biggest challenges?
When I started as an assistant professor, I wasn't sure which was the best problem to work on. I didn't have a very clear idea about where the field was lacking – or how to develop a new field or new area of study. It's probably a major challenge for any new assistant professor in the US, where you're expected to do research in new areas. But it's tough to identify the right area. And you're in no way guaranteed success!
And so why did you choose your area?
Some special chemical bonds have very unique Raman properties – and I understood that they could be used in imaging. I realized the potential in taking those thoughts a step further by engineering very powerful probes. It is a concept that excited me – and still does.
And what inspires you?
Getting to work with very smart students. When they come into the group they don't always know much, but after working on the project for several years, they become experts in their fields. It's a kind of heritage; I help train the next generation of scientists and they not only inherit my knowledge, they also develop their own to pass on.
Where would you like to be in a couple of years?
I want conventional Raman spectroscopy users – and maybe even infrared microscopy users – to benefit from our probes. Our labeling range – or Carbow – could be much broader; there is a huge community who could benefit from this kind of imaging. We're going to push commercialization, so I think in three years it could be widely available. Once that happens, it will be very interesting to see how it is applied and what impact it can have!
Receive content, products, events as well as relevant industry updates from The Analytical Scientist and its sponsors.