Techniques & Tools
Spectroscopy,
Food, Beverage & Agriculture,
Gas Chromatography,
Mass Spectrometry
CERS: a New Tool for Biotech
Is cavity-enhanced Raman spectroscopy the future of bioreactor monitoring?
Jonathan James | | Quick Read
Biotechnology. It's a broad term, representing a multi-billion-dollar industry that influences almost every aspect of our lives – from food and medicine production to biofuel manufacturing. Monitoring technologies play a central role in maintaining high standards and to control processes, but current approaches are neither simple to use, nor cost-effective.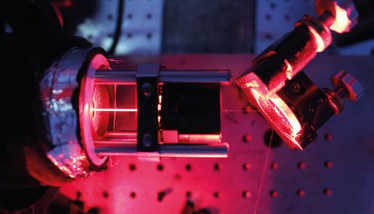 Now, Michael Hippler and colleagues (George Metcalfe, Saeed Alahmari and Thomas Smith) at The University of Sheffield, UK, have demonstrated for the first time that cavity-enhanced Raman spectroscopy (CERS) can be used to monitor and characterize bacterial growth (1) – the backbone of biotech. Employing an optical cavity composed of two high-reflectivity mirrors, the team amplified the strength of the Raman laser by a factor of up to 10,000. "Power accumulates in the cavity, like water in a reservoir," says Hippler. "A weak diode can generate a higher level of sensitivity, while remaining safe for routine use." CERS can thus be applied to monitor trace gases, including biologically relevant hydrogen, nitrogen and oxygen.
By using CERS in combination with carbon-13 sugar labeling to distinguish mixed sugar metabolism, the team was able to trace the growth of E. coli from the initial lag phase through exponential growth and stationary culture to cell death. To the investigators' "delight," CERS delivered levels of precision comparable to existing approaches. "Here, we've demonstrated that CERS is amenable to in-situ multi-component analysis with excellent time resolution," says Hippler. "Historically, this kind of analysis would have necessitated the use of expensive GC- or MS-based instruments."
So, what's needed to make the jump from prototype to industry-ready technology? "To reach its full potential, CERS will need to be miniaturized, adapted for broader non-specialized use, and undergo further stabilization," says Hippler. No small feat, but the researchers remain confident that CERS prototypes will lay the groundwork for more sophisticated, spectroscopic-based approaches to large-scale bioreactor monitoring.
Receive content, products, events as well as relevant industry updates from The Analytical Scientist and its sponsors.
GD Metcalfe et al., "Cavity-enhanced Raman and Helmholtz resonator photoacoustic spectroscopy to monitor the mixed sugar metabolism of E. coli", Anal Chem, 20, 13096 (2019). DOI: 10.1021/acs.analchem.9b03284