Techniques & Tools
Technology,
Liquid Chromatography,
Pharma & Biopharma,
Mass Spectrometry
Chromatography Peaks in Silicon Valley
When is a column not a column? We tell the story behind PharmaFluidics – "The micro-Chip Chromatography Company" – and see what's on the near horizon for µPAC technology.
Rich Whitworth |
"Quietly confident." That's how I would describe the team at PharmaFluidics and, in particular, its Managing Director, Johan Devenyns. Despite all the signs that a disruptive – but minimally dispersed – wave is about to break on a very "particula" (Latin pun, folks) liquid chromatography community, Johan is keen to attract the right kind of attention, by allowing the technology to speak for itself rather than shouting about a "microchip revolution" from the rooftops.
I admire his restraint. After all, at HPLC2017 in Prague, I had a number of conversations about a young spin-off company that was "shaking things up" – with some people expressing open concern about the future of "regular" columns.
Meanwhile, Gert Desmet (one of the co-founders of PharmaFluidics) tops The Analytical Scientist's Ten Top Tens Power List in the "Separation Scientists" and "Leaders" categories, and it feels like momentum is building for change.
I sat down with Johan to learn more about the technology, the company, and its plans for the future.
A brief history of µPAC
Always wanting to work at the very limit, it was Desmet's exhaustive computational fluid dynamic simulations – probing the effect of column order (or disorder) on chromatographic performance – that laid the foundations for PharmaFluidics' micro pillar array column (µPAC) technology. In fact, Desmet's theoretical research in this space is ongoing – and he is now using even more complex three-dimensional models in his pursuit of "the perfectly ordered column". Read more from Desmet in "Sitting Down With".
With Desmet's concept in hand, Wim De Malsche (who shares his story here) took on the not insignificant challenge of transposing theoretical models into a practical material substrate in the mid 2000s. By using lithographic micromachining processes to etch out interstitial volumes in silicon wafers to create an ordered and reproducible array of pillars, De Malsche was able to give form to Gert's vision – but there was more work to do. And so PharmaFluidics was co-founded by De Malsche, Desmet and Paul Jacobs in late 2010 as a spin-off company from Vrije Universiteit Brussel (VUB) in Belgium, to bring a radically different column to the market.
The Pittcon promise
After a relatively quiet first few years, PharmaFluidics became much more visible in 2017, with an enthusiastic team attending more than a dozen events. "I think three landmarks stand out," says Devenyns. "The first, of course, was our 'premiere' at Pittcon, when we launched the first generation of µPAC technology."
All commercial launches aim to make some sort of a "splash", but Devenyns recalls how overwhelming it was to capture so much attention as a small company introducing its first product. "The first day, we attracted a crowd of R&D experts; the second day, R&D managers came to see us," he says. "And by the end of the second day, we were being visited by decision makers and top executives." An excellent start – but also daunting, says Devenyns. "The extremely positive response to the launch really highlighted the need for us to follow through on the promises we made in terms of getting µPAC technology out into the market..."
The second "landmark" was the pricing of the µPAC column, which made it a tradable item and coincided with ASMS and HPLC in June. And in September 2017, PharmaFluidics held true to its Pittcon promise with a third landmark that coincided with HUPO in Dublin: the first commercial shipments of products. In the short time that µPAC technology has been on the market, PharmaFluidics is delighted to report that it now also has repeat customers – something Devenyns considers yet another landmark for the company; after all, there are few better reality checks than customer satisfaction.
"We're also starting to see comments from users on social media, which is univocally positive," says Devenyns. The most striking feedback has been about the robustness of the device (see "Death of an Oxymoron"), with some people reporting that µPAC cartridges are being used for many more cycles than was expected – perhaps to the slight consternation of a consumables company!
"Now, we need to maintain momentum, harness the natural curiosity in the community," says Devenyns, "and then convert that initial interest into a genuine need to integrate our technology into daily workflows – just as we are doing with our early adopters."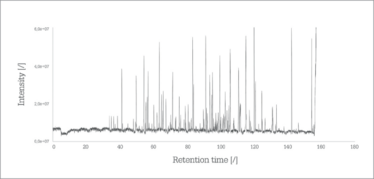 After a relatively quiet first few years, PharmaFluidics became much more visible in 2017, with an enthusiastic team attending more than a dozen events.
µPAC 101: What's so different?
Paul Jacobs, PharmaFluidics COO, explains.
Conventional columns are fabricated by stacking (packed beds) or depositing (monoliths) material into a capillary – the resulting random structure of the solid phase results in an irregular flow path through the column, which causes peak dispersion. Furthermore, back-pressures in packed bed columns rise quickly as column length increases (the touching surfaces of the beads block the flow of the mobile phase). These physical limits hamper the analysis of small, complex biological samples, which require long gradient separations. Such samples are the standard in the growing fields of proteomics, metabolomics and lipidomics, so, historically, scientists have resorted to prefractionation to extract sufficient data, which is labor intensive and wasteful of the sample.
On the other hand, µPAC separation beds are formed by carefully etching away interstitial volumes out of a silicon wafer support, leaving an array of pillars. This is done by using standard photo-mask and lithographic techniques very similar to those used for the production of the micro-electronic chips in computers, telephones, and so on. The resulting stationary phase support structure, which we call the "backbone," is organized in a reproducible, highly-ordered pattern, eliminating heterogeneous flow paths found in conventional columns. As a result, peaks are sharper and, as a consequence, sensitivity is increased.
The micromachined backbone of the separation bed forms a rigid structure that is not influenced by pressure. There are no obstructions caused by touching surfaces, and there is no risk of perturbations by pressure fluctuations. And because we're not limited by backpressure, we can create columns of unprecedented length (up to 2 m right now) in a tiny footprint, by interconnecting several separation lanes using carefully engineered (and proprietary!) turn structures that do not contribute to peak dispersion.
The current generation of µPAC technology is designed to offer more information from long gradient separations; no prefractionations are needed, as higher numbers of sharper peaks can be identified with higher sensitivity in a single run, saving labor costs and reducing small sample consumption. These unique advantages led us to focus on systems biology for the initial applications of µPAC cartridges. For example, highly detailed characterization of protein expression in cell populations or the concentration of certain metabolites.
We believe µPAC technology will also have an impact on the development of biological drugs. For peptides or antibodies, small modifications (such as glycosylations or deamidations) can have a tremendous influence on the therapeutic efficacy of a given compound. The ability to characterize a biological drug more thoroughly is of substantial value for biologic originators, for strain selection, process development, and ultimately also for tracking GMP production. For development and regulatory filing of biosimilars, precise analytical data can be used as a substitute for extensive additional clinical studies.
In forensic investigations, µPAC technology can also prove its worth by extracting more information from the minute sample volumes that typically constrain analyses in this field.
A band of pioneers
Bringing together a strong network is essential for the wellbeing and further development of any company – especially for "David" facing several "Goliaths," as is the case with any new chromatography column manufacturer trying to break into a busy market.
Most analytical scientists – and all chromatographers – will be familiar with the gurus joining Desmet on PharmaFluidics' strategic advisory board (SAB). "Pat Sandra is a veteran of the industry and brings with him great technical and scientific skill, but he is also a very keen businessman," says Devenyns. (Read data from Sandra's initial work with µPAC.) "The same can be said of Jean-Pierre Chervet, who is very sharp from a scientific point of view, but also knows the industry inside-out, having built, sold and re-built several companies." The SAB is rounded out by Allen Northrup – an inventor and "serial entrepreneur" with over 30 years of experience – and Gerard Rozing, another very well-connected individual with an impressive and long career in chromatography. "The SAB is just one visible part of our network, but provides us with clear guidance on when, where and how to move forward, both in scientific but also business terms," Devenyns says.
PharmaFluidics is also supported by a board of directors, made up of co-founders and investor representatives. Another familiar face recently joined them: Fasha Mahjoor, who made big news in 2016 by securing Phenomenex's acquisition by Danaher Corporation. "Fasha is already offering plenty of words of wisdom, in addition to his famous sense of humor," says Devenyns. "Beyond his strong business acumen and knowledge of the market, Fasha is a colorful character with an enchanting personality. I think it's fair to say that he brings a further innovative twist to the profile of the company!"
According to Devenyns, the strength of the team extends well beyond the more visible members of the boards; only the talented and passionate survive when gunning for success as a small but fast-growing enterprise. "Everyone in the company has been hand picked – and I think we all feel privileged about the core team that now stands together."
Seven Fast Years at PharmaFluidics
December 2010 PharmaFluidics incorporated as a VUB spin off
Q1 2014 and Q2 2015 Capital increase from Flemish Government, PMV and QBIC
Q4 2016 and Q1 2017 Capital increase from QBIC, PMV, Innovation Fund, Theodorus III Fund and Volksvermorgen
March 2017 µPAC launched at Pittcon 2017
June 2017 Product priced
September 2017 First units shipped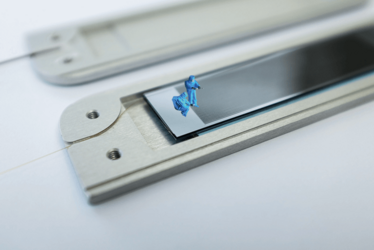 Starting small (with big plans)
PharmaFluidics' initial focus has been on nano LC, which has seen the technology being first embraced by the omics and biopharmaceutical communities, to aid in the extraction of sufficient information from complex samples. "It is a natural entry point for a technology that pushes the limits," says Devenyns. "A rather wonderful match exists between the relatively small but 'high-end' world of omics – a community that welcomes enabling technology – and the intrinsic status of µPAC technology at launch, as well as the size of our company as we scale up production."
The company will continue serving the needs of the omics community by working on the current generation of chips and on ancillary products that will support the µPAC itself – a trapping column, for instance, or devices that facilitate connection to LC systems or mass spectrometers.
However, Devenyns sees opportunities in all segments of chromatography – and the team is working very hard behind the scenes on the development of a next generation of products that will target more routine analytical HPLC and UHPLC applications – in pharma and beyond.
"Right now, we're targeting applications that require ultra-high resolution, so the current generation µPAC product specifications aim for half a million plates to reflect that need," says Devenyns. "As we move into more routine applications, we will leverage the same technology – or rather the same performance – on a plates-per-minute level, which will position µPAC technology very competitively in labs that are time constrained." In other words, PharmaFluidics is able to tailor chips to meet performance expectations, whether they be resolution, sensitivity or speed oriented.
"We have a solid roadmap of technology evolution that will require further changes to the design of the chips and the lithographic processes that produce them." When will new iterations of µPAC roll out? "Over the coming year – or two," says Devenyns, with a smile.
"When PharmaFluidics succeeds, chips will no longer be just for computers, you will find them in diagnostics, drug development, and progressively more analytical workflows," says Devenyns. "As Emily Hilder and Robert Shellie predicted (1), the future of separations technology will indeed be 'smaller, faster, smarter.'"
Death of an Oxymoron
"User-friendly and robust nano LC" – words not often spoken. Katrien Vanhonacker, VP Business Development & Sales, shares a vision of a different future.
I believe that we have two roads in front of us – but unusually (and defying the laws of physics), I suspect that we can take both routes! Of course, the product roadmap is important and exciting for us – as Johan indicates, we will continue to develop our technology to meet analytical needs outside the realm of nano LC; it enables us to grow as a company, and allows to enter and flourish in new markets.
However, our 2017 journey has been eye opening. Every time I speak with scientists at congresses, I start to realize that a second road is open to us. Nano LC has many advantages, not least the fact that it consumes low sample volumes – hugely important in clinical fields and early-stage bioprocess development – and reduces reagent use. Why do people not take advantage of nano LC? Because they are afraid that it is not robust; they've struggled with it before and, frankly, don't want to go back. But, with our chip, robustness and reproducibility are no longer issues (see Figure 1).
I believe µPAC technology has the potential to change people's perception of nano LC. We need to let the chromatography community know that nano LC is a truly viable option for their applications – even though they may have had their reservations or even discounted it before.
So, I would like to ask all liquid chromatography users a question: "Why are you not using nano LC?" If the answer is that it's not practical, I would like to introduce them to the robust future of the technique!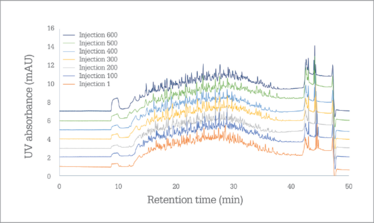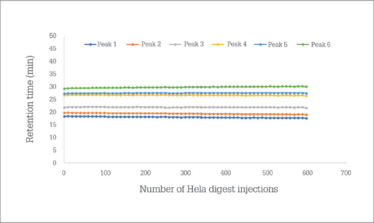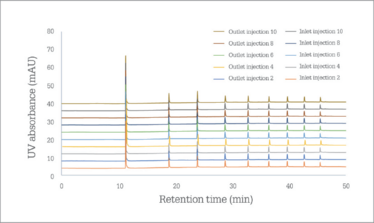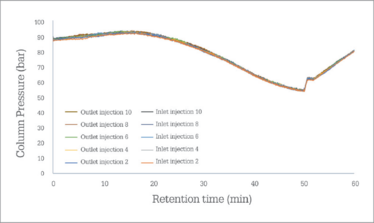 Receive content, products, events as well as relevant industry updates from The Analytical Scientist and its sponsors.