Techniques & Tools
Liquid Chromatography
Continuous Evolution
For the right task, SMB chromatography will result in higher yields, higher recovery, and higher purity than traditional batch approaches – all while using less solvent. The key hurdles are method development and process optimization, but that's exactly where KNAUER's SMB systems come into play.
Yannick Krauke |
sponsored by Knauer
In a nutshell, what is SMB?

Simulated moving bed (SMB) chromatography is an HPLC technique for the separation and purification of binary mixtures with high productivity and purity. SMB chromatography relies on a multi (typically eight)-column set-up (as opposed to the classic single column format for batch processes), which results in a continuous process in isocratic mode with constant feed and solvent input and output of two fractions. It is applied in process chromatography and can be found in many industries, for example, in pharmaceutical manufacture and fine chemical production. The production range can vary enormously – from a few grams per day to tonnes per day!
What are the advantages of SMB over batch chromatography?

In a single column batch process, only a portion of the column is used. But during the SMB process, the whole column bed is used for the separation, which leads to higher resolution and better separation of pairs that are difficult to resolve. And because SMB is a continuous process, there is a constant out-stream of the product, which is significantly less diluted than in batch processes. Often, the product can be recovered with high purity and yield.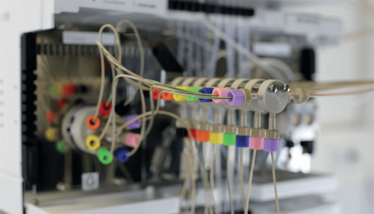 Which kinds of substance mixtures is SMB best suited for?

As noted above, SMB technology is applied in many different industries such as refinery, food and pharmaceutical industry, which showcases the wide variety of starting mixtures that can be separated. The main criteria: i) the separation must be performed in isocratic mode, and ii) the target substance is either the first or last eluting fraction. Furthermore, the sample should be free of as many impurities as possible.
Are there any major challenges with SMB?

Because SMB chromatography is a continuous process feed, solvent consumption can increase quickly during method development – which, overall, is a key challenge. Process monitoring is another challenge, primarily because no classic separation chromatograms are received at the fraction outlets.
How do KNAUER's SMB systems address those challenges?

KNAUER offers two systems, the AZURA Lab and the Pilot SMB system. The Lab SMB is the ideal system for SMB method development using small columns (ID 8 mm), whereas the Pilot SMB system is used for production up to several kilos per day. Another advantage of SMB is the ease of scale up; once the parameters are set with a small system, they can be easily transferred to a Pilot SMB. The SMB parameter calculator within the delivered software allows the determination of starting parameters for the SMB process. KNAUER offers different possibilities to monitor the process: flow meters that measure the flow at the pumps or the outlets, a sample extraction valve to obtain a concentration profile, and UV or refractive index (RI) detectors.
What common questions do customers ask?

Customers often have separation and purification tasks and want to know if SMB can be used. KNAUER offers direct support with the SMB experts from the Product Management and Application department to discuss the potential with customers.
Recently, many requests have come from the cannabis industry. Depending on the sample, SMB can be applied in this field – mainly to increase Delta-9 THC purity from treated cannabinoid samples. KNAUER is working with academic and industrial partners to integrate SMB in the cannabis field.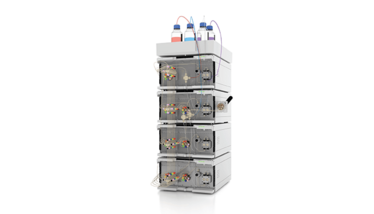 Have there been any recent developments in SMB technology?

The core principle of the SMB process has not changed significantly over the years, but there are many system setups. The classic setup consists of eight columns arranged in four zones with different flow rates and valve(s) that enable the rotation of the column. But column and zone numbers – and their distribution – vary by system. Most interestingly, there are now several approaches to integrate SMB into existing downstream processes and/ or to replace batch chromatography steps.
Are there any wider trends that SMB technology is addressing?

When it comes to sustainability – a big topic on many people's mind, SMB processes have the potential to make chromatographic processes greener. In comparison to batch chromatography, SMB requires less solvent – because of the recycling that takes place as part of the process – and it uses less energy given the use of higher concentrated products. Plus, the system size and columns are smaller compared to similar preparative systems, thus using less material.
Receive content, products, events as well as relevant industry updates from The Analytical Scientist and its sponsors.