Techniques & Tools
Liquid Chromatography
Dream Small
A wish come true for analytical scientists in the field? We profile the new breed of portable HPLC instruments.
Milton Lee, Andrew Alpert, Yury Zelechonok |
Focus LC – Axcend
Serial inventor and CSO Milton Lee tells us about his patented nanoflow LC technology.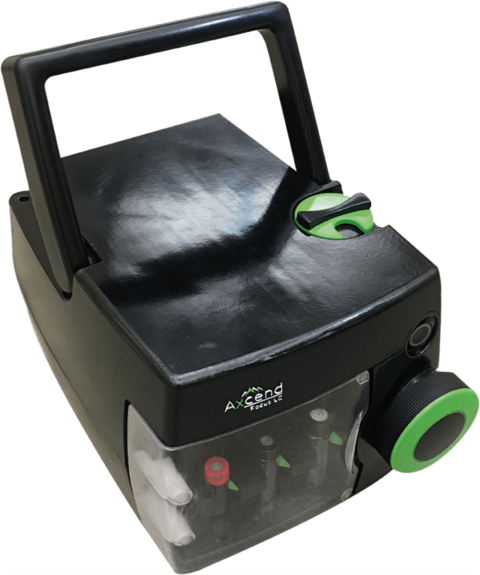 Vital statistics
Size: 30×20×20 cm
Weight: 6.8 kg
Release date: Fall 2018
Why is size important?
The bulk and weight of existing LCs mean that they are almost always fixed, lab-based systems, which leads to obvious analytical delays, given that samples are gathered outside the lab. But it also means scientists often jump through logistical hoops just to get samples from one end of a lab to the other.
I had often wondered what the boundaries might be if I was to start with a truly 'blank slate' for a new HPLC...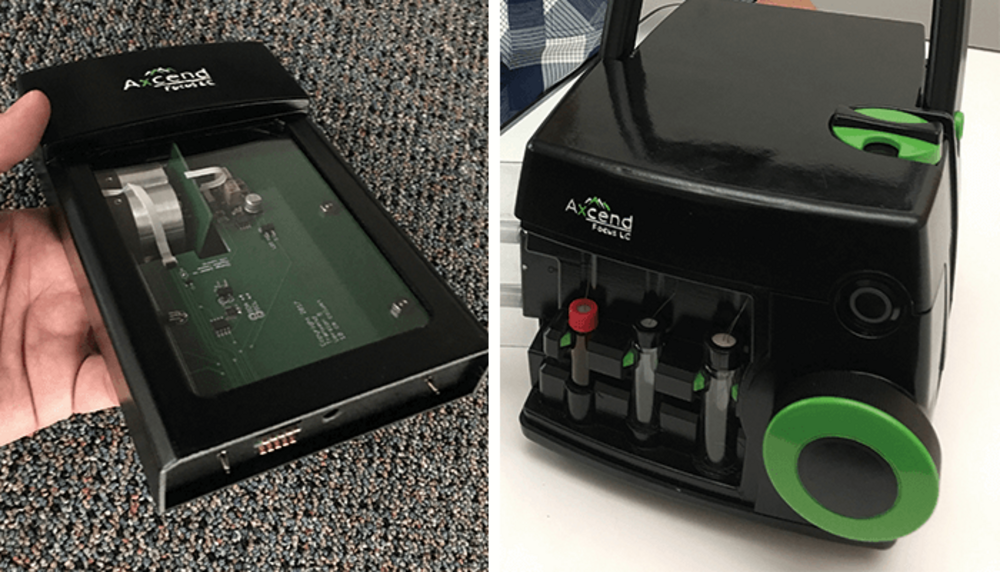 Talk us through the tech
Given my focus on capillary separation techniques, I had often wondered what the boundaries might be if I was to start with a truly 'blank slate' for a new HPLC. The result of this tabula rasa approach was the Axcend Focus LC, an HPLC that measures just 11.8×7.9×7.9 inches (~30×20×20 cm), weighs under 15 lbs (6.8 kg), and operates on either battery or electrical outlet power.
To create an HPLC the size of a toaster we used 150µm nano-flow internal diameter capillary columns packed with 1.7 µm–3.0 µm fused silica particles. As we experimented with smaller capillary columns, we realized we needed a significantly flatter angle for detection purposes. But 150µm ID capillaries also meant volumes dropped to almost nothing – for analytes and water – while also producing virtually zero waste. Additionally, we found we could support up to 20,000 psi (1,379 bar) and generate 100 times greater sensitivity than traditional LCs.
Visual/statistical output from the Axcend Focus LC will be delivered securely and wirelessly to any Web-connected smartphone, tablet or personal computer capable of HTML5 display, with the additional ability to connect via a USB cable to any PC.
What are the applications?
The instrument was designed specifically for applications involving analysis in the field. Among the applications we're targeting are environmental contamination, crop testing, and criminal investigations, to name just a few. A pleasant surprise has been how many traditional LC users have expressed interest in a smaller instrument.
What's next?
Initial availability for the Axcend Focus LC is slated for Summer 2018, with general availability beginning in the Fall.
Sum up your product in a tweet
Under 15lbs, with 150µm nanoflow ID capillary columns and up to 20Kpsi, it uses 1/500th the H2O and analytes of conventional LC and has 100× greater sensitivity, but produces just half a teaspoon of waste per week.
Smart HPLC – PolyLC
CEO Andrew Alpert gives us the lowdown on the latest product from PolyLC – a small company with a big impact.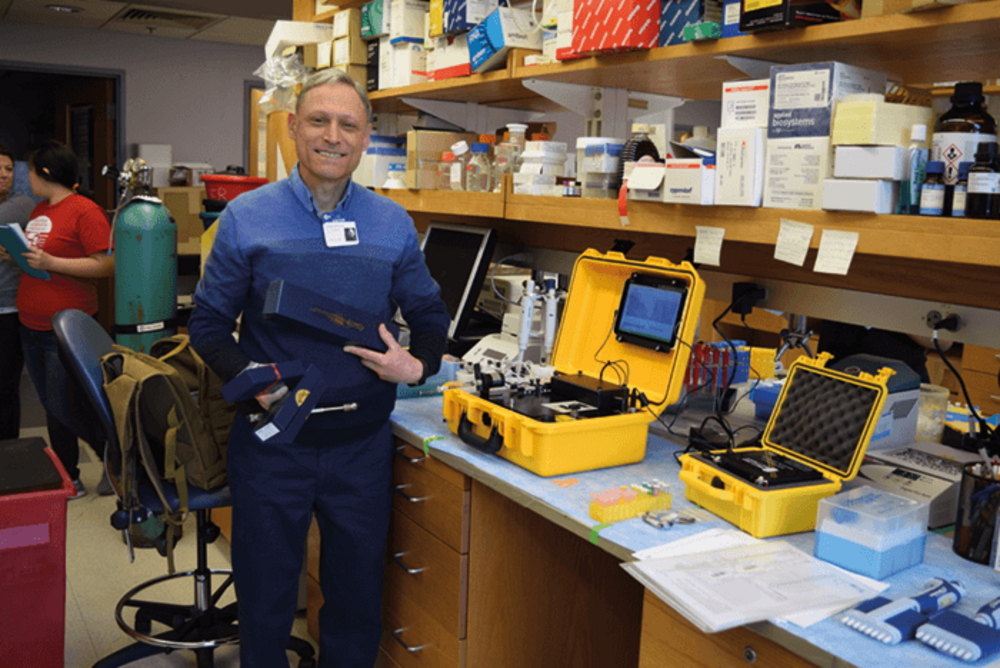 Vital statistics
Size: 41 × 32 × 17 cm
Weight: 11.3 kg
Release date: January 2018
Why is size important?
A portable HPLC system permits real-time analyses in the field, facilitating point-of-care clinical diagnostic testing and environmental analyses, to name just two.
Talk us through the tech
Advances in several technologies made the Smart HPLC (and application-specific instruments such as Smart LifeLC and Smart CannaLC) possible, including:
Tablets that can replace computers as the controllers
LED-based compact detectors
Compact high-pressure pumps
Together, these factors permitted the design of a rugged system that fits inside a plastic instrument case and weighs just 25 lbs.
The Smart HPLC system works like any other HPLC and operates with conventional columns. It uses Clarity software for instrument control, data collection and generating reports. Though the system is compact, all components are readily accessible.
Repairs involve simply shutting the case and sending the unit overnight to a central repair facility, while a loaner unit heads the other way – a new paradigm for customer support.
The Smart HPLC system works like any other HPLC and operates with conventional columns.
What are the applications?
We envisage applications in public health campaigns and environmental analysis, and for student use in college labs.
What's next?
We are planning a demonstration tour in sub-Saharan Africa to screen for hemoglobinopathies in remote towns, in conjunction with public health authorities.
Sum up your product in a tweet
The Smart HPLC is a fully featured portable HPLC instrument, designed for assays that can benefit from mobility as well as functionality. This includes diagnostic testing in remote locations and testing food and water in the field.
Cromite Chemical Analyzer – SIELC Technologies, Inc.
Company president Yury Zelechonok tells us how Soviet-era technology has been reinvented for cutting-edge analysis.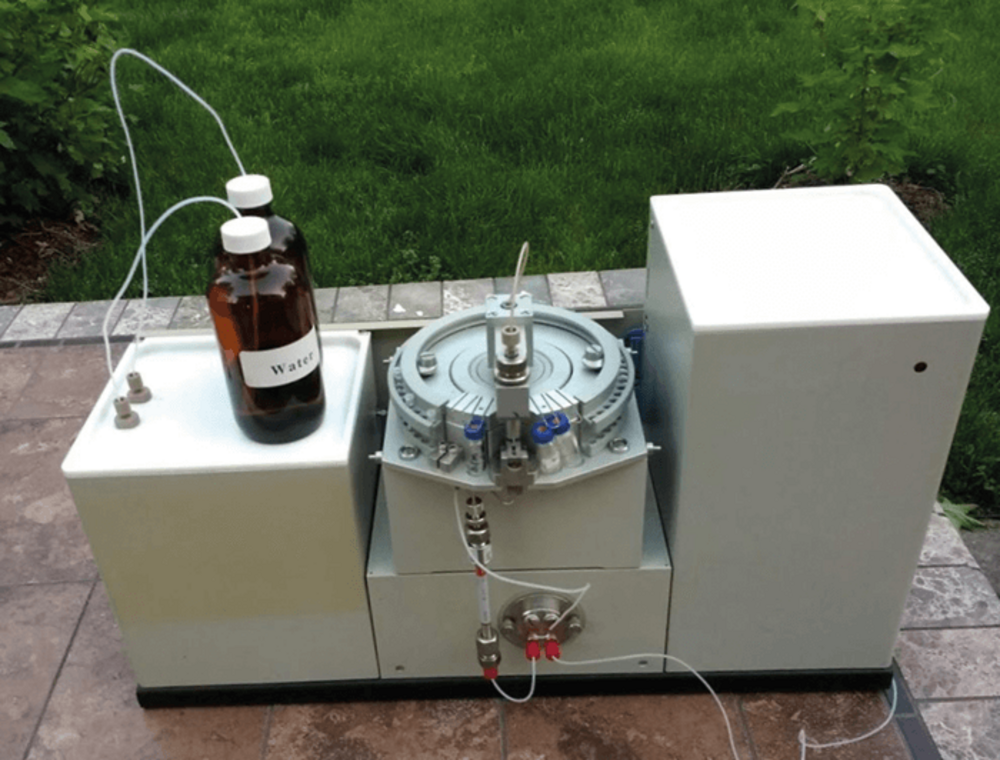 Vital statistics
Size: 18×9×9 cm
Weight: 2 kg
Release date: Fall 2018
Why is size important?
First, in most cases it is more economical to produce and operate a smaller instrument. Second, as instruments get smaller, new opportunities are opening up for mobile applications. Third, if the price and cost of ownership are low enough, new types of consumers can begin to enter analytical chemistry; for example, cannabis growers could carry out their own tests.
Talk us through the tech
Several of the important concepts behind the miniature HPLC came from a Soviet-era instrument called the Milichrom, developed in the 1990s by G. Baram and colleagues in Novosibirsk (Russia). Milichrom failed to penetrate the international market, but it was a pioneering development.
Our miniature instrument works just like any other HPLC, but every major component of the device has been re-evaluated and redesigned with two principles: first, to make it smaller, with no loss of performance, and second, to make it easier to use.
For example, the sample is introduced by a special disposable probe, eliminating the need for a syringe, a high pressure valve, and sample loop.
Compared with conventional HPLC systems, Cromite is 10 times cheaper, about 10 times smaller, and does not require any special skills to operate – and can still perform most methods currently carried out in conventional HPLC.
Who is it for?
The main users of the miniature HPLC are non-analytical lab customers, for example:
Chemical/food/cosmetics manufacturing
Synthetic labs
Environmental field tests
Schools/universities as an educational tool
Consumer health and drug abuse monitoring (urine test)
Counterfeit detection (drugs, food, chemicals).
What's next?
We are busy finalizing the design and streamlining production. We are also making the operation of the instrument as simple and reliable as possible through smart, user-friendly software.
It is hard to charge a premium price for smaller devices and I think the instrumentation industry will resist the change unless real competition starts to emerge. But change is inevitable due to miniaturization, integration, and cost reduction of electronic elements, which leads to simplification and miniaturization of mechanical components.
Sum up your product in a tweet
Cromite is a small HPLC analytical instrument with an innovative approach to solvent delivery, column geometry, sample introduction, and detection, controlled by smartphone software with cloud-based data storage and interpretation.
Subscribe to The Analytical Scientist Newsletters
About the Authors
Milton Lee
---
Andrew Alpert
---
Yury Zelechonok