Techniques & Tools
Gas Chromatography,
Mass Spectrometry,
Spectroscopy,
Technology
Driving GC-VUV Applicability
Introducing VUV Analytics' newest recruit – Jack Cochran – who brings 30 years of gas chromatography experience as Senior Director of Applications.
Jack Cochran |
sponsored by VUV Analytics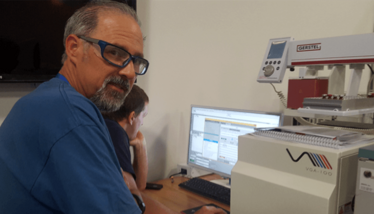 Tell us about your journey into VUV Analytics...
I'll start at the beginning (but not as far back as when I was born) by stating that I've always had a love of gas chromatography. I grew up as a gas chromatographer at EPA in Oklahoma and so GC really was my entry into the wider analytical world. And if GC has been the heart of my whole career, detectors have been the 'brain', so I've always maintained a strong interest. I've done a great deal of mass spectrometry – both as a user and on the vendor side – but I've worked with all GC detectors over the years, and I've always been keen to follow promising advances.
When the opportunity to move back into the detector game came along (and in a much more pleasant climate), I jumped at the chance. I could see that the VUV detector offered the potential to speed up analyses in ways that weren't possible with non-selective detectors – or with MS in some cases (co-eluting isomers, for example). Another big reason for my move is that the detector is so darned cool; it's unique – and given that so few detectors come along for GC, it's also hard to ignore. Consider that vacuum ultraviolet absorbance spectroscopy was historically considered to be too difficult – the materials engineering solutions that were applied to allow us to collect absorbance spectra in the VUV range is tremendous.
Finally, I have to say that the attraction of a successfully growing start-up company also pulled me in the right direction. Now that I'm later into my career, I want to have more and more of an impact. Who doesn't want to go out in a blaze of glory?
Let's dwell on the "uniqueness" – how great is it to see VUV spectra for the first time?
We recently discussed methanol and ethanol in transformer oil as a headspace application – and when we acquired the data for the first time, I saw a good oxygen peak, but I was blown away by the fact that I was looking at a brilliantly shaped water peak. Given my background – environmental, food, and so on – I'm used to looking at pesticides, PCBs and PAHs, but to chromatograph water like that and gain an authoritative spectrum... it's just not something I'm used to.
It's great to still be able to enjoy the thrills at the bench. My new office is just across from the lab – and call me the lurker or the kibitzer, if you will, but I love being in there, working with the talented young chemists. I'm there to offer advice and support, of course, but most of our time is spent sharing in the excitement of seeing something new. The absorbance spectra of compounds for the first time, the different spectra of isomeric compounds, the ability to compress chromatography through high flow rates – all of these things are spellbinding to me. And I've only been here three months...
How did you perceive VUV detection before you joined?
Most of all, I was impressed by the fact that they were actually able to do it! As I mentioned, you don't see new detectors come along for GC very often, so I remember wanting to find out what it could do. I arranged a 'lunch-and-learn' seminar for my colleagues to hear about VUV detection. CTO Dale Harrison gave an impressive presentation on the technology and how it could be applied. He actually downplayed the team's GC skills – I was impressed not only with the detector, but also what they were achieving with it from a chromatography perspective.
I also started to see VUV detection popping up in the programs of various chromatography meetings. At Restek, we were developing a new GC column for PAH separations, where there are some important isomers – chrysene and triphenylene being a notable confounding pair that can't be resolved by mass spectrometry. We spent quite some time working on a chromatographic solution... and then I listened to a talk by Kevin Schug on the deconvolution of chysene and triphenylene without the need for separation. I thought, "Wow." It made me re-think the potential to simplify chromatography.
Where do you see VUV detection heading from an applications point of view – what are the killer apps now and in the future?
One of our "killer apps" – the relatively new ASTM D8071 method for the determination of hydrocarbon group types, and select hydrocarbon and oxygenate compounds in finished gasoline. It's getting a lot of interest right now, especially because PIONA analysis typically requires a reformulyzer, which is expensive, not to mention hard to operate and maintain. I foresee us continuing to make progress in fuel analysis applications.
We are also working extensively in areas where formaldehyde determination is important. Formaldehyde is almost invisible to FID and requires derivatization, but it has a very nice absorbance spectrum.
Residual solvents in pharmaceuticals is likely to be another killer app. Here, our compression of the chromatography is attractive and made possible by time-interval deconvolution techniques for analytes of interest, which make co-elutions less of a concern. And there is an exciting possibility of determining water, formaldehyde, and residual solvents in pharma samples – simultaneously.
Water determination in solvents (as an alternative to Karl Fischer titration) is another application that we're assessing; we think it looks very promising.
Further into the future, there are many areas that stand to benefit from the advantages of VUV spectroscopy. Petroleum applications will continue to play to our strengths – in particular, the fact that aromatics absorbance is so strong and can be distinguished from saturates will allow us to offer process stream analyses that wouldn't be accessible without more complex equipment. And that's echoed in MOSH/MOAH applications in food packaging analysis. (I remember a fantastic talk from Koni Grob many years ago at an ISCC meeting; I think it was called, "Lubricated Packaging, Lubricated Food, Lubricated People.") Grob's method for the determination of MOSH and MOAH components involves an extraction from the material of interest followed by online LC-GC-FID (classic Grob!). We think we can make headway here and remove the need for the silica gel LC step...
Reader GC Survey*
>50% of respondents would consider an alternative method with a reduction of 10–30 mins in chromatography runtime/analysis time.
Jack says...
"From this result, I'd say that people have become more moderate in their thinking than I would expect. Chromatographers have spent a lot of time over the years talking about how we were going to employ 0.1 mm ID (0.1 µm film thickness) columns to do everything ten times faster. But that's just not realistic from a sample loading capacity standpoint. When it comes to runtimes, I believe it is often possible to reduce them 2–4x or more with the technology we have; for the most part, we're not flow limited and nor are we isomer co-elution (or other co-elution) limited because of the uniqueness of VUV absorbance spectra.
"Going back to the method for methanol and ethanol in transformer oil, we actually went up to 8 ml/min carrier gas flow to shorten the runtime – but that meant the GC was actually waiting for autosampler headspace equilibration. At that point, it doesn't make sense so we backed off to 4 ml/min, which is still much too high for most mass spectrometers. Not only did the higher flow allow us to reduce runtime, but it increased detectability because we could take the split ratio down to as low as 2.5. As a chromatographer who looks at these things in detail, that's extremely exciting to me. Given the many advantages of increased flow, it will be a strong focus for us."
>68% of respondents found that differentiation of isomers was a significant time burden.
Jack says...
"The first thing I would say is that the potential to separate positional isomers by their VUV absorbance spectra is way higher than with mass spectrometry, which almost always yields essentially the same mass spectra. The mass-to-charge peak heights and ratios may be different, but overlap of ions is inevitable, meaning that deconvolution is not possible. Numerous papers show the utility of VUV when it comes to isomers; Schug's group published a great paper on deconvolution of dimethylnaphthalene isomers, for example (1).
"Terpenes and turpentines are challenging from a co-elution perspective simply because there are so many of them. And where previously we might need to use a less thermally stable but more selective GC phase in the hope of separating them, we can now turn to the detector for selectivity and use more robust columns. That's a huge mindset change for me – but one that I am enthusiastically adopting! Of course, you could always keep your selective column and gain from compressing the chromatography..."
37% of respondents spend 10–30 min/sample on interpreting data and reviewing results
Jack says...
"People considering VUV spectroscopy may be concerned about data review with an unfamiliar technique. Consider the ASTM D8071 method, where data processing really is almost fully automated. In brief, retention index values are being used in the background for peak finding and so the detector cruises along finding the appropriate compound of interest for spectral library matching; time-interval deconvolution and absorbance responses are automatically tied into response factors that have been generated for each compound class – and you get presented with a report at the end. Each application is different, but a similar approach could be applied to any sample using our VUV Analyze tool. And if you've optimized your runtime by compressing the chromatography, wouldn't it be kind of silly to immediately lose the time saved on data review? We want to reduce that burden."
76% of respondents use mass spectrometry
3% of respondents use VUV spectroscopy
Jack says..
"Oh – that's easy to comment on... Both numbers should clearly be closer to 100 percent! And we'll be developing more and more real-world applications to convince people about that from a VUV spectroscopy point of view..."
*Results come from a short survey of 91 readers working with applications in agriculture, chemicals, environmental, food/beverage, forensics/toxicology, life science/clinical, materials, natural products, petrochemical, and pharmaceutical sectors.
Receive content, products, events as well as relevant industry updates from The Analytical Scientist and its sponsors.
J Schenk et al, "Analysis and deconvolution of dimethylnaphthalene isomers using gas chromatography vacuum ultraviolet spectroscopy and theoretical computations", Anal Chim Acta 945, 1–8 (2016).