Techniques & Tools
Gas Chromatography,
Food, Beverage & Agriculture,
Environmental
Eat, Sleep & Breathe GC/MS
Today's food and environmental testing laboratories face unprecedented challenges: the ever-increasing demand for safety testing, growing concern over emerging threats and lower reporting detection limits, coupled with increased pressure on resources and budgets, mean productivity and return on investment are a higher priority than ever.
sponsored by Agilent Technologies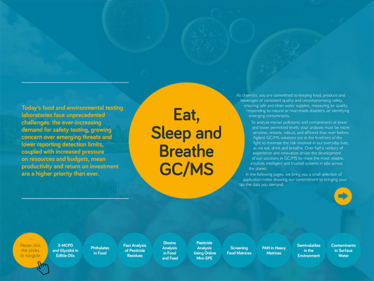 As chemists, you are committed to keeping food, produce and beverages of consistent quality and uncompromising safety, ensuring safe and clean water supplies, measuring air quality, responding to natural or man-made disasters, or identifying emerging contaminants.
To analyze myriad pollutants and contaminants at lower and lower permitted levels, your analyses must be more sensitive, reliable, robust, and efficient than ever before. Agilent GC/MS solutions are at the forefront of the fight to minimize the risk involved in our everyday lives, as we eat, drink and breathe. Over half a century of experience and innovation drives the development of our solutions in GC/MS to make the most reliable, intuitive, intelligent and trusted systems in labs across the planet.
In the following pages, we bring you a small selection of application notes showing our commitment to bringing your lab the data you demand.
Receive content, products, events as well as relevant industry updates from The Analytical Scientist and its sponsors.