Techniques & Tools
Liquid Chromatography,
Pharma & Biopharma
Faster HPLC – Without the Downtime
How KNAUER's new pump and liquid handler for the AZURA system help bridge the gap between classic HPLC systems and the demand for fast, reproducible high-resolution methods – especially in the biopharma industry.
Christian Schmidt | | 3 min read
sponsored by Knauer
Over the past decade, there has been a steady trend towards faster and higher resolution HPLC methods – but that also means higher operating pressures. Here, improved stationary phase materials combined with smaller particle sizes and column diameters have helped. In addition, to achieve the separation efficiency required with significantly smaller peak volumes, we've seen optimization of the tubing and other system components in the liquid path. However, optimizing liquid paths in this specialized way isn't possible with most conventional HPLC systems. The major challenge is getting the system to operate reliably and reproducibly at ultra-high pressures – without frequent maintenance downtime.
To meet the challenge, KNAUER has launched a range of (U)HPLC pumps and a new liquid handler for high-throughput applications – the LH 8.1. These innovations overcome the challenges of pumping LC solvents at ultra-high pressure and analytical flow rates, bridging an important gap between classic HPLC systems and the demand for faster, high-resolution methods.
Our aim in developing the P 8.1L pump was to deliver high-end performance alongside robustness and reliability. We also wanted to improve the user experience through greater automation. For example, the pump determines the compressibility of the solvent in real time, which means the operator does not need to enter the value manually. With the liquid handler, even complex chromatography tasks can be automated – and I should also highlight the loss-free sample feed and high injection precision. Together with the automatic purging function of the pump, seamless switching between different methods is possible without user intervention.
The overall result? Outstanding retention time reproducibility – regardless of the flow rate, back pressure, and eluent type used. This feat is achieved thanks to adaptive pulsation compensation, the aforementioned eluent compressibility monitoring, and variable piston stroke. The pump also features a highly efficient microfluidic mixer, which increases system sensitivity by reducing detector noise caused by compositional fluctuations – especially when using trifluoroacetic acid as an ion-pairing agent for peptide and protein separations. Finally, the outstanding flow-pressure-footprint of the pump gives research laboratories the freedom to choose from any type of modern stationary phase technology – opening up new possibilities for method development.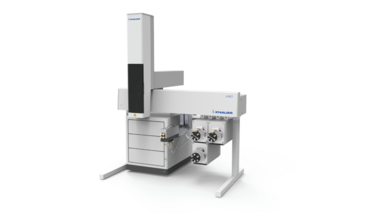 Tackling biopharma complexity

The fastest growth area for HPLC and LC- MS is in the biopharmaceutical industry, which is itself blossoming. The increasing complexity of biopharmaceutical modalities – from oligonucleotides to intact proteins, and more – means developers and manufacturers are increasingly turning to LC-MS/MS as a characterization tool. This need coincides with another trend: increasing demand to reduce instrument operational complexity and simplifying sample preparation through intelligent automation – two key features KNAUER is targeting with new products.
Importantly, our products are suitable for use across many stages of pharmaceutical development and production; once methods incorporating the new pumps and liquid handlers have been finalized and validated in the development stage, they can be transferred and used for quality control in the manufacturing laboratory. In particular, we see benefits for the identification and quantification of active pharmaceutical ingredients, their impurities and degradation products, as well as characterization of the dissolution properties of solid dosage forms and pharmaceutical formulations.
In short, the AZURA system – the new pump and liquid handler are available now – checks three essential boxes for the evolving biopharma industry: reduced user intervention, increased reproducibility, and improved laboratory efficiency.
Receive content, products, events as well as relevant industry updates from The Analytical Scientist and its sponsors.