Techniques & Tools
Metabolomics & Lipidomics,
Mass Spectrometry,
Liquid Chromatography,
Gas Chromatography
Five Star Separation Science
Sitting Down With... Guowang Xu, Director of the Metabonomics Research Center and Deputy Director of the Key Laboratory of Separation Science for Analytical Chemistry, Dalian Institute of Chemical Physics, Chinese Academy of Sciences, Dalian, China.
Rich Whitworth |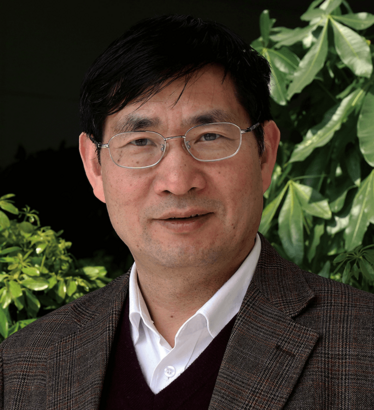 Why analytical chemistry?
When I was in middle school, I was told that analytical chemistry is "the eye of chemistry – it can be used in everywhere". So when I passed the national examination for university, I chose it as my specialty.
And separation science in particular?
Actually, that was very accidental. One day, I was filling out my masters entrance examination form, when Zhiqing Qi, my organic chemistry teacher, asked me who I had chosen as my supervisor. I told him about the petroleum chemist in Beijing I had selected. Qi quickly asked, "Is he famous?" I replied that I didn't know but was basing my decision on the probability of being accepted; two students from our university had passed the exam in the last two years. Qi then offered me some excellent advice: "If you want to become a great scientist, you must become the student of a great scientist." And it's true – very often, the scientists who achieve greatness do so by following in the footsteps of giants. Influenced by Qi, I selected Peichang Lu, a member of the Chinese Academy of Sciences (CAS) and a real pioneer of chromatography in China. I passed my entrance examination, joined the CAS Dalian Institute of Chemical Physics in 1984 and obtained my masters degree and doctorate. And I've specialized in chromatography ever since.
Qi and Lu were clearly influential – any other mentors?
Many people have influenced my career, but in particular I'd like to call out professors Yukui Zhang and Shengli Yang – their combined wisdom certainly helped me advance through my scientific career.
How has your research changed over time?
The aim of our research tends to revolve around important scientific questions that face our country's continued growth. But as China's economy has developed, my research focuses have moved from pure chromatography method development and into metabolomics – a very hot field both in China and around the world. We are no longer satisfied with chasing other countries – we want to move with the times and take the most prominent position in certain aspects.
And you consider chromatography to be key in metabolomics?
Metabolomics is playing an increasingly important role in life science – and its success will greatly rely on chromatography-MS. Plenty of great challenges remain, in terms of peak capacity, sensitivity and peak identification. And that makes it a fantastic field for any analyst with a background in chromatography – you can really prove just how valuable your expertise is. My group has been involved in metabolomics since the late 1990s – and we've established several joint laboratories and translational medicine centers with the hospitals in Dalian, Harbin and Shanghai.
What about international collaborations?
In 1995, I got a Max-Planck Institute fellowship and then worked in the University Hospital Tübingen in Germany for two years. When I returned to China, I continued to collaborate with my colleagues in Tübingen – in fact, even today we're still working on projects together. Additionally, the late Karl-Siegfried Boos and I coordinated the Sino-German Cooperation Research Group for Separation and Analysis of Complex Samples. And more recently, I helped to establish the Sino-Dutch Centre for Personalized and Preventive Medicine with Leiden University, the Netherlands Genomics Initiative and TNO.
How does research in China compare to research elsewhere?
That is not a simple question! There are both similarities and differences between Chinese and Western research. China's increasingly global economy tends to mean that the drive and direction of research are similar. However, China is a developing country with a set of specific or even unique questions that must be answered.
What big issues need to be addressed by analytical science?
Analytical science must always strive to provide methods and techniques that offer increased sensitivity, selectivity, accuracy and throughput. Take just one example – body fluids – in a given sample you can find 10,000 compounds with different sizes, polarities and concentrations; but so far, no single analytical tool can collect all information. That's likely to be a challenge for some time into the future.
And the main challenges for separation science specifically?
Peak capacity is a big issue in separation science. Multi-dimensional chromatography helps, and we've seen great successes in GCxGC. Now, we must work on improving LCxLC methods to offer comparable increases in practical peak capacity.
What drives you towards success?
Firstly – and simply – the nature of my profession; we must work hard to satisfy the country and the institute's requirements. Secondly, I want to be one of the world's leading scientists in my field. The constantly shifting landscape of science always keeps me moving forward in both of these aspects.
And your aspirations for the future?
I hope we are lucky enough to define real metabolic biomarkers for the early diagnosis of disease using our well-developed metabolomics platform. Successfully negotiating the translational journey from discovery to clinical application is the ultimate dream of my scientific career.
Receive content, products, events as well as relevant industry updates from The Analytical Scientist and its sponsors.