Techniques & Tools
Liquid Chromatography,
Mass Spectrometry,
Sample Preparation,
Sensors
Four Become One: Simplifying mRNA Analysis
A collaboration between Tosoh and Axolabs simplifies lipid nanoparticle mRNA vaccine analysis – condensing several techniques into a single method
Jonas Wege, Stephan Seiffert | | 6 min read | Interview
sponsored by Tosoh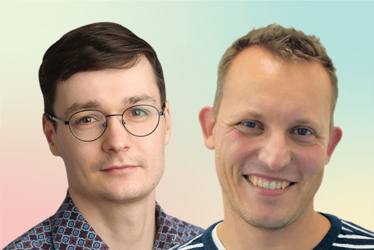 Why is there so much excitement about mRNA and lipid nanoparticles?

Jonas Wege, Application Specialist at Tosoh Bioscience: I don't think there's much doubt that the COVID-19 pandemic showed how powerful mRNA therapeutics can be. Moreover, they are versatile, easy to adapt – once you have an established platform – and relatively cost effective to produce. All of these aspects are essential when handling a pandemic. Compared with alternative approaches, I also think mRNA and LNPs are easy to manage. Of course, there are some challenges with the use of lipid nanoparticles (LNPs) – especially regarding quality control and characterization of the particles – but these are the challenges we sought to address with this collaboration.
Stephan Seiffert, Team Leader at Axolabs: I'll add that the success of the two vaccines from BioNTech and Moderna led to an explosion of the field! Most pharma companies have invested heavily in mRNA technology and many have invested in manufacturing capabilities for mRNAs and LNP production. The pandemic has spurred additional research into new LNP formulations (including new proprietary lipids – the major building blocks of LNPs) and into using mRNA as a therapeutic modality for other illnesses, such as cancer.
For those who don't live and breathe mRNA therapeutics, I should also add a little detail around the importance of LNPs. mRNA is a fairly volatile molecule and needs to be stabilized by a carrier system to be effectively administered to patients. LNPs serve as stabilizing vehicles that enable the transport of mRNA into the cells and the cytoplasm. Without a delivery vehicle, the mRNA (the active pharmaceutical ingredient) cannot cross the cell membrane and would be ineffective because of rapid degradation.
What methods are typically used to analyze mRNA and LNPs?

Jonas: There are a plethora of methods used to fully characterize an LNP mixture. The first method is visual inspection – observing the sample, making sure there is no visible debris! Another fairly common technique is dynamic light scattering (DLS), which is used to determine particle size and polydispersity.
Other techniques are used to assess lipid concentration, drug concentration, and drug encapsulation efficiency. Essentially, we need to know how well the mRNA has been incorporated into the LNPs – how much free mRNA might be in the mixture and how many empty LNPs might be present.
Overall, there are six or seven different analytical techniques that are used to fully characterize an LNP mixture.
Stephan: In addition to the techniques Jonas mentioned, differential scanning calorimetry (DSC) is used to study the stability of LNPs. High-performance liquid chromatography (HPLC) with a charged aerosol detector (CAD) or multi-angle light scattering (MALS) detection are also commonly used to study the LNP forming lipids and their composition and relationship to each other. LC-mass spectrometry (LC-MS) can also be used to study various analytical properties of mRNA molecules, such as five-prime cap and poly(A) tail.
What are the limitations with these methods?

Jonas: In my opinion, the biggest disadvantage is the sheer number of different techniques required to fully characterize LNPs – and we wanted to address this limitation with the collaboration. These methods can be very time consuming – and it's clear that people in manufacturing and quality control would benefit from the ability to determine more characteristics of LNPs using fewer methods, thus streamlining lab processes.
Stephan: Currently, the size and polydispersity of the mRNA poly(A) tail can only be reliably quantified up to a certain length. Furthermore, because of the large size of intact mRNA, electrospray ionization-mass spectrometry (ESI-MS) is not a suitable option for its detection. To allow characterization, the mRNA must be broken down into smaller fragments – which, once again, takes time and is not particularly easy. And as with any chromatographic technique, resolution can always be an issue.
As Jonas mentioned, mRNA analytics can be time consuming and may require automated procedures, which are usually difficult to implement. In the past, it has also been difficult to distinguish filled LNP particles from empty particles, which can be associated with safety concerns.
All of these challenges informed the objectives of the collaboration between Tosoh and Axolabs!
And how are Tosoh and Axolabs working together?

Stephan: In short, Axolabs provided Tosoh with LNPs for studies using its new size exclusion chromatography-MALS detector. And new columns developed at Tosoh were tested at Axolabs to evaluate their potential for current analytical challenges in mRNA and LNP analysis.
Jonas: As mentioned earlier, our overall goal was to develop a simple method that condensed numerous analytical techniques into one method. Indeed, we've been working very closely together on a more standardized approach to characterize LNPs – so Axolab's LNPs have been essential!
Using our SEC-MALS detector, we were able to measure particle size, dispersity index, lipid concentration, drug concentration, and drug encapsulation efficiency. Previously, we would have needed at least four different techniques to get these measurements – now, we're able to get all this data from a single injection on an SEC column. Not only is this much simpler, but it is also less time consuming; the analysis takes about an hour or so, including the calibration of the detector.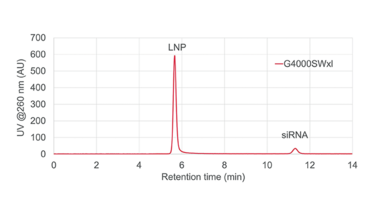 What impact could these new methods have on mRNA therapy development?

Stephan: Critical quality attributes of mRNA molecules can now be assessed rapidly and efficiently, which will enable safer medication in the long run (side effects become less likely with increased purity). Moreover, a stable and reliable method that allows quick analysis and characterization of an established product will really help in quality control, potentially helping companies ramp up productivity – and thereby saving money.
What expertise did Tosoh and Axolabs bring to the project – and why was collaboration so important?

Stephan: Axolabs has over 20 years of experience in the field of oligo-nucleotide research and development, allowing us to build on an unparalleled knowledge base. On the other hand, Tosoh is a renowned supplier of columns for chromatography – and there is an undeniably strong need for columns with consistent quality in the field of biopharmaceutical analytics! Tosoh also brings SEC-MALS technology and long-standing expertise in the field of SEC chromatography for a wide range of applications for large molecules and formulations.
In short, much like Axolabs, Tosoh is known for innovation and is open to exploring new fields!
Jonas: At Tosoh, we did not have ready access to LNPs – and it was very important for us to find the right specialist partner; specifically, we needed a reliable company that could supply high-quality LNPs. To cut a long story short, we recognized that Axolabs – an expert in LNPs – was such a partner!
Collaboration is always important, but I believe it is vital in this specific area of research. In such a specialized area, no single one company can be expected to have answers to all the questions. Joining forces with other renowned experts is a fantastic way of producing relevant data that ultimately helps the whole field move forward.
Working with Axolabs, we've been able to show that our SEC-MALS detector not only streamlines lab processes, but also offers improved sensitivity and increased versatility. Notably, we did not find any similar methods in existing literature, so I think it's safe to describe our approach to characterizing LNPs as innovative!
Receive content, products, events as well as relevant industry updates from The Analytical Scientist and its sponsors.
---