Techniques & Tools
Microscopy,
Pharma & Biopharma
Glow Meets Flow
Combining fluorescence microscopy with flow cytometry to sort cells based on visual characteristics
James Strachan | | 5 min read | News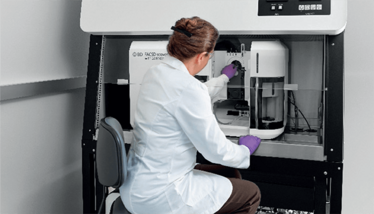 Importantly for biomedical research, fluorescence-activated cell sorting (FACS) – reported over 50 years ago – has given scientists the ability to isolate subpopulations of cells according to the expression of labeled proteins. But as biological research continues to become more complex, scientists need to explore increasingly subtle differences between cells.

In June 2022, BD Biosciences unveiled a new cell sorter – profiled earlier in Science (1) – that combines advanced spectral flow cytometry with sort-capable image analysis to perform high-parameter experiments while rapidly viewing and sorting cells with specific, visualizable traits of interest (2).

We caught up with Eric Diebold, Worldwide VP of R&D, BD Biosciences, to find out more about the new technology – and its potential applications.
What are the main limitations of existing approaches to isolating cells and how does this new technology overcome them?

Though tools such as cell sorters certainly have existed for many years, there are limitations to the types of things they can measure in a biological sample. Their ability to search through millions of individual cells one-by-one and separate the cells of interest has steadily improved through the addition of more lasers and photodetectors, but they have always just measured the total amounts of proteins on or inside the cell. The BD CellView Image Technology takes this process much further to evaluate more complex cell traits without compromise – such as where proteins are located within or around a cell, as compared to whether the protein is simply present or not.

Let's use an analogy. Imagine you're looking for a friend inside a packed stadium; using traditional flow cytometry would be like sorting through each person in attendance based on simple properties, such as hair color. Spectral flow cytometry would allow you to explore additional properties, such as height and location. With CellView, you can sort based on high-resolution snapshots of every single person and the many physical features captured within those snapshots. And this is all done at high speed, so, in this analogy, you could find your friend – even in the largest stadium – within a matter of seconds.
How did you come up with the idea of combining ultrafast fluorescence microscopy with a flow cytometric cell sorter?

In the beginning, it was a challenge that came from the cytometry community. Another high-speed imaging technology developed in the same lab was presented to researchers in this space, and the same question kept coming back: "Can you make a high-speed imager that uses fluorescence instead of just brightfield imaging?" Fluorescence is arguably the most widely used contrast mechanism in biological research, and it was clear from these questions that this was a real need, so we decided to focus our efforts in this area. Once developed, the imaging technique was applied to flow cytometry because the components were compatible with those used in a cytometer. In addition, the technique was optimally suited for use in an application with a very well-defined field of view where the sample flows. BD CellView Image Technology was born out of the combination of BD Biosciences' cuvette-based sorting technology and this ultrafast imaging technique.
In a nutshell, how does the technology work?

Fundamentally, the BD CellView Image Technology uses frequency-domain multiplexing, optical engineering, and signal processing to enable a single-element photodetector to function as an imaging detector. In other words, a cell sorter that typically has a small number of photodetectors can now function as if it had cameras on board – and that provides a whole new dimension of data that can be used to sort cells using unique parameters not offered in standard flow cytometers.

Traditionally, cell sorters operate through identification and quantification of a biomarker, such as the expression level of a protein on or within a cell. BD CellView Image Technology can not only measure the total expression levels of proteins in the traditional flow cytometry sense, but also evaluate the spatial distribution of those proteins through simultaneous fluorescence, brightfield, and darkfield imaging. The researchers can use this image information to sort cells of interest at speeds of up to 15,000 cells per second. The new capability allows researchers to ask new biological questions – or answer current complex biological questions at a highly accelerated pace compared with existing technologies.

And now, with the introduction of the BD FACSDiscover S8 Cell Sorter (the first instrument to feature BD CellView Image Technology) at CYTO 2022, we are bringing to the world a true innovation: a cell sorter that combines advanced spectral flow cytometry with sort-capable image analysis.
What are the main challenges you faced during development of the technique?

One key challenge was looking outside of flow cytometry. Truly transformative innovation in this industry will continue to come from the adoption of technologies from other technical disciplines. The core technology behind BD CellView Image Technology uses signal processing algorithms that have been employed for many years in the wireless communications industry. For BD CellView Image Technology to become a reality, we had to bring together a highly multidisciplinary team of optical, mechanical, electrical, biomedical, and software engineers and scientists to provide researchers with differentiated and flexible capability for analyzing single cells. The continued adoption of this type of multidisciplinary innovative thinking is what will continue to allow the flow cytometry field to evolve and have a greater impact on human health.
What are the next steps?

We are looking forward to the full commercial launch of this product and adoption by researchers around the world. We are very excited to see what our many customers will do with this instrument and we look forward to helping them progress the scientific understanding of human health.
Receive content, products, events as well as relevant industry updates from The Analytical Scientist and its sponsors.
D Schraivogel et al., "High-speed fluorescence image–enabled cell sorting," 375, 6578. 315-320 (2022). DOI: 10.1126/science.abj3013
BD, "BD Unveils Worlds First Spectral Cell Sorter with High-Speed Imaging Technology that Sorts Cells Based on Visual Characteristics" (2022). Available at: https://bit.ly/39jofHm