Techniques & Tools
Food, Beverage & Agriculture,
Sample Preparation
Green Food Analysis: The Missing Link?
Green analytical chemistry principles could play an important role in helping us hit key sustainability goals – so what are we waiting for?
Elena Ibañez | | Opinion
I'd wager that most people have thought about the 2030 Agenda for Sustainable Development adopted by all United Nations Member States in 2015, as well as its 17 Sustainable Development Goals (SDGs) and how they can impact our world and humanity's future. Six years on, UN reports agree that we are not on track to achieve these SDGs by 2030. We can all make individual contributions, but strong and cooperative commitment at all levels is needed, including the upper echelons of science (1). The question I'd like to ask is: how can we push toward the SDGs in our everyday scientific work?

Our group at the Foodomics Laboratory has made attempts to implement the "Green Foodomics" framework in our research for some time (2). A lot has changed since we decided to integrate Green Analytical Chemistry (GAC) principles in our laboratory. We have modified our analytical methods to fulfill the GAC requirements, but preserved key qualities for method success, such as accuracy, sensitivity, reproducibility, simplicity, cost, efficiency, flexibility, and speed. In this way, we achieve results of consistent merit, but with much reduced environmental cost.

In sample preparation, we have implemented new solvents and integrated extraction processes that are more benign in terms of energy and solvent consumption. We have also searched for solutions across omics platforms to help us determine food constituents and nutrients at molecular levels while protecting the planet. Green chemistry and GAC principles not only promote food security, but also help us strive for many of the individual SDGs, such as SDG 2 (Zero Hunger), SDG 3 (Good Health and Wellbeing), SDG 6 (Clean Water and Sanitation), SDG 7 (Affordable and Clean Energy), SDG 8 (Decent Work and Economic Growth), SDG 9 (Industry, Innovation and Infrastructure), SDG 11 (Sustainable Cities and Communities), SDG 12 (Responsible Consumption and Production), SDG 13 (Climate Action), SDG 14 (Life Below Water), and SDG 15 (Life on Land) (3).

Without any doubt, food analysis can drive renewed approaches in agricultural development, food processing, food security, nutrition, and health, thus promoting the sustainable development of nations. Moreover, GAC strategies promote not only safer, cheaper, and more sustainable analytical methods for food analysis, but also more affordable analytical procedures that can benefit society. Surely we would all benefit from these strategies in our day-to-day research!

Awareness of green chemistry and GAC principles in food analysis has increased exponentially in the last 10 years, with more than 80 percent of the publications including the terms "green chem*" and "food analys*" since 2010. I hope this awareness expands as we move forward. As Paul Anastas mentioned in his inspiring 1999 publication (4): "With knowledge comes the burden of responsibility. Chemists do not have the luxury of ignorance and cannot turn a blind eye to the effects of the science that is created. Because there is the ability to develop new chemistries that are more benign, chemists are obligated to do so."

Therefore, researchers have a responsibility to be aware of the valuable links between green chemistry and success in food analysis. My take-home message: we know how we must proceed and we know what changes we must make. It is not only our duty, but also an invaluable opportunity to give a future to the generations that will come after us.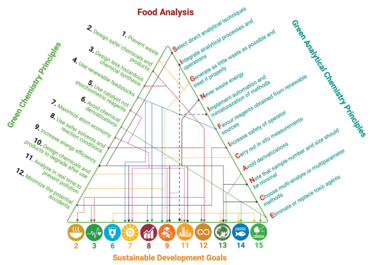 The Sample Preparation Study Group and Network belongs to the Division of Analytical Chemistry of EuChemS (DAC-EuChemS) and includes three working groups: Science and Fundamentals; Automation, Innovation and Entrepreneurship; and Information Exchange and Networking.
The Sample Preparation Network welcomes new European and non-European regular members. Membership is open to individuals who subscribe to the objectives of the network and who are professionally engaged in or associated with sample preparation.
For more information please visit: https://www.sampleprep.tuc.gr/en/home
Receive content, products, events as well as relevant industry updates from The Analytical Scientist and its sponsors.
Independent Group of Scientists appointed by the Secretary-General, Global Sustainable Development Report 2019: The Future is Now – Science for Achieving Sustainable Development, (United Nations, New York, 2019). Last accessed June 15th 2021. Available at: https://bit.ly/3xqqr5V
B Gilbert-López et al., "Green foodomics. Towards a cleaner scientific discipline," TrAC Trends Anal Chem, 96, 31 (2017). DOI: 10.1016/j.trac.2017.06.013.3.
D Ballesteros-Vivas et al., "Green food analysis: current trends and perspectives," Curr Opin Green Sustain Chem, 100522 (2021). DOI: 10.1016/j.cogsc.2021.100522.
Paul T. Anastas (1999) Green Chemistry and the Role of Analytical Methodology Development, Critical Reviews in Analytical Chemistry, 29:3, 167-175, DOI:10.1080/10408349891199356.