Techniques & Tools
Mass Spectrometry,
Clinical,
Metabolomics & Lipidomics
Keeping Watch
A new ambient sampling method within silicone wristbands could offer a cost-effective solution to health monitoring
Jessica Allerton | | 3 min read | News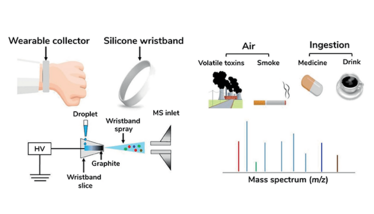 Could we carry monitors on our wrists to give us a wider window into our personal health? According to a study (1) undertaken by researchers from Stanford, USA, simple silicone wristbands could do exactly that! By using an ambient sampling method called silicone wristband electrospray ionization mass spectrometry (SWESI-MS), metabolites excreted in sweat are characterized, as well as exposure to environmental factors (the exposome).

To learn more about this technology, we connected with lead author Mohammad Mofidfar, physical science research scientist at Stanford University.
What inspired this study?

Initially, our aim was to find a way of monitoring the health of workers that might be exposed to toxic volatile organic compounds – such as rocket fuel handlers. However, the need for this technology goes further than this specific occupational hazard.

The silicone wristbands that we created cover two purposes: monitoring exposure to outside vapors (e.g., air pollution exposure, smoke), and monitoring lipids and metabolites that are secreted from the body. When worn, the wristband functions without interference while the person wearing it goes about their day.
What mass spectrometry technology is used in the wristbands?

A mass spectrometer enables us to measure the mass-to-charge ratio (m/z) of positive and negative ions, but remains blind to neutral molecules. To collect this information, we introduce a plurality of microdroplets into the MS following the extraction of sweat and contaminants from the wristband. The splash of these microdroplets is analyzed using SWESI-MS, using a small volume of biofluids without diluting the sweat samples – improving the overall quality of the signals we obtain.
What were your findings – did anything surprise you?

The device was very easy to use. My fellow researchers and I wore the wristbands to gather insight into an individual's unique environmental exposure and skin-based chemicals. We discovered that a small 20-μL drop of pipette solution is enough to extract over 1,000 metabolites and chemicals from substances such as food and drink, cigarettes, and air pollution exposure that can accumulate in the wristbands.

Another feature of the wristbands is their ability to detect the downstream metabolic products of niacin (nicotinamide, nicotinamide N-oxide, and N-methyl nicotinamide), which broadens the potential of the wristbands to trace an entire metabolic pathway.
What are the real-world implications of the study?

We believe this is a promising way to monitor both the exposome and metabolome cost-effectively. The approach could be particularly effective during crisis situations when traditional methods of collecting exposure data aren't possible (e.g., during a pandemic, hurricane, or wildfires).

The silicone wristbands create opportunities to create personal and non-invasive sampling devices for a more comprehensive understanding of how environmental factors impact our health. There's also the ability for SWESI-MS to provide fast screening and identification features for metabolites, lipids, and other applications related to the human exposome.
Do you think health-monitoring wristbands will be more common in the future?

I hope so! The world needs cost-effective solutions for managing healthcare expenses. Silicone wristbands have increased in popularity in recent years, and advances in high-resolution mass spectrometry have made the technology more accurate and affordable.

There is a growing interest in health and wellness in the wake of the COVID-19 pandemic, so health-monitoring wristbands like this will likely become increasingly prevalent and can help people make informed decisions about their lifestyles.
Receive content, products, events as well as relevant industry updates from The Analytical Scientist and its sponsors.
M Mofidfar et al., Silicone wristband spray ionization mass spectrometry for combined exposome and metabolome profiling (2023). DOI: 10.1002/ijch.202200116.