Techniques & Tools
Technology,
Materials,
Sensors
Nano Particle Accelerator
Is "accelerator-on-a-chip" technology the tipping point for cheaper, smaller devices for science and medicine?
Rich Whitworth |
Making "lab-on-a-chip" seem a tad pedestrian, researchers at the Stanford Linear Accelerator Center (SLAC) in California, USA, have developed a laser-driven dielectric microstructure – the size of a grain of rice – that can accelerate electrons at ten times the rate of the current SLAC linear accelerator: 300 million electronvolts per meter (1).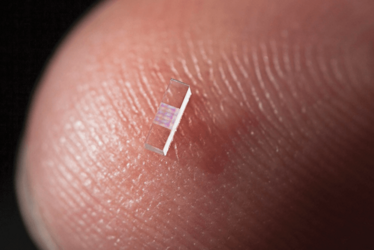 Mind-boggling physics aside, the system is beautifully simple (see Figure 1): near-lightspeed electrons from a conventional accelerator are focused into a 0.5 µm channel within a fused silica glass chip that is patterned with nanoscale ridges. The precisely-spaced ridges cause infrared laser light to generate electric fields that have the net effect of boosting electron energy.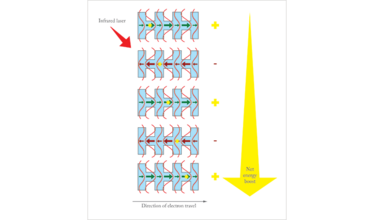 "Our ultimate goal for this structure is one billion electronvolts per meter, and we're already one-third of the way in our first experiment," said Stanford professor Robert Byer, the principal investigator for this research, in a SLAC press release.
Seeking more economical alternatives to conventional microwave-powered accelerators, Joel England, the SLAC physicist who led the experiments, admitted that there were a number of challenges that must be overcome before the technology is likely to be of benefit to the "outside world". Primarily, the need for a more compact way of accelerating electrons up to near-lightspeed before they enter the chip must be addressed. Still, with work, the team believe the technology will substantially reduce the size and cost of future high-energy particle colliders, and, said England, "It could also help enable compact accelerators and X-ray devices for security scanning, medical therapy and imaging, and research in biology and materials science." The term "tabletop accelerator" sounds most tantalizing.
Receive content, products, events as well as relevant industry updates from The Analytical Scientist and its sponsors.
E. A. Peralta et al., "Demonstration of electron acceleration in a laser-driven dielectric microstructure", Nature, 27 Sept 2013 (10.1038/nature12664).