Techniques & Tools
Gas Chromatography
Paying Tribute to "Doc"
Harold McNair is the 2016 recipient of the ACS Award in Chromatography. A few of his past students – Kevin Schug, Nick Snow, Chris Palmer, Vince Remcho, and Lee Polite – try to sum up (in too few words) why McNair is such an outstanding analytical chemist and special gentleman. They also share the lifelong lessons they have learned from him – and why the award is long overdue.
Kevin Schug, Nicholas Snow, Vince Remcho, Chris Palmer, Lee Polite |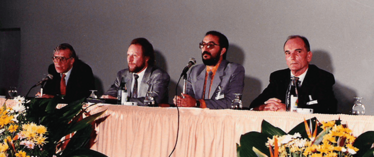 Nicholas Snow, Professor, Seton Hall University.
I cannot begin to enumerate the impact that Harold McNair has had on my own career and that of so many other scientists. In short, I owe everything to him. I started in his group with no knowledge of chromatography. He took me under his wing, even taking the time to personally teach me how to manually inject and how to pack, install and evaluate a column. He loves students and he loves the fundamentals.
My first read in chromatography was his book, Basic Gas Chromatography, first published in 1964 at Varian (four editions, two follow up editions with Wiley, 130,000 English copies sold and published in seven other languages) which represents the single most important contribution to gas chromatography (and chromatography in general) becoming a widely used technique. Basic GC advanced chromatography from the realm of the specialists and made it accessible to practitioners. Numerous authors later attempted and published similar texts for various chromatographic techniques, though none have been as successful, effective or as widely read. How many other instrumental techniques would have benefitted from a Basic GC-like book during their early development?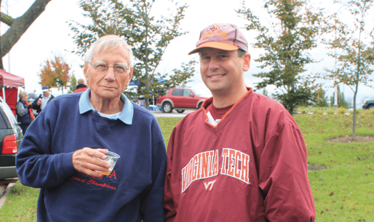 In his lab, several times per year, we had to take all of our research systems apart and set them up for the short courses. At the time it seemed a pain; each time it took several weeks away from our research, but looking back, we could not have asked for better professional training. McNair is the father of the modern chemistry short course. He taught the first ACS short course in GC in 1966 and was recognized by ACS in 1991 for 25 continuous years of short courses, training thousands of students and influencing numerous other instructors, including many of his own students that teach today. His short courses were the "gold standard" in continuing education for analytical scientists. McNair developed the first audio/visual program, a tape and booklet, based on Basic GC in 1974, and over the next 30 years, published several best-selling multimedia programs in GC and HPLC. McNair was doing multimedia and technology in teaching before most of us knew what it was. He has directly trained more practicing chromatographers than any other scholar in the history of chromatography.
McNair is still inspiring students and colleagues alike. With contributions in seven separate decades, from the 1950s to the 2010s, McNair has been teaching all of us how to be chromatographers and scientists. From his early work with pioneers including Martin, Keulemans, Dal Nogare and Golay, developing components and ideas still seen in today's GCs, through the authoring of Basic GC, pioneering short courses and training and creative contributions across the field of chromatography by himself and his students, McNair has been an 'icon' of chromatography and is directly responsible for developing many of the original methods and techniques we consider 'obvious' today.
Chris Palmer, Professor and Chair, Department of Chemistry and Biochemistry, University of Montana.
I spent eighteen months in Harold McNair's laboratory at Virginia Tech as a postdoctoral research associate; a period that was among the most productive and instructive of my career both professionally and personally. Harold is a consummate scientist with a well-deserved international reputation for his contributions to chromatographic science, and I benefited significantly from his scientific mentorship. I learned a great deal about the fundamentals and applications of chromatography, both in the laboratory and as an instructor in short courses, and we published some interesting work.
Just as important to me, though, is what I learned and how I developed personally while observing Harold and his interactions with others. Harold is a gentleman and a scholar who set a stunning example for me and others to try to emulate. His scientific talent is equaled by the quality of his character, and I could not help but be impressed and affected by this. Watching Harold, it became clear to me the extent to which a career in science could and should be a collaborative, international effort driven by interpersonal relationships built on mutual respect. I learned from Harold that, no matter how eminent or busy one might be, one can still make special efforts to compliment a young scientist who has just given a good presentation, make helpful scientific suggestions to any who are interested, and show genuine interest in the professional and personal lives of others.
Since leaving Blacksburg, I have had the pleasure of visiting and usually enjoying a meal and some wine with Harold (and often his late wife Marijke) in multiple countries on several continents, and each time I was reminded of how much I still have to learn from his excellence of character and scientific intellect. I am fortunate to have had Harold as a mentor and friend for more than twenty years, and I congratulate him on this well-deserved honor.
Kevin Schug, Professor and Shimadzu Distinguished Professor of Analytical Chemistry, The University of Texas at Arlington.
No one has shaped my love for analytical chemistry or set my career path more than Harold M. McNair. In fact, McNair knew me even before I knew him. I grew up running around the halls of Davidson Hall at Virginia Tech, where my father was also a Professor of Chemistry. In college, I asked my father for some names of people to contact for internship opportunities. McNair was the first to respond, and he had one of the best offers. I spent my sophomore summer with McNair, learning about chromatography, and then the following summer, he arranged an industrial internship for me. Following graduation from college, I enrolled at Virginia Tech to pursue my PhD studies under McNair. He trained me not only to be a good analytical chemist, but to be a good citizen in the science community.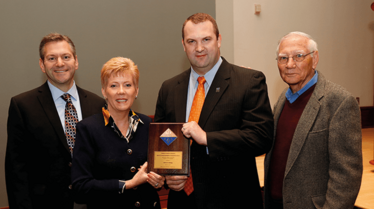 I have taken away so much from him in terms of how I manage my own group and interact with others, but there were two key events I would like to share. My college education at William and Mary was an eye-opener. I struggled early on to balance football, joining a fraternity, my social life, and school life – unfortunately, prioritized in that order. When I finished, I had a not so stellar GPA of 2.55, but McNair went to bat for me along with a couple of other key faculty members at Virginia Tech to get me admitted to the PhD program. In life, there are often a few such instances that set you on the right track – and that was a key one for me.
Even before I got to Virginia Tech, the industrial internship was another key event. I worked in the quality assurance lab at S.C. Johnson & Wax in Racine, Wisconsin. While it was an excellent experience, I later learned that McNair arranged this to show me what many BS chemistry graduates would be doing when they graduate – essentially the same thing day in and day out. That experience convinced me that I needed to pursue a graduate degree. Without someone with foresight like McNair looking out for my best interests, I do not know where I would be today.
Congratulations to Harold McNair on his well-deserved and overdue honor of receiving the ACS award in Chromatography. It has been amazing to be a part of such a wonderful person's life and to have been the recipient of so much good will and good friendships as a result. I am so humbled and thankful. Thank you, Doc!
Vincent Remcho, Professor of Chemistry & Materials Science, Patricia Valian Reser Faculty Scholar, UHC Eminent Professor, Oregon State University.
Every once in a while, if we are fortunate, we are afforded the opportunity to "apprentice" with a great mentor. For me, that opportunity came with Harold McNair. By the time our paths crossed in 1986, Harold was firmly established as both a great researcher in the field of chromatography and as a great educator in the broader field of analytical chemistry. He had built a reputation – to which most of us aspire – as a capable, accomplished, intelligent and innovative scientist. That was enough for me! I knew he was the kind of scientific mentor I wanted to work with. What I had yet to learn, but soon did, was that he has qualities that are far more important in a mentor than these. Harold is a fair-minded, warm, encouraging, accepting, giving, hard-working, selfless ally. He has had great success in attracting students from all walks of life and all educational levels to the field of analytical chemistry.
Harold built a formula for overcoming the activation energy barrier to engage students in the practice of chemistry by ensuring that the chemistry experience is contemporary: encompassing current public interest; accomplished with tools that are compelling, current and accessible; and capable of tackling measurement tasks that positively impact broad, diverse groups of people. He taught us, as members of the McNair group, how to appreciate one another more fully, how to support one another more effectively, how to celebrate one another more genuinely, and how to accomplish more together than we possibly could individually. That is a gift! He did this by taking us around the world to conferences at a time when that was far from the norm. He did it by including us in teaching short courses both at Virginia Tech and on-site at a variety of government and industry laboratories, giving us the distinct advantage of practical exposure to analytical chemists at work in the world. For most of us, this cemented our belief that this was indeed the profession for us. For some, it led to the conclusion that another path beckoned. All of us, though, came to know right away that we had a steadfast and lifelong supporter in Harold McNair, and a permanent home as a member of the McNair group.
I am so fortunate and thankful for all that Harold has done for me and meant to me. My goal as an educator and mentor is to be as much like him as I can.
Lee Polite, President and Laboratory Director, Axion Analytical Labs; Axion Training Institute.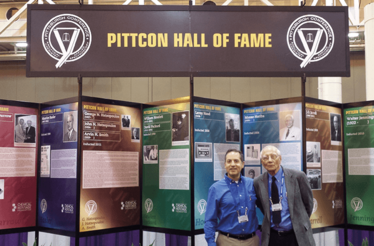 Harold McNair is best known for his contributions to the world of chromatography. Literature searches will turn up that he was probably the first person in the US to do a PhD thesis on chromatography, that he built one of the first industrial gas chromatographs in the US, that he was a Fulbright Scholar in Holland, and that he has trained some 50+ PhDs. But what this literature search might not reveal is his excellence as a communicator and his willingness to share his knowledge with the world around him.
There is no better way to truly learn a topic, than to have to teach it.
I had the pleasure of spending 4.5 years working under McNair in graduate school. One of the traits that is common among all of his students is this willingness to share their knowledge. It is not just a side trait that we picked up in graduate school, but an integral part of our graduate career and training. McNair used to make us teach week-long HPLC and GC short courses for the American Chemical Society four times per year! At the time, that was seen as a major disruption to our research. When short course time rolled around, you dropped everything to become an instructor, repairman, chauffeur, tour guide and friend to the industrial scientists attending the courses. Most of us hated it as first, but it wasn't long before we realized that this was not just some type of indentured servitude, but an incredible learning experience for us! Imagine having to stand up in front of a group of paying customers, and answer questions on the spot regarding your craft. I remember studying harder for my first lecture (HPLC instrumentation), than any exam in my academic career. There is no better way to truly learn a topic, than to have to teach it. It didn't matter if the participants were MD/PhDs or high-school dropouts: they were there to learn, and we were there to teach them.
What we didn't realize was that this was Harold's way of solidifying our own knowledge of chromatography, along with problem solving, public speaking and interpersonal skills. McNair's goal was to teach the world what he had learned about chromatography, and we were his disciples. It seemed like a worthy cause at the time, but this training really paid off when it became time to find a job. The interview process usually includes giving a seminar to your perspective employers. To most job applicants, it was pretty intimidating to stare out at a crowd of adult, professional scientists as you present your research and answer their questions. But to us McNair students, we call that "day one of a short course"! By the time we were applying for jobs, we had each given hundreds of lectures to professionals in a variety of industries and settings. We had done it so many times that lecturing and giving seminars became second nature.
I remember giving a pre-application seminar at Amoco Corporation back in 1988. Unbeknownst to me, they had no intention of hiring someone right out of graduate school (like me!) – the job required five years' industrial experience beyond the PhD. They contacted Harold looking for recent graduates with industrial experience, and he suggested me. Amoco agreed to an interview and seminar, but only out of respect for Harold. I was two minutes into my seminar on high temperature ion chromatography, when a hand went up in the audience, followed by a GC peak shape question! I answered the question, and then went back to the seminar. A few slides later, another unrelated question came up on gel permeation chromatography, followed by a question on capillary electrophoresis and then one on supercritical fluid chromatography. Honestly, I didn't think much of it. I just thought they have a wide variety of questions (sounded like a fun place to work!). Years later, I was told that this was a test of my separation science knowledge and problem solving abilities. I spent nine fun years with Amoco as a research scientist and group leader. Thank you, Harold!
I have since gone on to teach chromatography to the world, as Harold instructed. I started Axion Analytical Labs about 20 years ago. In that time, we have trained professionals from every major pharmaceutical, chemical and petroleum company in the US, along with most of the major government labs. I have had the pleasure of lecturing on chromatography in 17 countries. Harold continues to be a great mentor and friend not only to me and my fellow McNair brethren, but also to my kids, employees, customers... and to just about anyone else he meets!
Congratulations to Professor Harold McNair on winning the coveted ACS McNair... I mean, ACS Chromatography award!
Receive content, products, events as well as relevant industry updates from The Analytical Scientist and its sponsors.
---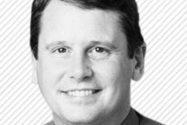 ---
---
---