Techniques & Tools
Pharma & Biopharma,
Spectroscopy
Raman Spectroscopy Predicts Immunotherapy Response
Raman spectroscopy combined with machine learning predicts non-responders to immunotherapy
James Strachan |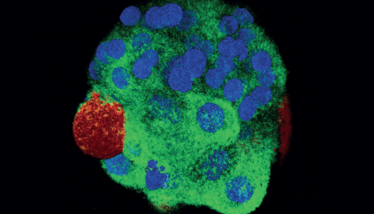 Immunotherapy is changing the way we treat cancer – but not for every patient. The approach is currently only effective for a fraction of patients (sometimes as low as 25 percent), and it can lead to debilitating and sometimes fatal immune-related side effects. This has created an urgent need to find biomarkers that identify non-responders – allowing those patients to avoid unnecessary side effects and explore alternative treatment options.
In response, researchers from Johns Hopkins University used label-free Raman spectroscopy to identify biomolecular changes induced by two immune checkpoint inhibitors in the tumor microenvironment of mouse colon cancers (1). They were able to establish that both levels and spatial distributions of collagen, lipids, and nucleic acids change significantly after immunotherapy – even before changes in tumor size.
"This is the first study that shows the ability of this optical technique to identify early response or resistance to immunotherapy," said Santosh Paidi, who worked on the research as a mechanical engineering PhD student at Johns Hopkins (2).
Rather than targeting a few suspected molecules, the researchers were interested in a holistic picture of the tumor microenvironment. "That's because the tumor is not just the malignant cell," said Ishan Barman, associate professor in mechanical engineering and a co-author of the study (2). "The microenvironment contains a complex combination of the tumor stroma, blood vessels, infiltrating inflammatory cells, and a variety of associated tissue cells. Our idea is to take this approach and systematize it so it can be used by doctors to determine whether immunotherapy will be beneficial for the patient."
The team used multivariate data analysis techniques to unravel the information from Raman spectra. The multivariate curve resolution-alternating least squares (MCR-ALS) analysis provided promising evidence of spectral differences that can be tied to the compositional constituents of the tumors. The differences were subtle, but statistically significant – and corroborated with proteomics analysis. Paidi's conclusion? "Combined with machine learning, Raman spectroscopy has the potential to transform clinical methods for predicting therapy response."
Receive content, products, events as well as relevant industry updates from The Analytical Scientist and its sponsors.
SK Paidi et al., Cancer Res, [Online ahead of print] (2021). DOI: 10.1158/0008-5472.CAN-21-1438.
John Hopkins University (2021). Available at: https://bit.ly/3lS7XbL.