Techniques & Tools
Gas Chromatography,
Mass Spectrometry
Speedy Dilute-and-Shoot
Liquid chromatography-tandem mass spectrometry assay rapidly quantifies cannabis metabolites in human urine
Margot Lespade | | News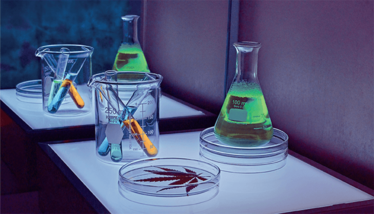 With cannabis one of the most commonly used psychoactive substances, researchers are constantly looking for new testing methods. In a recent study, researchers from the University of Rochester Medical Center, New York, USA, have developed a liquid chromatography-tandem mass spectrometry assay that quantifies cannabis metabolites THC-COOH and THC-COO in human urine.

The assay uses a direct "dilute-and-shoot" approach – in which urine samples are diluted 10 times before being directly injected onto the liquid chromatography and mass spectrometer – to simplify the sample preparation process and improve overall throughput. The turnaround time was five minutes, a significant improvement over existing dilute-and-shoot assays – that typically take 20 minutes.

One potential challenge of a direct dilute-and-shoot approach are matrix effects and ion suppression because of the limited sample cleanup; however, results indicated that the assay was minimally affected.

According to the authors, the method also has a wide linear range – reducing the need for sample dilution and reanalysis. "This method can be easily implemented and has great potential to be routinely performed in any high-throughput clinical laboratory setting," the authors wrote (1).

Image Credit : Girl with red hat / Unsplash.com
Receive content, products, events as well as relevant industry updates from The Analytical Scientist and its sponsors.
BL Young, YV Zhang, J Chromatogr B Analyt Technol Biomed Life Sci, 1211, 123495 (2022). DOI: 10.1016/j.jchromb.2022.123495.