Techniques & Tools
Data Analysis,
Liquid Chromatography
Taking FFF to the Next Dimension
Way back in the mid-1960s, somewhere in the North American Midwest, J. Calvin Giddings spent a sleepless night in a noisy motel room. Even the room's rattling air-conditioning unit gave him a hard time. Giving up on the idea of sleep, he turned his thoughts to the separation principle of field-flow fractionation (FFF).
Thorsten Klein |
Following his restless but inspirational evening, Giddings embarked on his FFF pursuits, first building a thermal FFF channel about two metres in length for his proof of principle. A primitive device, the top and bottom of the channel were held together using screw clamps (see photo on page 40). The elution of the polystyrene polymers in tetrahydrofuran (THF) took many hours to complete and the peaks the instrument produced were huge.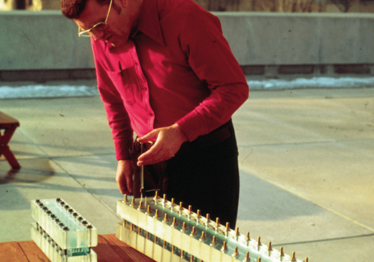 Giddings' initial work was on thermal FFF, with sedimentation and flow FFF coming much later on. Then in 1986, he founded FFFractionation, the world's first FFF company to commercialize his ideas. That company eventually merged and led to the formation of Postnova Analytics.
Revolutionary technique
The history of FFF is remarkable because for two decades after Giddings first began focusing on the theory and science, there weren't any professional standard commercial instruments available. It was the 1990s before any real commercialization effort emerged with FFFractionation/Postnova leading the way, followed later by Wyatt Technology.
FFF was first recognized as being ideal for large molecules and submicron particles; and, it remains so today. Then in the 1980s and 1990s, the technique began to make waves in protein and nanoparticle research. So FFF really was invented ahead of its time, some might say it was "too early", but now it fits perfectly with other technological scientific tools used in modern nano, bio and material laboratories.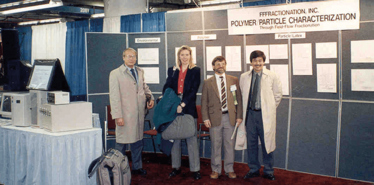 More FFF education needed
Compared with chromatography, FFF is a niche technology. However, it is essential for certain applications in nano, biopharma and polymer science. Unfortunately, due to its lack of use in education, many scientists remain unaware of the technique; indeed only a few professors include FFF on their courses, whereas all chromatography methods are addressed in great length. Therefore, we need to see the educational sector changing its stance to provide students with up-to-date education that is more suitable for their future career paths. Clearly, they ought to be at the very least aware of FFF so that they can use it to solve their analytical questions. For a similar tale regarding education, see Gertrud Morlock's article on thin-layer chromatography here.
Whenever larger molecules or particles are under investigation, FFF can provide significant insights – simple particle size analyzers or size exclusion chromatography (SEC) methods overlook hidden information in the sample. For those researchers who really want to get to know their samples, FFF becomes an obvious addition to the tool box – in fact, there is no real alternative.
FFF future is bright
Symmetrical FFF (SF3) and later asymmetrical flow FFF (AF4) have proven their worth in resolving a number of application problems. Commercial flow FFF systems have been available for some time and scientists have happily taken to using and adapting SF3 and AF4 for their applications. In addition, we now have access to reliable commercial instruments for thermal and centrifugal FFF. Such advances mean that there are great opportunities for the future use of other FFF separation forces (centrifugal for density separation and thermal for chemical composition) to achieve two and three-dimensional FFF separations. We have been working hard on this and a growing number of scientists have opened their eyes to the potential advantages.
I believe the future is bright for FFF and that over the next five years it will join other established chromatographic techniques used for larger molecules separations. I also think we will see the emergence of subtechniques that will make it even more useful for nano and macro characterization. And finally, I predict that we'll see more utilization of multidimensional FFF – both two and three-dimensional techniques.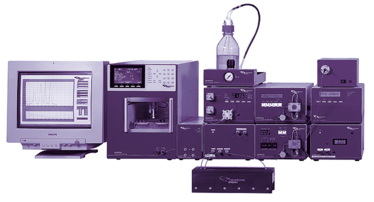 FFF Through the Years
By Thorsten Klein
1966 – J. Calvin Giddings invents FFF
1972 – The first FFF instrument is built for thermal FFF
1983 – FFF is coupled with Low Angle Light Scattering using a Sofica LALS detector
1986 – Giddings founds FFFractionation in Salt Lake City, Utah, USA
1986 – FFFractionation launches the S101 colloid separator for sedimentation FFF
1987 – The company introduces the world's first commercial thermal FFF instrument; the T100 polymer separator
1988 – World's first commercial flow FFF (F1000 universal separator) is introduced
1988 – Giddings and Wahl present the idea of asymmetric flow FFF (AF4) for the first time
1990 – Launch of the SF1000, the world's first commercial split thin flow cell fractionation (SPLITT)
1994 – The F1000 instrument for flow FFF is the company's most popular instrument
1999 – FFFractionation invents "FOCUS-Technology", which provides first-time focusing without the need for switching valves
2000 – Invention of "Slot-Outlet Technology", giving five times more sensitivity without the need to change detector hardware
2001 – FFFractionation merges with Postnova, resulting in Postnova Analytics USA
2006 – First commercial asymmetric flow FFFs (AF4) instrument is launched
2011 – First commercial hollow fiber FFF instrument launched (the approach was first published in the 1980s and then patented by Pharmacia Biotech)
2012 – First centrifugal FFF capable of 4900 RPM is launched (previously instruments spun at 2000 RPM) – a significant breakthrough as it enabled nano applications.
AF4's Time in the Sun?by Wim Kok, Faculty of Science, the Van't Hoff Institute for Molecular Sciences, University of Amsterdam, The Netherlands.
In the FFF Hot Seat:Christoph Johann, founder and MD of Wyatt Technology Europe, the company that originally introduced field-flow fractionation (FFF) instrumentation to Europe's analytical scientists, looks at the history of the technique and shares his involvement with the field.
Receive content, products, events as well as relevant industry updates from The Analytical Scientist and its sponsors.