Techniques & Tools
Liquid Chromatography
The Dream SFC Machine
Oliver McConnell bought one of the first SFC systems back in 1999; and he's still using SFC today – for small molecule chiral analysis at precision medicine developer IDEAYA; Matthieu Giraud works for CordenPharma, the first CDMO to implement SFC at large scale, and Gerard Rosse represents PIC Solution – a leader in the manufacturing of SFC instruments. Here, we find out what's on their SFC wish lists.
sponsored by PIC Solution with Oliver McConnell, Matthieu Giraud, Gerard Rosse
What exactly does your company do?

Matthieu Giraud: CordenPharma International is a full-service partner in the contract development and manufacturing (CDMO) of APIs, excipients, drug products, and associated packaging services. We work across five technology platforms: peptides, lipids and carbohydrates, highly potent and oncology, injectables, and small molecules.
Gerard Rosse: PIC Solution is a global leader in the manufacturing of SFC and SFE instruments with headquarters in Avignon, France, and a North America office in San Diego, CA, USA.
Oliver McConnell: IDEAYA is a synthetic lethality-focused precision medicine oncology company. Our teams are committed to the discovery and development of targeted therapeutics for patient populations selected using molecular diagnostics. We're headquartered in South San Francisco, California.
How does SFC fit into your R&D?

McConnell: I focus on small molecule chiral SFC analysis – separation method development and prep separations. In a Discovery setting, chiral SFC separations are the most effective means of creating chiral molecules from racemic compounds to assess early on improvements in Structure-Activity-Relationship (SAR) and Structure-Property-Relationship (SPR) in a lead series that ultimately may culminate in a molecule that enters clinical trials. Asymmetric synthesis or chiral resolution will likely replace SFC to generate kg quantities of compound required for further development, however, early on, SFC is really the only practical approach in this challenging area, and it's tremendously gratifying to complete projects that run from the mg scale up to the >100 g scale.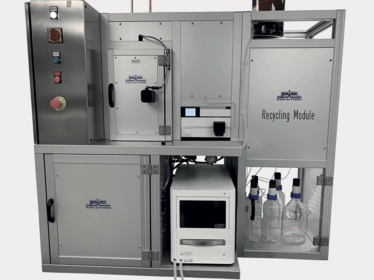 For how long have you been working with SFC?

McConnell: I was an early adopter of SFC – back in 1999. The company I was with at the time – Wyeth Pharmaceuticals – purchased one of the first analytical SFC systems from Terry Berger!
Giraud: We've been involved in the manufacture of metric tons of complex lipids to support commercial vaccines against COVID developed by Moderna. On average, two metric tons of solvent per kg of product are needed to purify complex lipids. So, in 2020, we decided to replace conventional purification with SFC – eliminating the use of those solvents. This effort is part of our plan to reduce emissions through the Science Based Targets initiative.
Rosse:As a medicinal chemist, I worked with different chromatography techniques for more than 20 years, including SFC and SFC-MS (for more than 12 years); more specifically, I worked on a small-molecule synthesis platform, which generated more than 90,000 single compounds per year using SFC-MS as the main purification technique.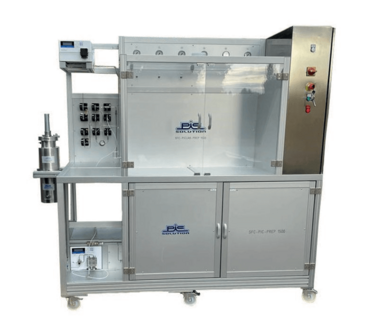 What are the most promising application areas for SFC?

McConnell: In order of importance, I would say:
First, chiral analysis – in other words, chiral separation method development, chiral purity assessment, chiroptical characterization. Second, chiral prep separations. Third, achiral separation method development, plus achiral prep separations as an alternative to normal phase separations on silica gel or normal phase bonded stationary phases with organic solvents.
There is an additional benefit of SFC that has been developed by the respective vendors and integrated into the software. In situations where the achiral purities of racemic compounds are high and enantiomers well resolved chromatographically, or for achiral separations where samples contain only several components that are well resolved, then stacked injection capability (overlapping injections to shorten prep separations) is highly recommended, leading to large quantities of material purified per unit time, and accompanied by minimal quantities of organic solvent in collected fractions in particular where the purification method calls for high % CO2 and low % organic solvent.
Broadly, chiral analysis and chiral prep separations are most promising. But I'd also highlight the analysis and purification of biochemicals that have been studied extensively and applied successfully.
Rosse: SFC is fast, reduces solvent usage and waste, requires few toxic organic solvents or additives (for most achiral separations), rapidly evaporates organic solvents to speed up turnover, has low operation costs, and efficiently recycles CO2. Overall, SFC is the greenest chromatography technique available.
In terms of promising applications, I'd highlight the separation of lipophilic molecules such as lipids and cannabinoids, using 10 percent or less co-solvent, achiral separations, peptides/proteins separations, process and industrial scale purification. And, as Oliver noted, chiral separation is also well established.
Giraud: I'd like to echo Gerard's comments regarding the SFC's "greenness" for analytical and preparative chromatography. The CO2 used as the mobile phase – in combination with one or more organic solvents (usually an alcohol) – is recycled up to 98 percent when PIC Solution's equipment is used. The reduction of organic solvents is beneficial too. In addition, supercritical CO2 has a lower viscosity that allows higher flow rates and diffusivity, which results in an overall greater efficiency and thus faster purification – 3–10 times faster than HPLC.
We are using SFC to purify complex lipids (both commercial and in the clinic). But we also see advantages (high recovery and the possibility to back recycle the wrong isomer in the process) for chiral separation of small molecules. CordenPharma is also exploring the purification of more complex compounds that require more than one modifier and/or the addition of either a basic/acid additive.
Establishing Efficiency

Researchers from Merck & Co demonstrated the efficiency of SFC in a parallel screening study. They utilized PIC Solution technology for parallel multicolumn SFC screening of small molecules; with one injection, five columns are screened. The analytical SFC instrument can switch between multiple banks of five columns (or single columns), and six organic modifiers.
This allowed the researchers to accelerate identification of optimal conditions for enantiomer separation, and ultimately enabled faster purification of the desired compounds. The instrument utilized in this study is also optimal for running microscale separation on 1 cm ID columns.
You can read the research paper here.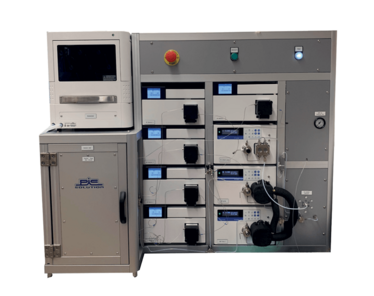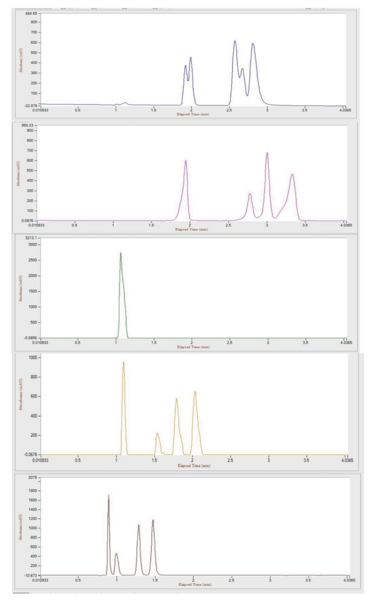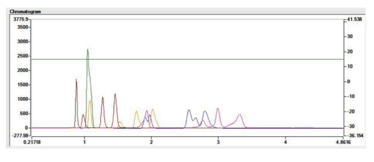 For more information about PIC Solution, visit: https://www.pic-sfc.com/

Oliver McConnell is Director of Analytical Chemistry, CMC/Chemistry at IDEAYA Biosciences.
Matthieu Giraud is Senior Platform Director, Lipids & Carbohydrates, at CordenPharma International.
Gerard Rosse is Vice President at PIC Solution.
Receive content, products, events as well as relevant industry updates from The Analytical Scientist and its sponsors.