Techniques & Tools
Gas Chromatography,
Environmental,
Mass Spectrometry
The GC-MS Application Challenge Winner: Flavio A. Franchina
We catch up with 2023's GC-MS Application Challenge winner Flavio A. Franchina
James Strachan | | 4 min read | Interview
The Analytical Scientist, in collaboration with LECO Corporation, Restek, Axel Semrau and GL Sciences, invited those working in the GC-MS space to submit their most impressive application notes for the chance to win some exciting prizes – all expenses paid facility or conference trips, consumables worth $3,000, and instrument discounts, to name but a few.
Our expert panel of judges – including Robert K. Nelson, James Harynuk, Susan Richardson, Hans-Gerd Janssen, Giorgia Purcaro, Erich Leitner, Jaap de Zeeuw, and Robert Trengove – have considered the entries and the results are in! Our winners across the following categories are:
Dmitry Koluntaev for Best Novel Application
Anika Lokker for Excellence in Chromatography
Flavio A. Franchina for Creative Use of Application Workflows, Sample Prep & Automation
Katelynn Perrault – Special Recognition
Here, we catch up with Creative Use of Application Workflows, Sample Prep & Automation winner Flavio A. Franchina.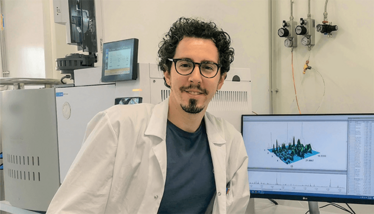 Creatively Controlling Pesticides
Creative Use of Application Workflows, Sample Prep & Automation: "Determination of phytosanitary products in surface waters and groundwaters by GC×GC-TOFMS"
With Flavio A. Franchina, Assistant Professor of Analytical Chemistry at the University of Ferrara, Italy
Please introduce yourself…

My research is focused on the implementing and integrating into analytical workflows effective sample preparation, separation, detection, and data elaboration techniques for targeted and non-targeted analysis of small molecules. We apply these strategies and finely tailor them to tackle challenges in food, biomedical, and environmental applications.
Here, we described the development and validation of a method for the determination of phytosanitary compounds in environmental waters. For this, we relied on a solid-phase extraction (according to the EPA method 3535A), followed by injection into a comprehensive two-dimensional gas chromatography coupled to mass spectrometry (GC×GC-MS) system.
What was your main inspiration?

The idea popped into my mind when tutoring one of my students, who was working on his dissertation. At the time, he was working part time for one of the national environmental agency's local labs, so I had the chance to hear about some of the analytical challenges they faced. I thought that developing a GC×GC-MS methodology for phytosanitary compounds could really be helpful, and that comparing it with its GC counterpart would be interesting – and a good learning exercise for the team, both in terms of theoretical and technical skill development.
What were your main findings?

We analyzed some real-world water samples in collaboration with the national environmental agency, and we found that – fortunately – the total amount of phytosanitary compounds was below the legal limit for most of them. The occurrence of contamination was also more evident among superficial water samples, compared to groundwaters. Curiously, the most common compound detected over the limit (0.1 μg/L) was caffeine.
Any challenges?

As shown in some of the figures of the application, 1D GC separation was insufficient to resolve some target peaks, which co-eluted with other species. Depending on the case, some of them were spectrally resolved by the MS, thus a single separation would successfully do the job; others instead greatly benefitted from the additional separation into the second dimension with the GC×GC method. We also quickly realized the need to develop quality control procedures because the extracts and standards were not very stable during storage.
Do you have any tips for scientists hoping to bring a touch of creative flair to their application workflows or method development?

I think it's important to acquire a solid and deep knowledge of specific topics or techniques; then, contaminations from other fundamental disciplines might let you find different angles for the topic you master.
Looking at something that you know well from a different perspective is a way to exercise your creativity and make a difference.
What applications do you hope to explore in the future?

I would like to develop and transfer more informative and effective analytical strategies to companies' R&D and QC laboratories.
Regarding the environmental monitoring, we are more recently using a programmable-temperature vaporizer for the GC×GC-MS system. I believe this can greatly help to reduce solvent consumption during the extraction process.
We're also working on the development of robust methodologies of chemical analysis for the investigation of metabolites in clinical settings... Stay tuned!
You can download the application note here.
Receive content, products, events as well as relevant industry updates from The Analytical Scientist and its sponsors.