Techniques & Tools
Spectroscopy,
Mass Spectrometry,
Forensics
ToF-SIMS: A Secret Forensics Weapon?
How a new approach to imaging could help forensics scientists retrieve fingerprints from tricky bullet casings
Lauren Robertson | | Quick Read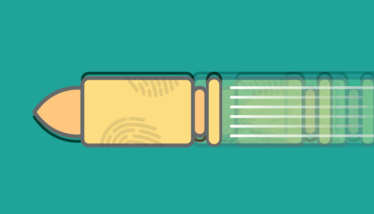 A team of researchers at the University of Nottingham, headed by James Sharp, have developed a unique ToF-SIMS method for imaging fingerprints left behind on curved objects, such as bullet casings (1). Traditionally, these objects pose a challenge for forensic scientists both because of their tricky shapes, but also the physical conditions the bullet is exposed to – namely, high temperature and pressure.
The team had already proven that ToF-SIMS provides much more accurate and detailed images than conventional forensic techniques, but they have now added a rotational stage that allows even more detail to be gained over the entire surface area of a bullet casing – crucially, in a non-destructive manner. The stage allows the instrument to analyze a thin strip before the object is rotated by a few degrees; the strips are stitched together to form a complete image. The extra detail was able to pick up ridge and sweat pore level detail on samples where no fingermarks had previously been detected.
"It's really exciting to be taking this research a step further by adding the rotational stage," said Sharp in a press release (2). "This could really pave the way for a new reliable way to analyze evidence, identify persons of interest, and link them to the ammunition in a firearm."
Receive content, products, events as well as relevant industry updates from The Analytical Scientist and its sponsors.
CJ Lee et al., Analyst (2021). DOI: 10.1039/D1AN01768C
EurekAlert (2021). Available at: https://bit.ly/3xLfy0e