Techniques & Tools
Mass Spectrometry
What's New in Mass Spec?
August's top mass spectrometry news: a 5.2kg mass spectrometer, open source pattern finding software, a new application for the MasSpec Pen, and more
James Strachan | | 3 min read | News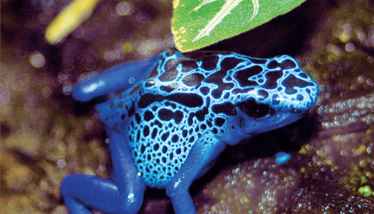 Just how small can portable mass spectrometers get?

It's a fascinating engineering problem that could open up a raft of new application areas. Which is why I was intrigued to see that researchers from Taiyuan University of Science and Technology, China, have got theirs down to just 5.2 kg in weight. To construct the handheld device, the team integrated three technologies: discontinuous atmospheric pressure interface, sinusoidal frequency scanning ion trap driving, and Faraday detection. The end result is a 21 by 21.6 by 12.3 cm mass spectrometer with a two-hour battery life. The researchers believe the device could be used for rapid analysis in a field hospital setting or in the emergency room. They also hinted at potential applications to chemical warfare agent analysis.
The pen is gentler than the sword

The MasSpec Pen, a portable MS device developed by Livia Eberlin, is most well known for its cancer-detecting capabilities. Here, Eberlin and her colleagues have branched out into a new and unexpected application area: poison frogs! Poison frogs are well-known for their ability to store alkaloids in their skin as chemical defense against predators, which can be difficult to sample without harming the frogs or causing a stress response and affecting the results. The team reported "rapid (<15 s), gentle, and consecutive molecular analysis without harm or undue stress to the animals." If you want to read more about Livia Eberlin, we Sat Down With her in 2019.
Proteomic insights into reductive stress cardiomyopathy

Two years ago, researchers at the University of Alabama at Birmingham, USA, reported that reductive stress – an imbalance in the normal redox homeostasis – caused pathological changes associated with heart failure in a mouse model. This work was a follow-up to their 2018 clinical study that found about one in six heart failure patients shows reductive stress. Now, using tandem mass spectrometry, they have extended our understanding by disclosing a likely proteome signature for reductive stress cardiomyopathy (again in mice). They found about 560 proteins were differentially expressed, and 32 proteins were significantly altered. "Our results provide a rationale to develop personalized antioxidant therapeutic strategies to avoid reductive stress-mediated proteome alterations in humans," said research lead Rajasekaran Namakkal-Soorappan.
Pattern finding universal language

One paper in particular got #TeamMassSpec talking this month – a preprint by Mingxun Wang and colleagues introducing Mass Spec Query Language (MassQL). "The richness of untargeted mass spectrometry data is a blessing and a curse," said Ming. "We created MassQL to help mass spectrometry users to sift through this deluge of data and find exactly the molecules and classes of molecules they were looking for by defining their own MS data searches." MassQL is open source; and in the words of Pieter Dorrenstein who was involved in the project, "This is one of those papers that will transform how metabolomics data patterns at the spectral level within one project or repository can be analyzed."
Also in the news...

Imaging mass spectrometry data suggests cholesteryl ester transfer protein (CETP) activity affects brain health by modulating cholesterol distribution and clearance. Link
Combination of differential ultracentrifugation and quantitative MS shows that the proteome of large and small extracellular vesicles are substantially dissimilar. Link
Levels of fifteen lipid compounds associated with various biological processes, including impairments of membrane integrity, mitochondrial dysfunction, and oxidative stress are significantly different between PTSD patients and healthy control subjects. Link
The Matthias Mann lab quantifies 7,000 proteins and 35,000 Class I phosphosites in 21 minutes by combining DIA and parallel accumulation–serial fragmentation (dia-PASEF) on a Bruker TIMS–TOF mass spectrometer. Link
MS-based proteomic and phosphoproteomic analysis used to identify biological markers in triple negative breast cancer that are associated with resistance to chemotherapy treatment. Link
Research from Baran Lab reveals intermediate states of protein unfolding using variable-temperature ion mobility–MS. Link
For the latest mass spec research delivered to your inbox every week, sign up to the Mass Spec Newsletter here.
Receive content, products, events as well as relevant industry updates from The Analytical Scientist and its sponsors.