Techniques & Tools
Spectroscopy
What's New in Spectroscopy?
THz-TDS to estimate burn severity, a new nanoprobe to signal plant distress, and detecting harmful microbes throughout the beer brewing process with SERS…
Georgia Hulme | | 2 min read | News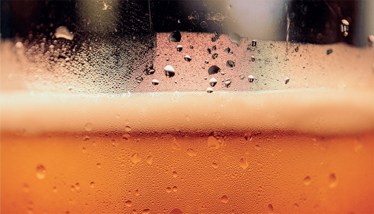 Hot new technique

The first triage of a burn injury is crucial in forming successful clinical treatment plans. However, accuracy rates of burn depth evaluation are currently around 60-75 percent, suggesting that the most appropriate treatment is not always given. With this in mind, researchers from Stony Brook University, New York, USA, have employed a neural network model that uses terahertz time-domain spectroscopy (THz-TDS) to non-invasively triage burns. The new technique was combined with a handheld imaging device, named PHASR, to rapidly image in vivo burn injuries using THz-TDS. Results showed an average accuracy rate of 84.5 percent when estimating burn severity, and predicted the outcome of the wound healing process with an accuracy rate of 93 percent. Researchers hope that – with further testing – the handheld device may be integrated into point-of-care settings for clinical burn assessment.
Spoiler Alert

Beer spoilage bacteria are a constant nag for breweries, and existing methods to identify culpable bacteria are often time-consuming. Enter researchers from China, who employed label-free, surface enhanced Raman spectroscopy (SERS) to detect harmful microbes throughout the brewing process. An aluminized chip was paired with SERS to enhance signal strength, which the researchers used to successfully identify eight bacterial species responsible for beer spoilage. Machine learning algorithms suggested that accuracy rates were all above 90 percent – confirming the ability of SERS to classify and identify bacteria in beer.
Joining Forces

A group of researchers from China have developed F-GIBS, a dual technique that combines filament- and plasma-grating-induced breakdown spectroscopy (FIBS and GIBS) to improve sensitivities for trace metal detection in liquids. In the study, strong nonlinear interactions of filaments were combined with different plasma gratings, and fluid jets were created to analyze aqueous solutions. Further, no random filament breakups were noted when the nonlinearly coupled filaments entered the fluid jet across the air-aqueous interface. Overall, F-GIBS spectral line intensities were much greater than when FIBS and GIBS were used in isolation.
Also in the news...

Miami Miller researchers receive NIH grant for the study of spectroscopic MRI, and its role in detecting – and potentially eradicating – glioblastoma. Link

MR spectroscopy successfully identifies pseudoprogression to differentiate between necrosis and recurrent brain tumors. Link
UK researchers use 1H-NMR spectroscopy-based metabolic profiling to demonstrate how rectal swabs have the ability to analyze gut microbial functionality with similar effectiveness to fecal sampling. Link
ATR-FTIR spectroscopy – combined with machine learning – identifies urine protein that allows early detection of diabetic kidney disease. Link
Novel, non-destructive SERS based nanoprobe allows stress signal molecules to be monitored in endogenous plants, which could improve disease management. Link
Japanese researchers develop multiline-illumination Raman microscope to achieve rapid Raman spectral imaging – with hope of future biomedical applications. Link
Receive content, products, events as well as relevant industry updates from The Analytical Scientist and its sponsors.