Business & Education
Professional Development,
Liquid Chromatography
From Military Brat to Analytical Chemist
On the occasion of her retirement, Apryll Stalcup, former Professor of Chemical Sciences, Dublin City University, considers the past – and what she'd do with a lottery jackpot
Jessica Allerton, Frank van Geel | | 5 min read | Interview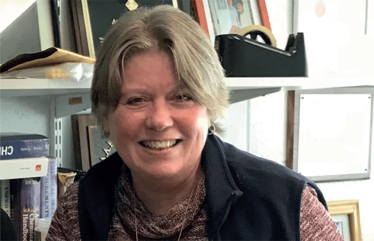 How did your academic career begin?

My first academic position was at the University of Hawaii (UH). I was the first woman hired into the department in 40 years. I was hired at the same time as a marine natural products scientist, Brad Davidson. Beginning an academic career can be very stressful – there are so many expectations, but often not a lot of guidance on the mechanics of being an academic, such as purchasing, submitting proposals, drafting budgets, etc. Thankfully, Brad and I shared information – which was a real lifesaver. Another lifesaver was the campus-wide mentoring program for women that I was invited to join. I shared everything I learned from the mentoring program with Brad.

I became a single parent while at UH, and managing childcare and professional travel was very difficult in Hawaii. Eventually, I had an opportunity to move to Cincinnati, which had a more robust research support infrastructure, although traveling to conferences still wasn't easy.
You said HPLC was your first scientific love…

My first post-BS job was working in an environmental lab outside Washington, DC. I was hired with four guys who all went into a nice, clean lab, but I worked by myself in a huge lab that was used for solvent storage and contained several pieces of scientific equipment with no manuals. There was no air-conditioning, not all the lights worked, and there were signs with skulls and crossbones all over because of the dioxin work that had been done there. One of the few bright lights in the lab was shining on this brand-new Altex orange-and-black pump with a Schoeffel variable wavelength UV detector and an injection valve that looked like a stick shift on a car. It had these cute little wrenches that I could use for connecting and disconnecting columns. This was a new technique to the company and during the installation, I was able to ask all the questions I wanted of the person installing the instrument.
What have been your career highlights?

I am still experiencing them. A former postdoc contacted me recently to tell me that he had been invited to speak at an International Women's Day event about a person who had been particularly influential in his life and career – he selected me.

On another occasion, when I was attending a talk by a prominent separation scientist, he said that they were going to do a particular experiment, but that Stalcup already did it! Another highlight was being selected as Director of the Irish Separation Science Cluster. And the time our research was recognized by the Dal Nogare and Benedetti-Pichler awards. I have been very fortunate in terms of highlights.
What motivates you?

Curiosity, a streak of independence, and a desire to solve interesting problems. It became much easier for me to ask questions at conferences once I made the decision to focus on satisfying my curiosity – rather than worry what the audience or the speaker thought of my questions. One of the reasons I left the environmental lab was because I was pulled off a project just when it became interesting to me. The company had a "good enough" answer, but my curiosity had not yet been satisfied!
You call yourself a military brat – how did this impact your life and career?

My father spent 32 years in the US Navy. The military permeates family life more than most other professions – and one consequence is having to move frequently. I went to eight different schools between kindergarten and high school. Military brats grow up in a culture that is generally more heterogeneous than the average civilian neighborhood – which means they can be quite adaptable and have seen a lot of different ways that systems can be set up or messed up.

I knew from the frequent moves experienced as a child and then later as an adult that they wouldn't kill me. Indeed, they would likely bring interesting new opportunities, experiences, and people into my life. In fact, my professional moves have been primarily driven by what best facilitates my science.

But it was also a life filled with separations. I was continually thrown into situations in which I knew no one in the room. I watched how other people interacted with each other and imagined a backstory for them. Molecules do the same thing both in solution and in the gas phase, but in solution the liquid moderates the interactions, much like the environment can moderate the interactions between people. In my work, I just tried to understand the molecular backstory.
How does this impact your approach to your students?

My perception is that people sometimes limit themselves by geography or any number of other things – like other people's expectations. In high school, I was told that women don't do science. But it was really the only thing I wanted to do.

On another occasion, at PittCon, I once overheard two recruiters for a large pharma company talking about some recent job interviewees trained in a prominent separation scientist's group. One of the recruiters was obviously impressed with the candidates, but the other recruiter was less so – noting that students coming out of that group only knew about one thing. I vowed no one would ever say that about my students.

Throughout my career, I used understanding of separation mechanisms as an excuse for the students to learn other approaches – for example, using NMR to understand interactions between ionic liquids and phenols to understand capillary electrophoretic separations of polyphenols.
You recently retired from your role as professor. What are you looking forward to?

In 2001, I was being recruited for a position at one of the funding agencies in the US and I was seriously considering it. I was having difficulty getting funded and I was afraid I would never have another idea. I submitted a "Hail, Mary" pass of a proposal and the funding agency gave me twice the amount of funding I asked for. I realized then that there was still some science that I wanted to do. Flash forward to 2023 and I'm retired, but I have about four or five ideas that I would love to pursue. I keep buying lottery tickets – if I hit it big, I am hiring a few postdocs!
Receive content, products, events as well as relevant industry updates from The Analytical Scientist and its sponsors.
---