Fields & Applications
Genomics & DNA Analysis,
Food, Beverage & Agriculture
Hidden Under the Umbrella
Scientists have discovered rare cannabinoids in non-cannabis plants
Jessica Allerton | | News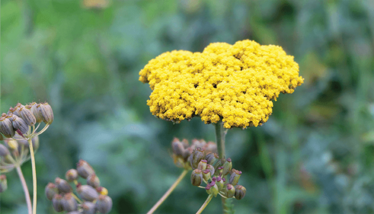 Cannabinoids come from cannabis plants, right? Not always. A team of scientists at the Weizmann Institute of Science, Israel, have detected the presence of cannabinoids in other plants (1) – the result of "parallel evolution" of cannabinoid biosynthesis. In particular, the researchers found cannabigerolic acid (CBGA; 4.3%) alongside other rare cannabinoids in a perennial shrub called Helichrysum umbraculigerum – commonly known as "wooly umbrella."

The team applied de novo whole-genome sequencing, chemical structure annotation, enzymatic assays, and pathway reconstitution to understand the molecular and chemical features of the plant, while also conducting a nutrient-based experiment. When given hexanoic acid and phenylalanine (precursor compounds for cannabinoids), the plant produced more cannabinoids compared with plants that were fed regular nutrients.

In contrast to cannabis plants, where the flower glandular trichomes see the greater concentration of cannabinoids, it is the trichomes of the leaves of H. umbraculigerum where CBGA accumulates, with barely any presence in the flowers. As well as using some of the same biosynthetic pathways as cannabis flowers, the wooly brolly naturally produces other rare cannabinoids and water-soluble cannabinoids that aren't present in cannabis. Notably, the plant also benefits from two enzymes that cannabis does not produce, which convert CBGA into tetrahydrocannabinolic acid (THCA) or cannabidiolic acid (CBDA).

In a press release, lead author of the study Paula Berman explained, "The next exciting step would be to determine the properties of the more than 30 new cannabinoids we've discovered, and then to see what therapeutic uses they might have."

The study authors closed their piece with this encouraging note: "Our discovery provides a currently unexploited source of cannabinoids and tools for engineering in heterologous hosts."
Receive content, products, events as well as relevant industry updates from The Analytical Scientist and its sponsors.
P Berman et al., Parallel evolution of cannabinoid biosynthesis (2023). DOI: 10.1038/s41477-023-01402-3.
Weizmann Wonder Wander, "Plant Research Reaches a New High" (2023). Available at: http://bitly.ws/HctN.