Fields & Applications
Mass Spectrometry
Putting Pen to Tumor
The MassSpec Pen looks set to transform cancer surgery with encouraging new results
Lauren Robertson |
Many of you will already be well aware of the MassSpec Pen, a handheld MS device capable of nondestructively diagnosing human cancer tissues. In fact, we covered the technology back in 2017 when it began to make headlines. Now, the first diagnostic results have just been published (1) – and they're pretty exciting.
In case you need a refresher, the device works by dissolving the metabolites from a tumor's microenvironment in a droplet of water and then analyzing them via MS. The aim is to make surgical cancer removal easier for clinicians by offering a faster, more accurate alternative to tumor margin evaluation than traditional frozen section analysis.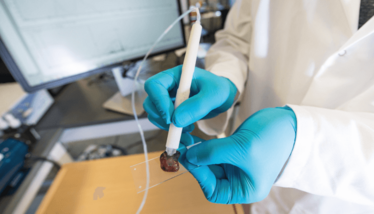 After the pandemic called a halt to testing of the device in surgeries, the team are now back in operating rooms and have used the pen in more than 150 human surgeries so far.
"These results show the technology works in the clinic for surgical guidance," said lead author Livia Schiavinato Eberlin in a press release (2). "Surgeons can easily integrate the MasSpec Pen into their workflow, and the initial data really supports the diagnostic accuracy we were expecting to achieve."
The current study in pancreatic cancer surgery is the first to have results published, but the team plan to continue testing the pen in other cancers, with results expected to be published soon.
Receive content, products, events as well as relevant industry updates from The Analytical Scientist and its sponsors.
Mary E King et al., PNAS, 28, e2104411118 (2021). DOI: 10.1073/pnas.2104411118.
UT News (2021). Available at: https://bit.ly/2TFH7rY.