Fields & Applications
Genomics & DNA Analysis
The New Face(s) of Forensic Science
Forensic science is glamourized onscreen,but often misrepresented. Meet the real stars of the field: the people delving into DNA profiles, trialing new technologies – and communicating an altruistic passion for the power of forensic science.
Craig O'Connor |
The Science and Nothing But the Science, with Craig O'Connor
One Piece of the Puzzle, with Kacey Cliburn
Fly in the Face of Evidence, with Jennifer Rosati
Battling the Backlog, with Sarah Lum and Charlie Clark
The Science and Nothing But the Science
With Craig O'Connor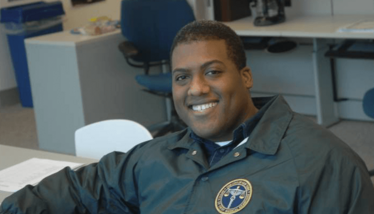 In recent years, forensics has come under increasing scrutiny – and rightly so; the goal is to get evidence into a court of law, which can ultimately affect whether someone goes to jail. It goes without saying that we want to make sure we are putting the best science out there. Over the years, the field has all too often been overly influenced by the law (it might be easier to get it into court if we don't do X or do Y instead). But as changes in technology give us the ability to do more with less, we have an opportunity to put the science firmly back into forensic science – by which I mean, making data-driven decisions without any undue secondary influences.
Meeting the challenge
I work as a criminalist at the Office of the Chief Medical Examiner in New York City. We cover all five boroughs of NYC – eight million people. There's a lot of crime, and therefore a great need for forensic scientists in the crime lab. We process upwards of 12,000 cases a year (most crime labs process far fewer than that). We see new pieces of evidence daily, from samples of firearms to other weapons, even half-eaten food. Anything you can think of, we've probably had to deal with.
We are also one of the very few laboratories in the country fortunate enough to have a research and validation group within our lab. Here, our main goal is to validate new techniques to see if they're fit for use, and then apply them to casework. We also look at 'up-and-coming' research and techniques, to see if they could work in a forensic setting.
My day-to-day is pretty varied. I could be examining crime scene evidence, looking for blood, semen, saliva and skin cells, taking samples, doing preliminary or screening tests for bodily fluids, and conducting DNA analysis.
DNA and PCR
Back at college, basic DNA extraction and quantitation was one of the simplest analyses we did. Over the last 15 or so years, however, many things have changed. In the 1990s, the main challenge was to get enough DNA from a sample to be able to compare it to an individual, so the focus was on body fluids (blood, semen, or saliva), and most techniques used nanograms or micrograms of DNA – in our world, that's a lot of DNA. As the years went by, the ability to extract DNA improved, and we began working with lower and lower amounts of DNA. Fast-forward to 2010, and many labs started assessing what we call "touched items" – looking at skin cells rather than bodily fluid deposits. You get much fewer cells and, therefore, a lot less DNA − in the picogram range. But the challenge is not only being able to detect small amounts of DNA; it must be analyzed and interpreted. We can detect DNA on a shirt or the handle of a knife, but there's no test that's going to tell us how it got there. One can only postulate. And we also can't tell how long DNA has been on an item.
Science meets law
Forensics covers a wide range of different techniques from fingerprint analysis to shoeprint analysis to bitemarks and DNA analysis. There's a misconception that forensic science is poorly regulated. But at least when it comes to DNA, we are highly regulated, through both accreditation and national standards. New techniques have to go through rigorous testing, to check if they are fit for use; we have to go through validation, following quality assurance standards put out by the FBI; we have to get approval from our state commissions as well as intra-agency commissions – all before we start using it for casework.
As an example: massive parallel sequencing, which has been used in the biomedical field for over a decade, is only now making its way into forensics, because of the hurdles we need to clear to get it admitted into court. And naturally, we have to show that whatever technique we use gives the correct answer each and every time.
It's also part of our job to testify, though not all cases make it to court. I've testified over 60 times, and although it does get easier, each case is different − as is every piece of evidence, each result and, of course, each attorney you're dealing with. Our justice system is very adversarial by nature. But I enjoy it, and it's the part of the job that most analysts like; it gets you out of the lab, first of all, and second, you get to see the criminal justice system in action. In the end, the meeting of science and the law is just another challenge that comes with the territory.
Between scene and screen
Within the medical examiner's office, we handle many technologies – forensic biology is just one portion. We have a toxicology department, medicolegal investigators that are "on scene" every time there's a death, a molecular genetics department that deals with new and emerging technologies for looking at sudden death syndrome, and one very few labs working on body fluid identification. Within forensic biology, the newest technology is advanced statistical analysis – what's called probabilistic genotyping.
It's a varied and exciting role, without a doubt. But on a day-to-day or case-to-case basis, we must only focus on the science. Do our positive or negative controls pass? Is the test fit for purpose and likely to give the right result? In a broader sense, knowing that a result can somehow lead to justice is really rewarding. We're working for the people of New York City – the victims, the suspects, and the criminal justice system as a whole.
Craig O'Connor is Criminalist IV at the Office of the Chief Medical Examiner, New York, USA.
Receive content, products, events as well as relevant industry updates from The Analytical Scientist and its sponsors.