Techniques & Tools
Genomics & DNA Analysis,
Data Analysis,
Clinical
Beethoven's Final Symphony
Genomic analysis of Beethoven's hair sheds light on what caused his death – and reveals a potential scandal in the family…
Jessica Allerton |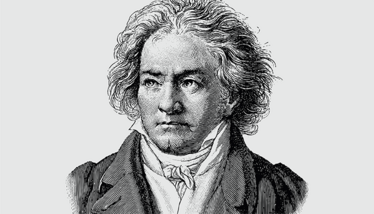 Ludwig van Beethoven suffered from progressive hearing loss and was left functionally deaf by 1818. The deafness, lifelong gastrointestinal problems, and unknown cause of death have puzzled medical biographers. In 1802, Beethoven requested that following his death, the details of his passing would be made available to the public. In accordance with these wishes, medical biographers have conducted multiple studies since his death in 1827 to determine the exact cause – to no avail.

However, an international team of researchers led by Cambridge University aimed to shed light on Beethoven's passing. They took eight independently sourced locks of Beethoven's hair from both public and private collections, and performed DNA sequencing. The results eliminated several genetic causes of death, including coeliac disease, lactose intolerance, and lead exposure, while also revealing that Beethoven had a predisposition for liver disease and became infected with hepatitis B in the months prior to his death (1).

"Together with the genetic predisposition and his broadly accepted alcohol consumption, these present plausible explanations for Beethoven's severe liver disease, which culminated in his death," concluded the authors.

Unexpectedly, while analyzing Y chromosomes from five living members of the Beethoven patrilineage, researchers learned of an affair in the direct paternal line. This is believed to have occurred between the conception of Hendrik van Beethoven in 1572 and the conception of Ludwig van Beethoven in 1770.

Tristan James Alexander Begg, the lead author in this study, said in a press release, "We hope that by making Beethoven's genome publicly available for researchers, and perhaps adding further authenticated locks to the initial chronological series, remaining questions about his health and genealogy can someday be answered" (2).

And so, a new mystery unravels…

Credit: Gordon Johnson / pixabay.com
Receive content, products, events as well as relevant industry updates from The Analytical Scientist and its sponsors.
TJA Begg et al., Curr (2023). DOI: 10.1016/j.cub.2023.02.041.
EurekAlert! (2023). Available at: https://rb.gy/1846y.