Techniques & Tools
Mass Spectrometry,
Metabolomics & Lipidomics,
Liquid Chromatography,
Gas Chromatography
Bioanalytical Living Legend
Sitting Down With... Barry Karger, James L. Waters Chair in Analytical Chemistry and Barnett Institute Director at Northeastern University, Massachusetts, USA.
Rich Whitworth |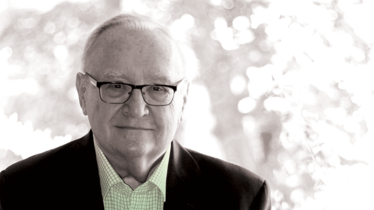 Take us back to the beginning...
I got my undergraduate degree in 1960. And I guess the main reason I chose to enter the world of analytical chemistry was the influence of my senior thesis professor at MIT – L. B. "Buck" Rogers. He passed away more than 20 years ago, but he was a very well respected analytical chemist, particularly in separations. I then went onto Cornell University and worked for another big name – Donald Cooke. The field of gas chromatography was just beginning, and I built my own flame ionization detector triggered by work Jim Lovelock had published in 1961. The other part of my thesis was fundamental work on optimization separations using time normalization. Around that time, a guy I'd never heard of from Ecole Polytechnique in Paris wrote to me in broken English and started using some of my data. I finally met Georges Guiochon in 1964.
And then you moved to Northeastern University?
In those days, the universities in the US were expanding because of the impending war-baby boom, and it meant that I was essentially free to go anywhere. My wife is from Boston, so there was pretty strong pressure to go back there... I began at Northeastern University in 1963. I worked on two areas – gas chromatography and foam fractionation (a method to separate by adsorption on bubbles). One of the big discussion points of the day was the battle between packed and capillary GC columns (the latter introduced by Marcel Golay in the late 50s). We all know how that story ended: capillary columns won the day. Chiral separations, in particular diastereomers, were another focus in those early years. Then in 1964, I met Csaba Horváth who was doing a post-doc at Harvard Medical School ahead of Yale. He told me I really should start looking at aqueous systems, both for GC and liquid chromatography. I agreed, and we began early work on LC. Of course, when a new method comes along with the potential to displace an existing method, some experts start getting defensive; it was an interesting time.
So you found yourself in an exciting and burgeoning field?
Yes - and with the right people. We connected with István Halász (Csaba's PhD mentor), who doesn't get enough credit today; he had a major impact on Csaba, Georges Guiochon and myself, and he actually introduced bonded phases. We made a major effort in C18 bonded phases and got into reversed phase LC early, in part because of Csaba's insistence. It was an interesting era – initially, the technique was not robust at all. Columns were shipped in foam rubber because the packing would settle leaving an empty space..For a couple of years, we did a training course for FDA scientists on LC, and I remember receiving some columns, installing them, and then discovering there was a void at the top – useless (I won't mention the vendor).
Fortunately, the technique quickly evolved. I think it was in 1973 when everyone got excited because the first LC method had been accepted into the US Pharmacopeia. Also in 1973, we had the first international HPLC meeting in Interlaken (I was there). In some ways, that first generation is like mass spectrometry today – with hot new ideas and applications constantly pouring forth.
I've always felt that analytical chemistry should be at the center of a wheel, with the spokes being various application areas.
And you continued to connect with the right people?
In the 70s, I got friendly with Josef Huber and Lloyd Snyder – we wrote several papers together. It felt like we'd formed a real community. In fact, Csaba, Lloyd and I published a textbook – Introduction to Separation Science – and it was used as a graduate text for the next 25 years. HPLC really improved over the decades that followed – and the fundamental understanding kept pace, which was hugely important. It's fun looking back; the fundamentals in our book are still good – but the rest of it is woefully behind. I'd describe it now as an historical document...
How did the Barnett Institute come about?
I've always felt that analytical chemistry should be at the center of a wheel, with the spokes being various application areas. Working alongside the NU's College of Criminal Justice, we got funding from the Department of Justice (which stopped when Jimmy Carter became President) and the opportunity arose to form an analytical institute with a focus on forensics – one of the spokes. Later, the Barnett family offered a naming gift, and that was the beginning of the Barnett Institute – I've been director there for over 40 years. As a side story, Jim Waters helped me out in my early days by giving me an injector and pump. And in 1985, he endowed the James L. Waters Chair in Analytical Chemistry at NU, which I am very proud to hold. He's 89 now, but he still comes to Institute board meetings.
We began filling out the wheel with spokes from other areas; for example, the 80s had an environmental focus, and the Human Genome Project dominated in the 90s – we developed the linear polyacrylamide matrix that was used extensively in the sequencing. In the 2000s, I saw next-gen sequencing being introduced by dedicated and well-funded companies, and made a smart decision to refocus on chromatography and bioanalysis.
Without an application you've got nothing. And there are plenty of questions left to solve, they just need to be understood.
What would you consider to be your main legacy?
People. Over the years, the Barnett Institute has seen 375 academicians pass through its doors, with many big names among them. My first post doc was Heinz Engelhardt. Wolfgang Lindner you know... There are obviously far too many to mention here. But I'll say this: none of them found it difficult to get jobs!
Of course, we've licensed a great deal of technology over the years as well... I already mentioned our impact on the Human Genome Project. But I think most academics will share my thoughts that it is the people you shape – and watch go onto great things – that give you the most pride.
Why do you think so many top people gravitated towards you?
Well, it wasn't just me – it was also the institute. But I think my focus on not only the fundamentals but also on applications was very important. Without an application, you've got nothing. And there are plenty of problems left to solve, they just need to be understood. Indeed, one of the grand challenges right now is being able to analyze intact proteins. Every biopharmaceutical is a mixture – and to tackle that, we're going to need improved mass spectrometry and improved separations. There are many opportunities, but to see them, you need to come out of your shell. Forming real collaborations is a big part of that.
You've been in the field longer than most – how do you maintain a fresh perspective?
Keeping an open mind helps. When I started, analytical chemistry was suffering a real loss of prestige, so being aware of opportunities was important. Today, the situation has dramatically improved. If you have something new and can solve a problem that hasn't been solved before, people will be knocking down your door. The term "analytical chemist" is less used these days – people are described as bioengineers, clinicians and so on – and that's a good thing because we need a collaborative approach; the problems we're tackling now are much more complex than ever before – in part because we now have the tools to tackle them. I actually think we'll see more and more academic–industry collaborations as the decade plays out. Industry keeps your head straight and offers a true link to what is required. Some people would suggest that such work is scientifically less creative, but that's totally wrong. In many cases, it actually drives the fundamentals.
Finally, take us into the future...
I see several major areas out in front. Protein analysis is not going away – sheer complexity has made progress slower than perhaps expected, but its importance will only grow. Bioinformatics will become hugely important – we're getting serious amounts of data; what can and should we do with it? And we need advanced statistics to ensure relevance amongst all this complexity.
Another major trend will be our need to deal with limited amounts of sample. In the clinic, for example, liquid biopsies are fast emerging, particularly in our search for early cancer diagnostics. We clearly can't take a liter of blood, so our ability to handle and analyze such limited amounts of material will be a big driver. Amy Herr was at HPLC in Geneva presenting on single-cell proteomics, Renato Zenobi is working on single cell metabolomics. And for all of these things we need separations. How can we deal with picogram quantities of material? The people answering these sorts of questions will be the leaders of tomorrow.
In recognition of Barry Karger's scientific contributions and his establishment of the Barnett Institute, Northeastern University initiated a medal in his name, awarded biannually, for outstanding advancements in the field of bioanalysis. The inaugural awardee will be Matthias Mann, Director of Proteomics and Signal Transduction at the Max Planck Institute of Biochemistry in Munich. The Karger Medal will be presented in October 2015 in Boston, an event that coincides with Barry's celebration of 50 years at Northeastern University.
Receive content, products, events as well as relevant industry updates from The Analytical Scientist and its sponsors.