Techniques & Tools
Mass Spectrometry,
Technology
Fly Me to the Moon(s)
Putting analytical science to the ultimate test: looking for extraterrestrial life on moons within our solar system
Jessica Allerton | | 3 min read | Review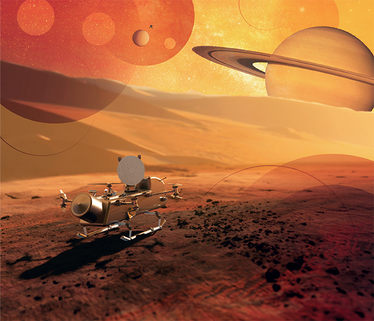 Humans ask questions and take risks to find answers – from playing with fire to deep sea exploration. Even before our species' first mission outside of Earth's atmosphere, we've wondered if there are others like us elsewhere in the universe – perhaps even within our own solar system. Such questions were once reserved for the pages of science fiction novels, but thanks to the remarkable analytical advances in recent years, we may be at the precipice of huge discoveries.

Mars, our closest planetary neighbor, may have been habitable many millions of years ago; but scientists now believe that liquid water could be hiding beneath the surface of several moons further afield (such as Europa, Titan, and Enceledus). Could there be anything else hidden beneath the thick icy crust of these oceanic worlds?

To find out, several missions have been launched into space to take samples of the outer atmosphere of these moons, providing tantalizing chemical hints of what lies beneath. At the core of these missions is analytical science – with mass spec in particular paving the way – and, of course, analytical scientists.

Why not meet them?

Melissa Trainer: Mass Spec Takes Titan by Storm [Read More]

NASA Astrobiologist Melissa Trainer discusses the DraMS mission to Titan and the prospects of detecting extraterrestrial life in our solar system.

"To conduct so many different variations of analysis, we need to ensure the design of our system can handle the payload without collecting false positive data. The engineering challenges for these projects are complex – we need systems that can take detailed measurements with intricate images. Though this requires incredible power, there also needs to be a sterilizing system to ensure samples aren't contaminated or degrade past the point of usefulness. There's an incredible number of aspects to think about, and that's where I see a lot of our analytical challenges culminating."

Desmond Kaplan: When, Not If [Read More]

Desmond Kaplan, Consultant Research and Development Scientist who works across multiple projects at NASA, discusses the importance of mass spec in detecting life on moons within our solar system.

"As arrogant as it sounds, mass spec can solve all the problems in conjunction with spectroscopy. These two pieces give confirmatory, tangential information that positively identifies if something has a molecular complexity that indicates life. In my opinion, without mass spec, every other technique would be a bit of hand waving rather than a direct measurement to the system. Everyone has a mass spectrometer, so it's only fitting that we should also have mass spec in space."

Roundtable: Mass Spec in Space [Read More]

Xiang Li, Research Scientist at Goddard, and Ryan Danell, MS Research Scientist, discuss the crucial role of mass spec in the search for extraterrestrial life beyond our atmosphere.

"Due to the high number of challenges in this field, I struggle to fully appreciate it all myself! To have an instrument performing optimally, you have to pay attention to many details. Ultimately, we desire high sensitivity and analytical performance from a fairly compact and robust device. Unfortunately, detecting extraterrestrial life is not like landing in a garden and seeing a bug walking along in front of your spacecraft. Unlike performing analysis on Earth, when we're going into space, a lot of the time we don't know exactly what we're looking for – i.e. what does life on another planet look like? This forces us to generalize what we send into space, while ensuring that it can cope with the harsh environment of space and still perform analysis that will generate the results we need."

Frank Postberg: The Last Stepping-Stones for Sustaining Life [Read More]

Frank Postberg, Professor of Planetary Sciences at the Institute of Geological Sciences, explores the details of the Cassini-Huygens mission and what these discoveries could mean elsewhere in the solar system.

"To go beyond Earth, we must also go beyond the horizon of our own perceived capabilities. Connecting insights from multiple instruments and multiple fields of expertise is the best route to exciting scientific discoveries with a space mission. It was an extremely rewarding experience for me to be part of the Cassini-Huygens team – it was such a vibrant and inspiring international scientific community."
Credits for images used in the collage: Image 1: Saturn as seen from the Cassini–Huygens space-research mission, NASA / Unsplash.com Image 2: Dragonfly-DepartureBegin, NASA/JOHNS HOPKINS APL/STEVE GRIBBEN Image 3: Artist impression of Cassini traversing Enceladus' plume, NASA/JPL Image 4: Galaxy, Shot by Cerqueira / Unsplash.com Image 5: View of milkyway, David Monje / Unsplash.com Image 6: green grass during golden hour, Jake Weirick / Unsplash.com

Receive content, products, events as well as relevant industry updates from The Analytical Scientist and its sponsors.