Techniques & Tools
Mass Spectrometry,
Data Analysis,
Technology,
Professional Development
Mass Spec in Space
NASA's mass spectrometrists discuss the role of mass spec in life detection within our solar system
Jessica Allerton | | 5 min read | Discussion
There are many analytical techniques that contribute to the search for extraterrestrial life beyond Earth's atmosphere. But, according to Xiang Li, Research Scientist at Goddard, and Ryan Danell, MS Research Scientist, mass spectrometry is set to play a crucial role. We spoke with Xiang and Danell to find out more.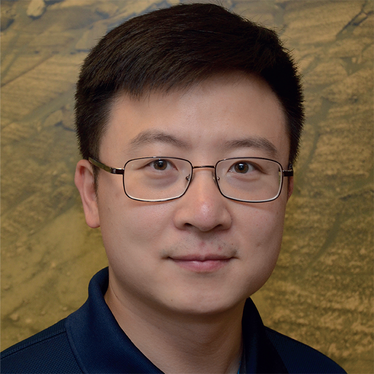 How did you end up working with mass spec at NASA?

Xiang Li: My PhD in experimental physical chemistry was focused on mass spec. I focused on instrumentation development and sample analysis, which overtly led towards my interest in research at Goddard Space Flight Center at NASA. Now, I'm actively engaged in the development of compact mass spectrometers for space exploration and life detection.

Ryan Danell: Similar to Xiang, my analytical chemistry PhD was centered on the measurement of different chemical properties and focused on building and optimizing instruments – specifically mass spectrometers. After grad school, I worked for an instrument company developing commercial mass spectrometers, which led to consulting on the development of these instruments. Through this process, I was connected with NASA to help them with a Mars project. Now, I am developing mass spec instrumentation, techniques, and technology for various space exploration missions.
Could you talk about some of the analytical challenges associated with detecting extraterrestrial life?

Danell: Due to the high number of challenges in this field, I struggle to fully appreciate it all myself! To have an instrument performing optimally, you have to pay attention to many details. Ultimately, we desire high sensitivity and analytical performance from a fairly compact and robust device. Unfortunately, detecting extraterrestrial life is not like landing in a garden and seeing a bug walking along in front of your spacecraft. Unlike performing analysis on Earth, when we're going into space, a lot of the time we don't know exactly what we're looking for – i.e. what does life on another planet look like? This forces us to generalize what we send into space, while ensuring that it can cope with the harsh environment of space and still perform analysis that will generate the results we need.

Li: As Ryan says, there are many challenges to address. One particular obstacle I'd like to draw attention to is in identifying traces of biosignatures. We need to develop sophisticated analytical techniques and refine our understanding of nuances that distinguish extraterrestrial biomarkers from other sources. This obviously takes expertise, time, and funding that further complicates the process.
What analytical techniques hold the most promise for tackling these challenges?

Li: There are two examples that initially come to mind. Firstly, the Dragonfly mission to Titan uses laser desorption – a new technique that targets higher mass, non-volatile species. This technique has the ability to detect relatively complex organics, including biomarkers. It is non-destructive and has the potential to identify intact large organics, providing a more thorough analysis of a complex sample. As for the Europan Molecular Indicators of Life Investigation (EMILI) mission, the subcritical water extraction capillary electrophoresis (CE) technique has high sensitivity to detect amino acids, which is a crucial group of compounds directly related to life detection (at least as we know it here on Earth).

Danell: Yes – they are both superb techniques, and there's a lot more on the table. The mass spectrometers that have already been sent into space have provided a lot of useful information about many astrobiological targets. Their applicability to analysis of unknown samples is what makes them so compelling and powerful. However, we can't send untested technology into space due to the excessive cost and time it takes to execute these missions. We need to take proven instrumentation and techniques that have been developed and vetted here on Earth and adapt them to operate in space. One example is the technique of MS/MS, which allows us to accurately identify or map a chemical through the analysis of its fragments. For life detection, this sort of detailed information, i.e. the specific chemical structure that we are observing, is key to the ultimate conclusions we can draw from the data.
Speaking of mass spec, what specific benefits does it bring to this area of research?

Li: Mass spec is a powerful analytical instrument with multiple advantages: fast analysis, direct measurement of molecular weight, high sensitivity, and ease of coupling with different ionization techniques to name a few. I believe that mass spec plays a crucial role in life detection and astrobiology research.

Danell: Agreed! There are a lot of techniques available, but if you want the most powerful answer, mass spec is the way forward. It is very complicated, which makes it resource intensive (both cost as well as mass and power), as well as requiring highly trained individuals to work on the hardware. However, the generality of mass spec allows us to handle unknown samples, providing results from a single analysis without necessitating additional techniques and instrumentation. The detailed information provided by mass spec can be very informative, helping us advance our knowledge as we explore further into the universe.
What are your hopes for the future of life detection on moons?

Li: I hope we can explore areas we've never been to before (specifically the icy moons with hidden oceans) and uncover bio-signatures – or even signs of life itself. I believe this information will reveal entirely new scientific insights about life that exceed our imagination. I'm particularly excited about surface missions on ocean worlds.

Danell: I couldn't agree more. If we continue on the path that we're currently on, there is great potential for exciting discoveries. Of course, there will always be challenges and setbacks working in these unique environments, but the excitement of the unknown pushes us onwards.

Teaser image: Saturn as seen from the Cassini–Huygens space-research mission, NASA / Unsplash.com
Receive content, products, events as well as relevant industry updates from The Analytical Scientist and its sponsors.