Techniques & Tools
Mass Spectrometry,
Gas Chromatography
Image of the Month: Portrait of a Black Female Scientist
Luis Schachner is celebrating Black researchers with his GC-MS spectrum art
Matt Hallam | | Quick Read
Luis' image - note the hair, which is made of GC-MS traces for melanin!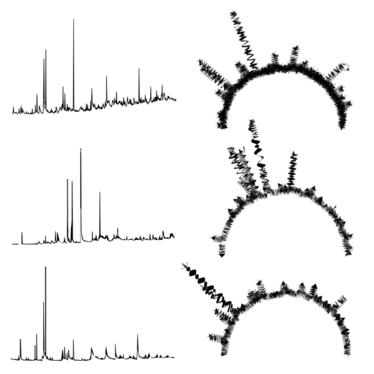 The GC-MS spectra used in the image, showing how Luis distorted the trace to give the appearance of hair

Luis Schachner produces stunning artwork using MS spectra – and this portrait of a Black researcher is no exception. "Danté Johnson, Raquel Shortt, and I were inspired to create this piece to start an important conversation about the lack of minority representation, equity, and inclusion in research" he said about it. "One of the key ideas we had was using spectra for the hair. Beautiful afros made of wonderful, thick, curly hair are prominent in Black culture, so we opted to draw a striking image of a Black woman with hair made up of GC-MS traces for melanin."

Like what you see? Keep an eye out for our May feature with Luis to see more of his work and an interview with the artist himself!

In the meantime, check out Luis' art on his social media channels! IG: @Luis.Schachner and twitter: @ArtSpectrometry
Receive content, products, events as well as relevant industry updates from The Analytical Scientist and its sponsors.