Techniques & Tools
Microscopy,
Spectroscopy
Let There be Light!
The award-winning LUMOS II is an FTIR microscope with an edge. We caught up with the instrument's experts – Peng Wang and Thomas Tague – to find out what makes it so special.
sponsored by Bruker
Meet two LUMOS II experts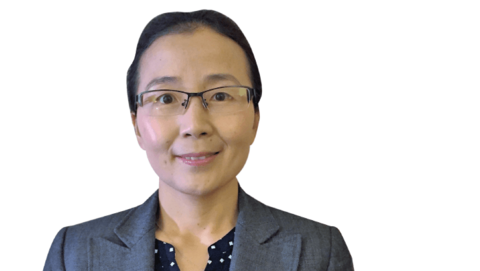 Hi! I'm Peng Wang. I'm an Applications Scientist with Bruker, and am proud to say I've been with the company for more than 12 years. My role includes helping potential customers find the best possible solutions for their applications, conducting software and instrument training with existing customers, and providing applications support, as well as discovering new applications fields for our instruments.
Hi, I'm Tom – the Applications Manager for Bruker Corporation. I am also a member of the Visiting Advisory Committee of the Metropolitan Museum of Art in New York's Advisory Board of Amplified Sciences, as well as the American Chemical Society, Society for Applied Spectroscopy, American Physical Society, and the Optical Society of America. I am active in developing new methods and instrumentation, with the goal of improving the sensitivity and detection limits of spectroscopy-related applications. I have more than 80 publications and 5 Patents.
Why was the LUMOS II developed?

Thomas Tague: The LUMOS II was developed with one goal in mind: to create the easiest-to-use microanalysis tool that has ever existed, while incorporating state-of-the-art capabilities. How? In part, by including a video wizard in our software. Did we succeed? Even the newest users can use the LUMOS II and obtain great results without apprehension or daunting learning curves. In fact, I did a demonstration out in Utah and my host, Carol, asked if she could hang onto the system for a few days to show some colleagues. Having only used it for an hour or two herself, she felt perfectly comfortable demonstrating it to others and ended up selling two more systems for us!
Could an untrained member of our editorial team operate it?

Thomas: Absolutely. If one of your editors were to visit, we would run one sample for you and then give up the pilot's seat completely. I have no doubt that you'd be able to use the machine from that point forward – you just can't get lost in the software! This is the way we always demonstrate this instrument, and the key advantage of doing so is that customers feel comfortable operating the system and obtaining high-quality data from the moment the service engineer installs it.
It seems you wowed the crowd at PITTCON, too – what was it like to win the 2020 Gold Award?

Thomas: In short – very exciting! There is only one Gold Award each year, so it was a wonderful recognition of the great effort that our development team put into developing a truly unique product. Our conference booth showed a short video explaining the system's features and capabilities, and hundreds of people stopped by to find out more.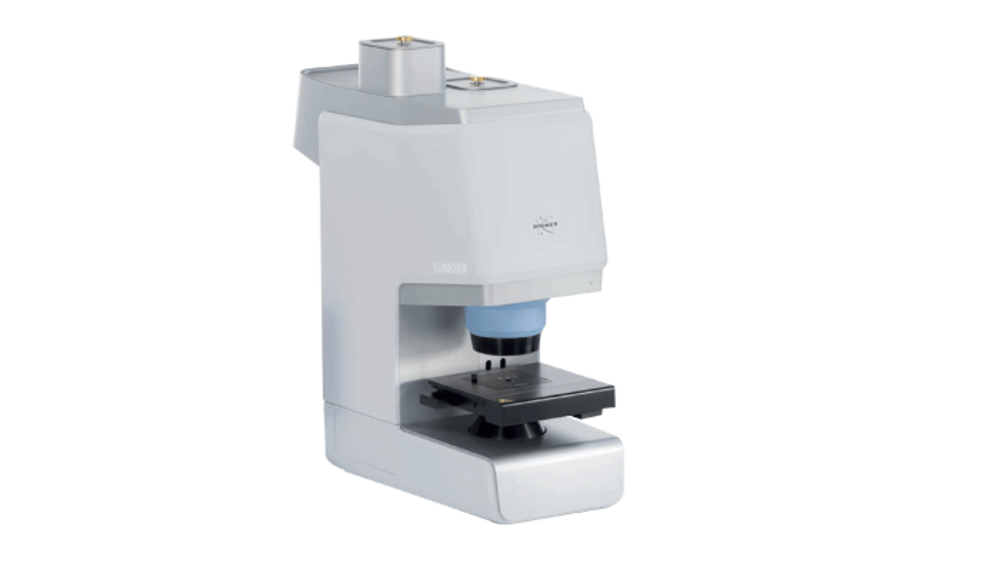 What types of samples is the LUMOS II most useful for?

Peng Wang: Multilayer and multicomponent samples like packaging materials and paint chips are ideal for analysis using the LUMOS II. These would typically require preparation by microtome and mounting before microscope analysis. Using our instrument, however, you're able to obtain data from multiple layers quickly and easily using just the reflectance mode. Depending on the number of layers present, you may also need to conduct ATR measurements. The LUMOS II is equipped with a dedicated ATR crystal to deal with these samples.
I'm also excited by the potential for LUMOS to support the study of microplastics. The instrument facilitates screening of plastic residue particles for rapid microplastic detection and identification. This capability could help researchers trace the origin and distribution of microplastics – and their impact on our lives and environment.
Who should use the LUMOS II?

Peng: Definitely those studying particles less than half a millimeter or so. Microscopy is one of the most widely used techniques for materials identification at the micrometer scale, underscoring its importance in key areas like pharma and forensics. Key features of the LUMOS II (including high performance, accessible imaging capability, and sample accessibility) ensure its potential to become the next truly universal tool for microanalysis – both for routine analyses and challenging applications.
Thomas: Peng is right! The LUMOS II is useful for anyone trying to identify small parts of samples of any size. The microscope's working distance is the longest in the market, making it the ideal choice for large and small samples.
Did you encounter any challenges in development?

Thomas: Of course! There are always challenges in any significant development project. And though the development engineers may beg to differ, I'd say the greatest challenge with the LUMOS II was ensuring the instrument was as ultra accessible while maintaining powerful analytical capabilities. The resulting instrument provides the best signal-to-noise ratio achievable for focal plane array-based imaging – and all the researcher needs to do is snap their infrared image and hit the analysis button!

Subscribe to The Analytical Scientist Newsletters