Techniques & Tools
Proteomics,
Genomics & DNA Analysis
Neil Kelleher: Proteome Pioneer
Sitting Down With… Neil Kelleher, Walter and Mary Elizabeth Glass Professor of Chemistry, Molecular Biosciences, and Medicine, Northwestern University, USA
Margot Lespade |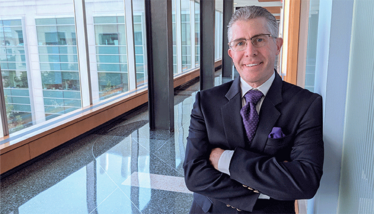 What would you say has been the biggest scientific achievement of your career so far?

I'm well known for my role in developing electron capture dissociation in 1999 – and it's definitely up there. But to be honest, I would be disappointed if, at the end of my career, the advances we're making in top-down proteomics haven't had a larger impact – especially with regards to their contribution to mapping and defining the human proteome. Having said that, our work in this area isn't exactly a singular achievement but rather numerous little innovations combined. An overall goal has been to lower analytical barriers to measurement and I think our lab has achieved that. Now, I'd say we're revealing new biological insights that really matter.
What are you most excited about right now?

Working towards completing the Human Proteoform Project! Just like the Human Genome Project, we're aiming to map and sequence the human proteome – that means determining the detectable proteoforms in all the different cell types and fluids of the human body. To achieve this, we're going to require at least one billion dollars. From a technical perspective, we may start off using mass spectrometry – but with next generation proteomics and things like nanopores for single molecule protein sequencing, we may not be using MS for proteoform analysis in another 10 to 12 years. In my opinion, it's time for the government to fund the creation of a high-resolution reference proteome, as it did for the reference genome 20 years ago. There are currently low-resolution drafts from bottom-up proteomics in 2014, but we need to move forward with proteoform enabled science.
What would be the single most important benefit of completing the Human Proteome Project?
The earlier and more precise detection of all human disease.
How would you describe the role of your lab in the overall project?

In the earlier stages, I think we will be highly involved. But this is going to get big. And when it does, I'll be expecting a combination of bottom-up, top-down and new approaches. The private sector is also incredibly well funded right now, and my goal is to convince the government that they must play a strong role in funding this project, which in a pre-competitive model will lift all boats for better protein-level biology. With COVID-19, the biotechnology sector is taking off, with the public becoming more aware of the importance of proteins like antibody and antigen testing. I think there is a real opportunity to invest in new projects that could transform how we understand disease states. Regardless, I definitely hope we stay involved in some way!
You've risen to a high-profile position – but how did your career in analytical science begin?

A few formative events come to mind. During an internship at age 15, I was tasked with identifying this yellow compound handed to me in a pie tin. After puzzling over it all summer, we eventually made a KBR pellet, plugged it into the IR spectrometer and there was the most beautiful infrared spectrum of sulfur. That was my first proper introduction to measurement science. The next major moment came when I decided to take an intensive one-month chemistry class just after starting college – and, just like that, I was hooked.
I later went on to receive a Fulbright Grant and moved to Germany to study organic chemistry at the University of Konstanz. I actually wasn't very good at it, but there was a mass spectrometry (MS) lab on my floor with a professor doing research in oligonucleotide synthesis. I also met Fred McLafferty when he came to give a talk at the university. The combination of these things led me to focus on analytical chemistry and Fred eventually recruited me to Cornell University, where I completed my PhD in 1997.
Do you have any advice for someone who is new to analytical science?

When I started my career in science, I didn't necessarily have a strategic plan; I had no great advisors and no one in my family worked in science. But I did have unbridled enthusiasm and tons of raw energy. And I think that that is something people tend to forget. Be enthusiastic! Be energetic! Another hugely important trait for people starting out is self-belief. There are many things that erode your self-efficacy and career persistence. We have set up a system of peer review that is not always constructively critical; sometimes it's just critical. But that's just the way it is, so don't let it get you down!
And finally, who would be your dream dinner party guests?

How about Francis Collins and Craig Venter? I'm sure there would be some fireworks about the Human Genome Project, and I'd love to both hear some of the stories from back in the 1990s and get a chance to explain why we should run a program similar to the Human Genome Project, but focused on protein-level biology and that means proteoforms!
Receive content, products, events as well as relevant industry updates from The Analytical Scientist and its sponsors.