Techniques & Tools
Gas Chromatography,
Pharma & Biopharma
Nitrogen - Whenever, Wherever
Gas generation presents a safer, more cost-effective, and more reliable alternative to traditional tanks – is it time you made the switch?
sponsored by Peak Scientific
Most labs within the analytical field rely on a constant and/or reliable supply of gas. Traditionally, these gases are transported and stored in high-pressure cylinders – "gas tanks" – that increasingly feel like yesterday's technology; they are unwieldy, inefficient, and fraught with issues that modern manufacturers should not need to accept. In-house gas generators offer a safer and cost-effective alternative to bulk gas supply, but how do you know if they are the right choice for your lab? Here, Kelly Abernethy, Associate Director, Research and Development, Exela Pharma Services LLC, North Carolina, US, describes her experiences with PEAK Scientific's nitrogen generation system.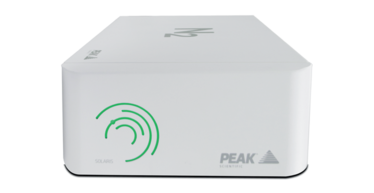 Tell us a little about yourself and what you do...
I have been working in R&D at Exela Pharma Services for 12 years. Exela is a specialty pharmaceutical company that focuses on developing, manufacturing and marketing generic and proprietary sterile injectable products. As a pharmaceutical company, quality control is of paramount importance – and we conduct potency and impurity profiling for all of our products. Our analytical science capabilities, including mass spectrometry, are vital to the business.
How do you source gas supplies for your analytical science applications?
Until around a month ago, we were using standard gas tanks. And, to be frank, we were struggling; for example, a gas cylinder might run out in the middle of an analysis. Sometimes we'd need to order a replacement cylinder by special shipment to get it on time, adding unbudgeted costs. Furthermore, interruptions in the gas supply can damage analytical instrumentation. In other words, the instrument downtime associated with gas interruption is not only inconvenient, but also decreases operational efficiency. And that's why we started looking for gas generators.
We chose PEAK Scientific's Solaris XE lab nitrogen generator for a number of reasons. Firstly, it is highly compatible with our existing instruments, such as the Waters equipment range. Secondly, it is competitively priced – always a big benefit to any lab. Thirdly, PEAK Scientific personnel are highly responsive. That latter point was extremely important to me when I was deciding which supplier to go for – if people can't communicate in a timely manner when they are trying to sell you something, how slow will they be once you have actually bought their product? Finally, we also consider the actual size of the unit; those who work in crowded laboratories are likely to appreciate the small footprint of the Solaris generator.
And what do the Solaris XE generators feed?
Our facility relies on two Solaris nitrogen generators hooked up to in-house air lines. One generator is set up with a Waters Acquity UPLC-MS system – the other with a Thermo CoronaTM VeoTM RS charged aerosol detector (CAD).

The Solaris XE Nitrogen Generator
Advanced system: membrane technology gas generation
Broad range of applications: LC-MS, CAD, ELSD, sample preparation
Flexible operation: flow rates up to 35 L/min; purity up to 99.5 percent; outlet pressure up to 116 psi
User-friendly: LED colour indicators of instrument status
Safe and convenient: avoids issues of pressurized cylinders, Dewars, or bulk storage
Small footprint: compact chassis allows convenient, space-saving installation; can be placed on benchtop, mounted on wall, or stacked beneath other instrumentation weighing up to 100 kg (220 lbs)
Cost-saving: compared with cylinders, gas generators provide 29 percent costsavings over three years
Peace of mind: 12 month onsite comprehensive warranty, backed by global on-premise servicing and technical support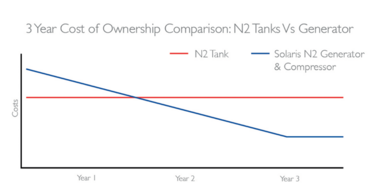 How has switching to gas generation specifically helped your work?
When we relied on traditional gas tanks, we found that our activities could be constrained by cylinder stocks or gas suppliers. And that's because most gas supply companies have scheduled deliveries; if we ran out of gas before delivery was due, we had to coordinate an emergency delivery – more complicated than it sounds. For example, we had to ensure that we got the correct tank, with appropriate high or low pressure regulators, for our specific instruments. But now that we have a gas generator, we don't need to time a study according to cylinder availability and delivery – we can do the work when it best suits us. We know the gas will always be there – and it's simply far more convenient. And it's safer: the gas tanks are heavy and awkward to move around – liquid nitrogen dewars are significantly larger than standard gas tanks, and require a special dolly for manipulation.
There can also be safety risks associated with storing large volumes of gas at high pressure, so it's nice to dispense with those physical demands and potential sources of injury. In brief, the Solaris generator provides us with an uninterrupted supply of nitrogen, thereby optimizing the performance of our analytical instrumentation and avoiding the project delays associated with empty gas cylinders.
Was it simple to switch to the Solaris gas generator?
The purchase experience was excellent; we found the entire process to be smooth and rapid – all the way from requesting a code to turning on the machine. Also, the product arrived very promptly, which we appreciated. Importantly, the generators really are "plug-and-play." Furthermore, PEAK Scientific's post-purchase customer service has been excellent – and consistently thorough. Whenever we had a question, we received a very prompt response. Our service rep, Alison, even stopped by when she was in the area just to see how things were going – we are delighted with the product support we receive. And that echoes my original focus on choosing the right partner.
Does in-house gas generation have additional advantages in a pandemic?
Actually, yes. Gas cylinder delivery people avoided entering customer premises to help reduce virus transmission – as per their company policies – and simply left tanks on the loading dock. And that meant we had to use our own time and personnel to retrieve the tanks and transport them to our containment facility. Now that we have an in-house gas generator, that drain on our staff resources – and the risk to health and safety – has been eliminated. In addition, of course, when there are fewer deliveries being made to our facilities, there is less chance of COVID-19 being brought to our site. Furthermore, there are environmental benefits – fewer deliveries means fewer road-miles and a reduced carbon cost. All in all, switching to in-house gas generation has a broad range of benefits, both direct and indirect.
Receive content, products, events as well as relevant industry updates from The Analytical Scientist and its sponsors.