Techniques & Tools
Microscopy,
Spectroscopy
Spectroscopy Strikes Gold
Spectroscopic techniques have authenticated Roman coins – validating the existence of a "new" emperor, called Sponsian
Georgia Hulme | | News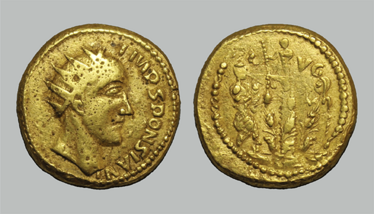 In 1713, a horde of gold coins were unearthed in Transylvania, Romania, depicting the face of a mysterious Roman Emperor, called Sponsian – unbeknownst to historical records. The coins were unconventional in style, and their historically mixed motifs meant they were dismissed as forgeries, nullifying Sponsian's identity. This accepted view remained unchallenged – until now.

Researchers from the University of Glasgow analyzed the Sponsian coins after noticing how their crevices were heavily marred with dirt. The team, led by Paul Pearson, University College London, used state-of-the art imaging and non-destructive spectroscopic techniques to image the coins' surface (1). "The coins were first imaged at different wavelengths, and then a high resolution z-stacking microscope that used software to optimize focus was employed," explains Pearson.

Scanning electron microscopy and an energy-dispersive detector revealed clays and other minerals that commonly occur in soil, while fourier-transform infrared spectroscopy further identified oxalates in the crevices – organic compounds typical of soil. Critically, the soil was cemented in place by silica – a process that naturally occurs when a long-buried object is exposed to air. Deep micro-abrasion patterns were also very similar to genuine Roman coins – suggesting active circulation.

"Emperor Sponsian has been written out of history because his existence is solely based on these coins – thought to be fake," says Pearson. "But our analysis indicates this person probably really did exist." By combining evidence from the coins and their provenance, with historical clues and archaeological expertise, Pearson suggests a hypothesis: "Sponsian ruled Roman Dacia, an isolated gold mining outpost, in 260 CE, at a time when the empire was beset by civil wars and the borderlands were overrun by plundering invaders" (2).

Next, the research team plans to investigate the minor elemental composition of the coins, and compare results with known gold from the ancient mines in the Apuseni Mountains of Romania – the possible source of origin.
Receive content, products, events as well as relevant industry updates from The Analytical Scientist and its sponsors.
P Pearson et al., Plos one, 17 (2022). DOI: 10.1371/journal.pone.0274285
University College London, "Ancient Roman coins reveal long-lost emperor," (2022). Available at: https://bit.ly/3WAUkNK