Techniques & Tools
Liquid Chromatography,
Professional Development
The Chromatography Connoisseur
Sitting Down With… James Grinias, Associate Professor, Department of Chemistry and Biochemistry, Rowan University, Glassboro, New Jersey, USA
James Strachan | | 4 min read | Interview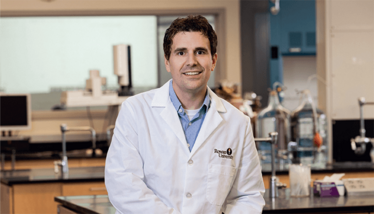 Did you always want to be a scientist?

Growing up, I always imagined myself pursuing a career in medicine. I loved chemistry and figured I would choose it as my undergraduate major and then attend medical school. However, it soon dawned on me that I was likely too squeamish to follow my original plan! Luckily, my first advisor (Heather Holmes, Associate Professor at Eastern Michigan University) provided me with an opportunity to pursue chromatography research early in my undergraduate career and everything fell into place.
What do you credit most for your success in the early part of your career?

When I started university, I was told that seeking out good mentors is critical to success. Throughout the educational pipeline, I had research advisors who were passionate about chromatography and taught me a lot about the field. They quickly became great collaborators and friends, providing me with a strong network of trusted colleagues in the field. My wife – one of the group members – has been extremely supportive and is a great chromatographer to discuss new ideas with! Finally, I must acknowledge the amazing students I have worked with over the years who are driving our field forward.
Can you tell us a bit about your research?

My doctoral and postdoctoral advisors (James Jorgenson and Robert Kennedy) are well-known for pushing the limits of the field and, after working with them on various capillary and microfluidic liquid chromatography (LC) projects, I started thinking about the possibility of shrinking instrument components.
My goal was to not only enhance chromatographic performance by matching the scale of these smaller columns, but also achieve a fully portable LC instrument. Milton Lee, a professor at Brigham Young University, had similar aspirations and was in the process of commercializing new, miniaturized LC technology. When my independent career began, I called him to see if he would be interested in collaborating, which marked the beginning of a longstanding and successful partnership!
The most exciting thing about a fully portable instrument is the limitless ways it can be employed. Although our research has focused on pharmaceutical and clinical applications, we have also dabbled in beer characterization that can be used in breweries – and we were able to transport the whole instrument to public-facing demonstrations! More broadly, others working on miniaturized separation instruments are continuously coming up with creative ways of sending chromatographic instruments into space, which fascinates me.
What needs to happen before a compact LC system is available for clinical use?

I know that it is likely a few years away but, for point-of-care environments, simplicity and speed are key. It's not just the instrument that must be robust and simple to operate; sample preparation is vital for accurate examination of clinical samples. Thankfully, we have recently received funding to overcome some of these challenges – so hopefully we will be able to report more progress soon!
Do you have any predictions for your field over the next five to 10 years?

As a field, we continue to strive for "greener" analytical methodologies that reduce energy consumption and the use of toxic solvents. Within LC, multiple compact instruments have been commercialized that reduce solvent usage 100- to 1,000-fold compared with standard benchtop instruments. Though many consider capillary LC columns "less robust," modern advances have brought them closer to the technology with which a typical HPLC user may be familiar. HPLC is frequently the preferred choice for routine analysis, so I believe scientists could scale down their systems for a greener approach. Although changes are often met with resistance because of the need for revalidation, the reduction in solvent and power consumption from using these compact instruments would be worthwhile. Continued improvements in column quality and instrument performance will hopefully help this vision become a reality.
What are your biggest fears for analytical science?

Within analytical science, there has been a shift away from training in the fundamentals of instrument design. Effective experimental design, data acquisition, and data analysis all rely on an understanding of the core molecular properties that different instruments measure. I fear that it may become more difficult to bridge the gap between the engineers who design instruments and the scientists from a range of disciplines who use them. There is a balance between breadth and depth that educators must consider. Analytical chemists familiar with chemistry, statistics, electrical engineering, and computer programming will be crucial to the future of our field!
Do you have any personal missions for the next 10 years?

I would love to see a compact LC system used in a clinical setting, providing real-time patient data to healthcare professionals.
Receive content, products, events as well as relevant industry updates from The Analytical Scientist and its sponsors.