Techniques & Tools
Gas Chromatography
The Deceptive Nature of Headline "Purity"
When choosing a cylinder for your gas chromatograph, I urge you to take into consideration impurity levels – not just the headline purity grade – lest long-term costs mount due to poor GC performance. Don't believe me? Check out our gas price comparison tool.
David Bryant |
sponsored by Air Products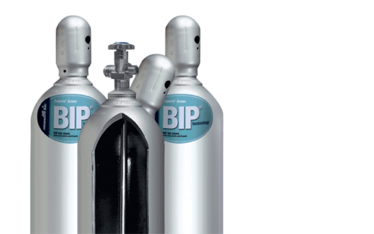 Choosing gas for your chromatograph is relatively straightforward, right? You know your GC requires, for example, 6.0 grade helium; so all you need to do is compare prices of the cylinders at that purity on the market and choose the cheapest one. But wait! By only taking into consideration the headline purity, you're ignoring a whole range of factors that can lead to less usable gas per cylinder, increased operational costs, and reduced GC operating hours. As a result, costs over the course of a year can dwarf any initial savings on the amount paid for the gas cylinder. In brief, not all 6.0 Grade gases are created equal.

In fact, it's the level of impurities that really matter. Two 6.0 Grade gases will both be 99.9999 percent pure by definition, but often vary in terms of oxygen, moisture, and hydrocarbon levels, which can attack the internal mechanisms of the GC. Specifically, O2 and H2O cause fragments to break away from the GC column (column bleed), which accelerate rapidly as column temperature rises. And that causes the analysis to deteriorate as peaks become broader and unwanted peaks increase (baseline noise). Ultimately, the column becomes unusable and must be replaced, at considerable cost.

For those doing more demanding analytical work – as is increasingly common – the impact of deteriorating column performance is particularly important. Today, detection levels in the low parts per billion (ppb) are common in labs identifying: contaminants in solids, water or other fluids; the purity of metals; or the chemical composition of mixtures and compounds. The higher the sensitivity demands, the less time you've got before the baseline noise becomes too high and a new column is required. Air Products' ultra-high purity – and, crucially, ultra-low impurity BIP® gases – have maximum O2 and H2O impurity levels of 10 ppb and 20 ppb (for helium, argon and nitrogen), which I'm confident will be lower than those in the 6.0 gas you're currently using.

Often, we'll chat with prospective clients about their critical impurities and explain the savings they'd be making by switching to an ultra-low impurity gas. To which they often respond, "My external inline purifiers take care of that." But let's examine this solution. The first point is that you must go out and buy them, at a cost of around £250 each (£750 per set). Second, it can be difficult to estimate when your external inline purifier has become saturated and is letting impurities through, which actually decreases the life of your GC column (as discussed). To mitigate this risk, you'll need to carry out regular servicing and maintenance checks to ensure you're changing them out at the right time, which results in additional and unforeseen downtime and disposal costs. Third, the more external purifiers you have, the more potential ingress points there are. If one of them isn't sealed properly, air and moisture can get in – again, saturating your purifiers and degrading your GC column.

In short, external purifiers are not silver bullets! Our BIP® gas cylinders completely avoid these problems – and their associated costs – by stripping out impurities as they leave the cylinder via an integrated purifier bed.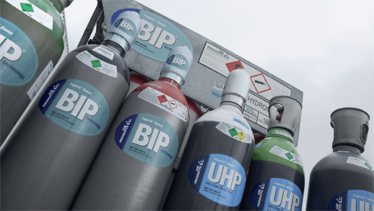 The BIP Calculator

As you can see, choosing your gas based solely on the headline purity figure and price fails to take into account the impact of impurity levels on the performance (and thus cost) of your GC over time – even when using external purifiers. But I'll admit, there are a lot of moving parts to consider. And many of you might be wondering exactly how costly these factors become over a given period of time. Luckily for you, we've created a price comparison tool for users to see at a glance how much they'd be saving by switching to a BIP® gas cylinder. And you're welcome to use it at no cost!

We've estimated the savings from eliminating the purchase, disposal and ongoing service and maintenance of inline purifiers, as well as the increased column life (both of which we have discussed) as well as the higher volume of usable gas per cylinder-Typical non-BIP® users return their cylinder with approximately 15-25% of gas to avoid further impurity contamination once desorbing occurs. The BIP® cylinder with its integrated residual pressure valve and purifier allows for far more gas to be drawn whilst still retaining its stated impurity levels.

We were conservative with our estimations and have not included some additional potential savings, such as those related to additional cylinder changeover periods, caused by less usable gas per cylinder. Once you have tried the BIP® cost comparison tool, you will see that even when the headline cost of BIP® may be higher than an alternative 6.0 grade gas, your organization can still expect to see a saving in your overall laboratory running costs.

I encourage you to use our Gas Cost Comparison tool to see how much you could save, it is easy and intuitive to use, simply enter you cylinder prices, the number of GCs in your lab, their flowrate and number of hours your laboratory is operational. The results are immediate and will pleasantly surprise you.

Try out Air Products' gas cylinder price comparison tool, available at:
Receive content, products, events as well as relevant industry updates from The Analytical Scientist and its sponsors.