Techniques & Tools
Technology,
Sample Preparation,
Liquid Chromatography,
Gas Chromatography,
Mass Spectrometry
The Innovators 2017
Whether ensuring consumer safety, speeding up biomedical research, or just making life in the lab a little bit easier – meet the companies advancing analytical science.
Sample preparation with touch-optimized control software
Sample preparation with gel permeation chromatography as basic technique can be controlled via the portable and touch-optimized software Mobile Control®.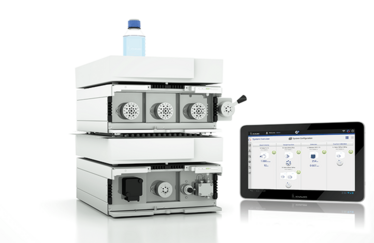 Time and labor should not be wasted on manual work that can be done by automated processes. Very often, manual sample preparation can be handled by automated Gel Permeation Chromatography (GPC cleanup). Further, reproducibility and quality of your sample is improved. The dedicated system processes up to 15 samples while requiring minimal bench space. The cleanup process can be performed by the AZURA® GPC cleanup system which is operated by touch-optimized Mobile Control®.
GPC Cleanup (Gel Permeation Chromatography) is primarily employed for performing general cleanup tasks on a wide range of sample matrices such as foodstuffs, tissues, plants and environmental samples. The separation of components takes place according to their molecular weight due to the heterogeneous pore size of the stationary phase. High-molecular substances such as lipids, proteins, natural resins, cellular components and steroids interfering with subsequent analysis (for example, of pesticides) are efficiently removed.
The AZURA® system features 15 sample loops controlled by two 16-port multiposition valves. The GPC tubing guide sorts outlet tubings of fraction collection. The wound-up sample loops are stored in a tray with drainage system and are easily accessible for inspection and replacement. An additional multiposition valve supports collecting up to 15 fractions. All multiposition valves and the manual injection valve are integrated in an AZURA® Assistant ASM 2.1L. Elution of separated compounds is monitored by a variable single wavelength UV detector. A second assistant harbors a small detector, the system pump with a pressure sensor and a valve to bypass the GPC column or select between two columns.
The GPC Cleanup system is operated with Mobile Control®. This clearly arranged user interface is run on a tablet directly mounted at the system. It automatically recognizes devices and facilitates system configuration. Due to block programming, methods are created fast, with a minimal number of clicks. Mobile Control® makes sample loop loading easily manageable by synchronously switching both valves at the push of a button. The software Mobile Control® provides an intuitive and cost-effective user interface for device control directly at the system.
Learn more at www.knauer.net
A small powerhouse of big benefits triples lab capacity and maximizes performance
Agilent's Ultivo Triple Quadrupole LC/MS delivers the performance of a traditional high-end LC/TQ in 1/3 of the laboratory bench space.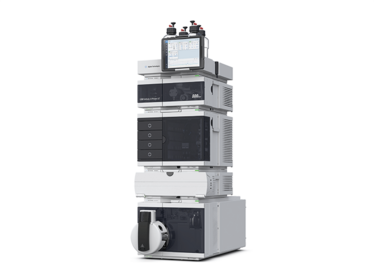 Welcome to a new era of mass spectrometry
Decades of innovation have brought us into a new era of mass spectrometry with the design of Agilent's revolutionary Triple Quadrupole LC/MS. Ultivo is packed full of the same power and accuracy you'll find in the big guys, but at a fraction of the size. It's on a transformative mission to reshape expectations, reinvent capabilities, and redefine what's possible when small meets powerful.
Innovations for enhanced results
Ultivo is specifically designed to maximize quantitative performance, enhance instrument reliability and robustness, provide the quickest sample analysis to report time – not to mention it also promotes more uptime and fastest return on investment.
Ultivo's innovations empower you to:
Optimize lab technician productivity with VacShield that allows seamless MS maintenance without the cumbersome necessity of venting the instrument
Maximize performance in a smaller footprint via the Cyclone Ion Guide which tightly focuses more ions into the detector, thereby delivering greater signal for low-level quantitative and qualitative analyses
Increase sample throughput and enhance MS/MS performance with the Vortex Collision Cell for more efficient collimation of the ion beam and faster transmission of targeted analytes
Increase ion transmission with the virtual pre/post filters promoting faster switching and allow more MRMs to be performed in less time
Enhance diagnostic capabilities with a new embedded software system that also provides smart self-tuning
Enhancing productivity to improve your experience
Ultivo is powered with Agilent MassHunter, so you'll experience new features like an updated user interface and data collection modes that make your method and worklist interactions easier. Experience 50 percent faster autotune–optimizing instrument performance and producing more uptime–along with intelligent diagnostic feedback. After acquiring data, Quant-My-Way empowers lab managers to provide users with just the features they need to convert their data into results, simplifying the user workflow. All this combined makes your MS analyses faster and more productive.
Fit the Ultivo right under the Agilent 1260 Infinity II Prime LC, the perfect partner in compatibility. The combined system offers convenient and easy use along with functionality for everyday analysis.
Learn more at www.agilent.com/chem/Ultivo
PURA™ Water Baths – Outstanding. Innovative. Beautiful.
JULABO sets the standard with its new PURA™ water bath series.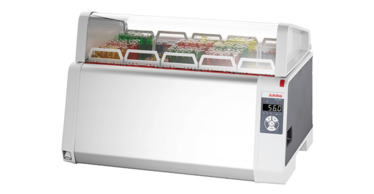 All PURA baths incorporate smooth, scratch-resistant enamel surfaces on the bottom and front / back walls with polycarbonate end caps. This prevents the growth of bacteria and other organisms. In addition, the inert surface enables the use of salt solutions and distilled water which would corrode stainless steel baths.
PURA water baths have an integrated drain tap for tool-free draining. The bright, white LED display makes monitoring easy from across the room. Operation is straightforward with an integrated timer, operation in °F or °C and dry-running protection for safety. A USB port facilitates communication to a PC for remote control and time / temperature data-logging with the free JULABO EasyTEMP software.
The PURA water bath series comes in five models ranging from 4 to 30 L. All models cover a working temperature range from +25 °C to +99.9 °C with a temperature stability of ±0.2 °C via digital PID control. Heating capacity ranges from 800 W in the PURA 4; 1.1 kW in the PURA 10 through PURA 30 at 115V; 1.3 kW in the PURA 10 and PURA 14 at 230V and 2 kW in the PURA 22 and PURA 30 at 230V.
JULABO offers an extensive range of accessories for added flexibility in everyday laboratory operations. All bath sizes have a clear plastic lift-up cover accessory available. The cover installs without tools and enables sample viewing while minimizing water evaporation. The range of accessories also includes flat stainless-steel bath covers with sets of rings for tempering Erlenmeyer flasks or other tall vessels. The diameters of the ring openings vary from 92 to 190 mm. Three plastic test tube racks are also offered. They are designed for 60 or 90 test tubes or 21 tubes up to 30 mm diameter. A stents lifter and a stainless-steel hygiene insert are available as dentistry accessories for the small PURA 4 water bath.
For more information please visit julabo.us/new-pura-water-baths/
Micro-Chamber/ Thermal Extractor
Fast and flexible sampling of chemicals and odors.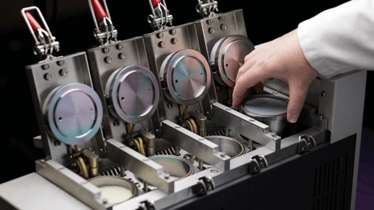 Markes International's Micro-Chamber/Thermal Extractor™ (µ-CTE™) is a compact unit for the sampling of volatile chemicals emitted from products or materials. Its impressive versatility and ease-of-use mean that it is used in a wide range of industries:
Indoor construction materials
Automotive testing
Consumer goods
Foods and fragranced products
Operation of the µ-CTE is simple. The sample is placed in one of the sampling pots, the lid is closed, the sample warmed, and a flow of air or nitrogen is used to release the volatile organic compounds (VOCs) onto sorbent-packed tubes. This typically only takes 30 minutes, and the dynamic nature of the sampling ensures excellent sensitivity. The sorbent tubes are then analysed by thermal desorption GC–MS (alternatively, formaldehyde can be monitored by sampling onto DNPH cartridges, followed by HPLC).
Application range
The speed of sampling mentioned above is actually the main reason for the instrument's popularity, and underpins one of its key applications – screening the profiles of regulated materials used indoors and in vehicles. Although final certification testing in these fields is often performed using environmental chambers, the multi-day tests stipulated are very time-consuming.
As Wolfgang Horn at Netherlands-based engineering group BAM points out: "The Micro-Chamber helps us to look at many material samples in parallel and quickly identify what chemicals are being emitted. This can be a real help before we start emission tests in large environmental chambers."
However, the µ-CTE isn't just used to assist regulatory compliance. It is also widely used for:
Quality-control of final products and raw materials
Comparing products to those of competitors
Product troubleshooting and R&D
Aroma profiling and shelf-life tests
Time-profiling
Versatile accessories
The µ-CTE continues to evolve, with citations in an increasing number of standard methods, and the release of accessories for profiling flat samples, determining chemical permeation through membranes, and humidifying purge air. All this is testament to the growing popularity of this product and its expanding application versatility – making it a valuable tool in any GC laboratory.
To see the µ-CTE in action and hear from customers, watch the video at http://chem.markes.com/micro
GAS CHROMATOGRAPHY: PROBLEMS SOLVED
Learn more about how GC-VUV can simplify your application.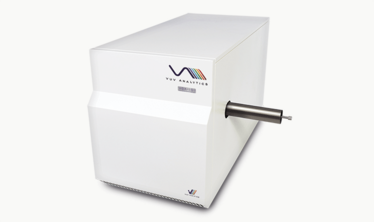 What makes GC-VUV unique? Nearly all gas phase compounds absorb in the vacuum ultraviolet spectrum measured by VUV detectors (120 – 240 nm) except for carrier gases hydrogen, helium, and argon.
The high-energy, short-wavelength VUV light probes electronic transitions in most chemical bonds including ground state to excited state σg σ* and πg π*. VUV spectra are specific to chemical structure and reflect the inherent absorbance cross section of individual compounds. VUV detectors provide unmatched selectivity of closely related compounds including structural isomers. GC runtimes can be significantly reduced through flow rate enhanced chromatographic compression and by resolving co-elution with VUV spectral deconvolution. GC-VUV data is both qualitative and quantitative, reducing the burden of multiple detector approaches to fully characterize sample analytes. VUV spectroscopy follows the simple linear relationship between absorbance and concentration described by the Beer-Lambert Law. The simplicity of VUV data and the ability to automate compound class analysis results in a detector that is suitable for both R&D and production settings.
Learn more at www.vuvanalytics.com
Receive content, products, events as well as relevant industry updates from The Analytical Scientist and its sponsors.