Techniques & Tools
Liquid Chromatography,
Technology,
Chemical,
Clinical,
Environmental,
Pharma & Biopharma
Tom Walter: HPLC Column Innovator
After receiving the Uwe Neue Award, Tom Walter discusses his career in chromatography at Waters
Jessica Allerton, Frank van Geel | | 5 min read | Interview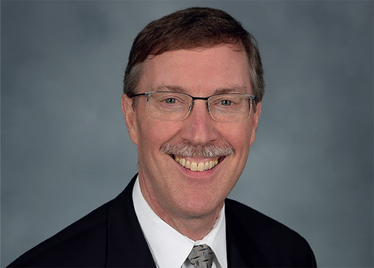 Please tell us about your career – how did you get into column specialization and what is your current focus?

I joined Waters as an NMR spectroscopist after completing my chemistry PhD back in 1987. I was mainly responsible for carrying out NMR analyses – focusing on stationary phases for HPLC columns and sample preparation devices.

As the years progressed, I moved up in the company and worked on a new family of HPLC columns based on high purity silica particles – these became the Symmetry™ Column brand. Here, I oversaw the development of the bonding processes, chromatographic evaluations, and analytical characterization. I was also responsible for setting the product specifications, which remain the most stringent in the industry. I'm currently a Corporate Fellow working in the Consumables and Lab Automation Division – writing technical articles, presenting at conferences, and consulting with colleagues in R&D and Marketing.
What was it like working with Uwe Neue – and how do you feel about receiving the Award bearing his name?

I learned much of what I know about HPLC from Uwe, who was mentored by pioneers István Halász and Heinz Engelhardt. We were colleagues for 23 years – from when I first started at Waters until his untimely death in 2010. During his 34 years at the company, Uwe developed stationary phases, chromatographic tests, and column packing technology and applications. His efforts contributed to our understanding of gradient separations, column selectivity, method development, and temperature and pressure effects in UHPLC. Uwe became an established expert in HPLC and received the Halász Medal in 2005, which commemorated his late mentor. Of all the awards Uwe received, this was the most meaningful to him. I feel the same way receiving the Uwe Neue Award.
Could you share your career milestones and describe their impact on analytical labs?

One important milestone was being involved in the development of hybrid organic/inorganic particles for HPLC. In the late 1990s, our research team sought to create columns with improved stability with alkaline mobile phases, which was requested by chromatographers in the pharmaceutical industry. We hired a materials chemist for this project, and the prototype hybrid silica/methylsiloxane material he made became the foundation for the first commercial hybrid particle HPLC columns, called XTerra™ Columns. I wrote some of the first articles and gave the initial presentations as these columns were launched in 1999.

Following the success of the XTerra Columns launch, I took the role of Director in the Chemistry R&D group, overseeing the development of the next generation of general-purpose HPLC columns. I took inspiration from an article on bridged polysilsesquioxanes, which are hybrid materials with an organic group connected to two silicon atoms. I believed that this chemistry could lead to a material similar to XTerra particles but with improved mechanical strength.

The timing of this discovery was serendipitous; our research in ethylene-bridged hybrid (BEH) materials coincided with the need for high-strength particles to create the first UltraPerformance LC (UPLC) columns. Combining our most versatile particles with the new speed and efficiency capabilities of UPLC was a huge success. We introduced these columns as ACQUITY™ UPLC™ BEH™ Columns in 2004, and they remain our most popular columns today.

ACQUITY UPLC BEH Columns have been used for a wide range of applications, including separating small and large molecule pharmaceuticals, conducting biomedical research including proteomics and metabolomics, characterizing traditional Chinese medicine, and food and environmental testing. As one example, these columns play an important role in the analysis of nucleic acid therapeutics, including mRNA-based COVID-19 vaccines, verifying their identity and purity.
Analytical science is sometimes viewed as a "service" – with analytical scientists "simply delivering results." What is your view on this?

I believe that the work of analytical scientists is of equal importance to the work of other scientists. Though one subset of analytical science involves applying well-established methods to similar samples (for example, quality control of chemicals), there are also many innovations in this field – from new applications of existing technologies to the development of new analytical instrumentation.

Analytical science has played a leading role in many areas; for example, in genomics, proteomics, and metabolomics.
What are your thoughts on bringing industry and academia together?

The general role of academic scientists is to generate new knowledge and educate students. Industry usually has a shorter term focus, aiming to deploy innovative science to develop new products and grow their company. Many ideas generated by academic scientists were further developed by industrial researchers to create new products. The hybrid organic/inorganic particles and UPLC work I mentioned earlier occurred in this way. Waters has also benefited from collaborations with academic separation scientists, such as James Jorgenson, Georges Guiochon, David McCalley, Peter Schoenmakers, and Davy Guillarme. Conferences like the International Symposium on High Performance Liquid Phase Separations and Related Techniques (aka HPLC) play a key role in fostering these collaborations.
What are your predictions for the future of separation science?

There have been many developments in the HPLC column industry over the course of my career that weren't predicted by experts. Some examples include the creation of hybrid particles for HPLC columns and the high impact of UHPLC. Though there are current trends that will almost certainly continue, I expect that there will be innovations emerging that are not currently on the radar of today's industry watchers. These could be new technologies being developed in secret or innovations that occur through serendipity and chance collaborations across different fields. Either way, it should be exciting!
Receive content, products, events as well as relevant industry updates from The Analytical Scientist and its sponsors.
---