Techniques & Tools
Gas Chromatography,
Mass Spectrometry,
Liquid Chromatography
Ten Year Views: With Peter Schoenmakers
Peter Schoenmakers reflects on the most significant developments across analytical science over the past decade
Georgia Hulme, Frank van Geel | | 4 min read | Interview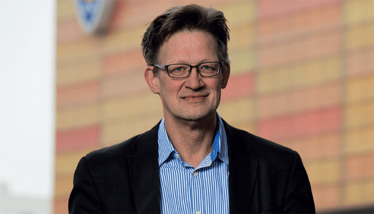 Over the last 10 years, what has been the most significant development in analytical science?

Overall, I think that chromatography-mass spectrometry is the most significant development. In the past, they were two fields that were not connected, but now, they form a mutually beneficial relationship with lots of synergy. When I took over from Hans Poppe 24 years ago, there was not a single mass spectrometer in the group, and now we have more than half a dozen. Mass spectrometry has developed fantastically. And chromatography has progressed from a very hands on process to an extremely advanced tool with very sophisticated measurements: It does more, and it works better.
What has made these developments possible?

During my career, many scientific developments originated from scientists in academia. Now, a lot of good contributions come from instrument companies, who play a much bigger role in the development of science. Unfortunately, most people do not make the effort to publish – especially if they work within larger companies. This lack of transparency is a pity, considering that it is important for analytical scientists to know what's in the black box.
What has been the most important innovation, in your opinion?

I don't think that liquid chromatography (LC), gas chromatography (GC), or UHPLC have changed fundamentally. The liquid chromatograph itself, as a unit operation, has also not changed much – in practice, yes, but, fundamentally, no.
The major changes are in coupling and combining. Hyphenation techniques are very different nowadays. Hyphenation is maybe too narrow, but combining two instruments – such as two separate separation systems or a simple but automatic preparation system with another separation tool are well known.
Two-dimensional separations are not going to be as big as LC-MS or GC-MS – but they are relevant and challenging. Specifically, it is exciting how we can now couple different techniques – John Phillips' work on two-dimensional gas chromatography (GC×GC) was revolutionary.
What drives these innovations in chromatography?

Around 70 years ago, GC became popular because the oil industry needed more complex separations. This pursuit ultimately led to GC×GC. In addition, pharmaceutical and life science applications drove LC, and two-dimensional LC innovation. As you can see, innovation in chromatography is driven by societal needs and industry's demand for higher separation power. Such a need still exists, even when combining chromatography with mass spectrometry.
What are your concerns for the field?

Instruments are getting more complicated, and education – even in basic chromatography – is a big issue. We are starting to see more mistakes in analytical science because of a lack of education. We need people to understand what they're doing; although we do our best to train enough people, there are already too many vacancies. This issue has less impact on routine analysis, where we have control procedures, but it is having an important impact on non-routine work, such as problem solving. Moreover, as analytical science is an engine for innovation, we should be able to produce correct data from complex and unknown samples.
What are you most excited about?

I am most excited about young, enthusiastic scientists that understand analytical science and have the opportunity to do things that I've never been able to do. I see many assistant professors that are doing great things, and I meet smart and motivated students during poster presentations in conferences – which gives me a lot of confidence. I'm positive about the next generation.
Overall, where do we go from here?

I see two directions. Firstly, we haven't seen the end of building complex instruments that take sophisticated measurements. Secondly, I think that we will be doing more of our own medical testing. We can already conduct insulin tests, pregnancy tests, and COVID-19 tests. Twenty years ago, we believed that everybody would be able to measure their own biomarkers, but this process is slower than I expected.
In forensics, processes are much faster. Forensics is a good field to do on-site measurements and so it's exciting for us. They go to the waste containers to find evidence of drug use, and we develop simple measurements for the identification of products and solvents.
In the next 10 years, we will move to simple on-site "do it yourself" measurements – both in the field and in the clinic – and at the same time build new, even more sophisticated analytical instrumentation for the laboratory.
Receive content, products, events as well as relevant industry updates from The Analytical Scientist and its sponsors.
---