Fields & Applications
Mass Spectrometry,
Environmental
An Affinity for Water
We sit down with Susan Richardson, Arthur Sease Williams Professor of Chemistry at the University of South Carolina, Columbia, South Carolina, USA, and President, American Society for Mass Spectrometry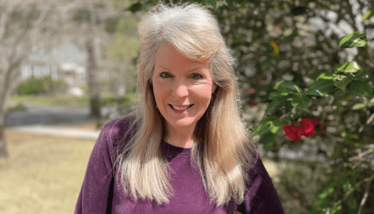 Tell us a bit about your current role…

I'm currently a professor of chemistry at the University of South Carolina, where my research mostly focuses on the use of GC, LC, and MS to analyze drinking water disinfection byproducts (DBPs). I am also the President of ASMS for 2020–2022.
I absolutely love it here at the university; as soon as I came for my interview, I knew it was the right place for me. At the time, they already had two people doing environmental research in the department of chemistry. You're usually lucky to get one – and now there are four of us. There are also seven other women in the department, again a rare find in chemistry. I love interacting with all my graduate students – as well as the undergraduates who want to work in my lab – and the energy they bring to the lab is infectious. I genuinely feel like we're a family. I get the opportunity to train the next generation as part of my legacy, so I couldn't ask for a more fulfilling job.
And before that you were at the Environmental Protection Agency (EPA)?

Yes, before I came to the University of South Carolina in 2014, I was at the EPA's National Exposure Research lab in Athens, Georgia, for almost 25 years. I had a great career there and did a lot of fantastic research, but it got to a point where I realized it was time to move on – and I've not looked back since!
You mentioned your work focuses on DBPs – can you tell us a bit more about these contaminants?

DBPs are not the classical pollutants that one might think about, like those emitted by industry into rivers. Instead, these are actually formed during drinking water treatment itself. This makes them much harder to identify and understand. I like to say that you can count the number of environmental contaminants that have been unequivocally linked to adverse human health effects on your two hands – DBPs are one of just 10 such contaminants. The conundrum here is that, for over 100 years now, we have been treating our water with disinfectants (like chlorine) to make it microbially safe. The unintended consequence is that we've created DBPs that, in turn, are detrimental to our health. My goal is to find out more about these harmful DBPs, discover ways to get them out of the water and to keep them from forming in the first place, and ultimately make drinking water safer for all.
How did you get involved in this specific area of research?

For context, it was only in the 1970s that anyone started looking at these byproducts from our water disinfection processes. In 1989, I got my PhD in physical-organic chemistry and ended up as a postdoc at EPA because of my experience using high-resolution magnetic sector MS. After about two years, I was approached by two scientists who wanted to collaborate on a project around DBPs. Although I didn't know much about drinking water disinfection contaminants, they knew I had experience in identifying unknown compounds. I immediately recognized it as a really important issue that not many people knew about and saw it as an opportunity to use my expertise to help solve a real-world environmental health problem.
You triggered somewhat of a resurgence in DBP research – could you tell us more about that?

There was a lot of nice research published on DBPs in the 1980s, but it then sort of dropped off the radar. I think this is mostly because the Safe Drinking Water Act regulations were established in 1979, so people were lulled into a false sense of security – they thought that, because the EPA was regulating some of the first DBPs found to be toxic, everything was under control. Meanwhile, we were finding all these other DBPs that weren't being regulated at all and were, in fact, more toxic than the regulated ones.
I was made aware that there was a pool of money available via EPA for research into drinking water. I put a proposal in and ended up securing US$1.2 million in funding. After that, I drew a committee of people together to look more closely at the more than 500 DBPs that had been discovered by 1997. We narrowed this down to our top 50 contaminants (most likely to cause cancer) and managed to run a nationwide study to gather new quantitative data on these compounds. So that's really how this resurgence was triggered – and there are now a lot of other researchers measuring these DBPs.
On what other areas is your research focused?

We're currently looking at new impacts on our drinking water from hydraulic fracturing and coal-fired power plants, which are emitting high levels of bromide and iodide into rivers and producing new brominated and iodinated DBPs in our drinking water. We're also looking at wastewater reuse. There are places starting to treat wastewater and turn it into drinking water, but pharmaceuticals and other compounds are not being perfectly removed. We want to try to make that process safe as well.
What's your focus for the next five or 10 years?

I've been working closely with toxicologists for many years, including a big study funded by the National Science Foundation. In this study, we want to find out the driving factors – or, as we call them, "forcing factors" – behind the toxicity of drinking water. On the basis of this, we've recommended that the EPA should be regulating two key classes of compounds: haloacetonitriles and iodoacetic acids. Of course, the EPA moves quite slowly, so I don't know whether this will happen in the next five or so years – but it's something I'd really love to see.
What would you say is your biggest strength?

As a chemist, I can identify things all day long. But actually knowing which compounds are detrimental to human health and need to be homed in on – that takes a toxicologist. Every aspect of a project might require a different expert in a different area to get the most out of the project as a whole. This is where I think my true "superpower" lies (and why I've been successful in what I do) – bringing the right people together and energizing them to collaborate.
Could you tell us a little about your role as President of ASMS?

I started my two-year term last July. My favorite conference – and favorite society – has always been ASMS. I'm obviously slightly biased because I work mostly with MS, but there's just so much cutting-edge research that is presented at the conference. I've been attending since around 1990 and it's amazing to see how much it has grown over the years. I remember back then there were about 100 posters and you could pretty much see them all. Now, that's just impossible – there are about 700 posters presented every day! When I was VP for Programs, my main role was organizing the annual ASMS Conference, choosing the topics and who will chair each session, and so on. As President, I lead our board meetings and I appoint people to different committees – such as the awards or nominations committees. It's a big job, but I love it; this society has always been close to my heart.
The pandemic must have made this last year difficult…

Certainly! We held our virtual "ASMS Reboot" last year, which was a big success, but we are desperate to have the meeting in person this year. We usually meet in June, but this year, we've decided to postpone until October 31 to try and ensure we can go ahead with face-to-face plans. We were honestly very grateful that our virtual event went so well, but we'd like to be able to return to an in-person meeting if possible. We suspect we'll have reduced numbers, but I think that, by this point, everyone is feeling cooped up and just wants to get back out there and network with some great scientific minds again!
Receive content, products, events as well as relevant industry updates from The Analytical Scientist and its sponsors.