Fields & Applications
Liquid Chromatography,
Gas Chromatography,
Mass Spectrometry,
Forensics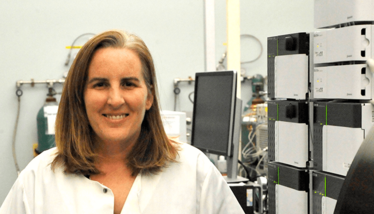 On August 1, 2002, I started my career in forensic science with a Forensic Chemist position at the Oklahoma Office of the Chief Medical Examiner. During my time there, I completed my Masters in Forensic Science before going on to work for the Oklahoma State Bureau of Investigation. I am now a Research Toxicologist at the Federal Aviation Administration (FAA).
I work in the Bioaeronautical Sciences Research Lab as part of the FAA's Civil Aerospace Medical Institute (CAMI) in Oklahoma City. It is the only forensic toxicology lab for the FAA that performs analysis for aviation accidents in the US. We provide toxicology results for accidents to both FAA investigators and National Transportation Safety Board (NTSB) investigators. These results are part of the investigation and data collection that could affect regulations that make air travel safer. The NTSB is charged with determining the probable cause of transportation accidents; thus, the toxicology reports are helpful in identifying substances that may have played a role in the accident. The FAA's mission is to "provide the safest, most efficient aerospace system in the world", and by assisting with the development of regulations and policy, the Office of Aviation Safety helps ensure that's the case.
As part of CAMI, the lab also supports the mission of the FAA by conducting research on, for example, the incidence of drugs found in post-mortem specimens, and by developing new and innovative ways to perform toxicological analyses. Research programs at CAMI are designed to stay up-to-date with human safety risk issues and to promote collaborative scientific discovery within aerospace medical research.
We employ a range of analytical extraction methods: liquid-liquid extraction, solid phase extraction, immunoassay, and headspace analysis. And we typically couple these extractions with gas chromatography-mass spectrometry (GC-MS) and liquid chromatography-mass spectrometry (LC-MS). Our aim is to detect a wide variety of substances, including controlled substances (methamphetamine, cocaine, and tetrahydrocannabinol), prescription medications, over-the-counter medications, and ethanol, that were in someone's body at the time of a plane crash.
No analytical field is without its challenges, and many faced by our lab are similar to other post-mortem forensic toxicology labs. We may receive highly putrefied samples that make extraction techniques difficult or, because of the violent nature of the accident, we may only receive tiny biological specimens on which to perform analyses. However, there are unique aspects to aviation cases; our job is to detect and quantify levels of drugs that are generally in the therapeutic range − whereas a Medical Examiner's Office toxicology lab often detects and quantifies high levels of drugs in potential overdose cases. To accomplish this low detection requirement, our lab must use the most sensitive chemical techniques and instrumentation possible. And, of course, it's imperative that we regularly research new methods to enhance our analytical capabilities. I have already seen a shift in the analytical instruments used; 15 years ago, almost all of our methods were based on GC-MS, but now more methods are being developed for LC-MS.
In the last decade, the forensic toxicology community has had to react to the introduction and surge in usage of synthetic cannabinoids and novel psychoactive substances. Because these substances are new and ever-changing, forensic laboratories have to continually develop and validate methods that can detect them. I would like to see more of these methods developed – and more case reports published – so that forensic toxicologists can understand the pharmacology and toxicology of these substances.
Forensic toxicology is one piece to the forensic puzzle − and may sometimes be the key. At the FAA, forensic toxicology may help investigators in determining if any drug or substance played a role in the cause of the accident; at the Medical Examiner's Office, forensic toxicology may provide the answer as to the cause of death − which might help a grieving family understand what happened to their loved one. That's important to me.
My dad always told me to "find a passion, and not a profession" and after starting my career in forensic toxicology, I understood what he meant. People within the forensics field are diligent, detail-oriented, and good problem solvers. If I ever have a problem or need help with an issue in the lab, I can email people in other parts of the country and someone will offer a suggestion or idea that will help me. The nature of the cases that we handle means that this job is not for everyone, but, from the moment I started, I knew I would be in this field for the rest of my career.
Kacey Cliburn is Research Toxicologist at the Federal Aviation Administration, Oklahoma, USA.
The Science and Nothing But the Science, with Craig O'Connor
One Piece of the Puzzle, with Kacey Cliburn
Fly in the Face of Evidence, with Jennifer Rosati
Battling the Backlog, with Sarah Lum and Charlie Clark
Receive content, products, events as well as relevant industry updates from The Analytical Scientist and its sponsors.