Techniques & Tools
Gas Chromatography,
Liquid Chromatography,
Preparative/Process Chromatography
What's New in Chromatography?
New frontiers in environmental monitoring with ion chromatography, striking shale oil, and Sartorius' Novasep acquisition confirmed. We present the latest research and business chromatography news.
James Strachan | | Quick Read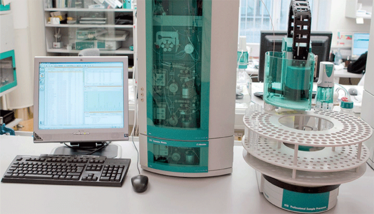 Cation Catching Combo. The concentration of ammonium cations (NH4+) cations in bodies of water is an important environmental indicator, as high levels of ammonium – often caused by industrial pollution or excess fertilizer – can cause toxic algal blooms. The two commonly used methods, ion chromatography and potentiometry, have their advantages and disadvantages – the former is quick and easy, but lacks the sensitivity of the latter. So researchers from Sweden and Portugal combined the two methods, creating a flow cell with space for three ion-selective electrodes coupled to an ion chromatography column. They found that the combination could detect ammonium ions in 10 environmental water samples at micromolar concentrations. Link

China Strikes Oil. The demand for oil shale is increasing in China as the country aims to move away from coal as part of its commitment to net zero emissions by 2060. In recent years, small amounts of oil shale have been found in the Nyima Basin, Central Tibet, which prompted a team of researchers from China to analyze geological rock samples from the area with GC-MS. The authors were able to demonstrate that the Nyima Basin has good potential for hydrocarbon extraction and production – with potential implications for China's energy strategy going forward. Link

Novasep Acquisition Confirmed. Sartorius has closed the acquisition of Novasep's chromatography division following approval by the US Federal Trade Commission. Novasep's portfolio comprises chromatography systems primarily suited for smaller biomolecules, such as oligonucleotides, peptides, and insulin, as well as systems for the continuous manufacturing of biologics; and employs approximately 100 people, the majority of whom work at its Pompey site in northern France but with some in the USA, China, and India. Link

From Ashes to Masses. Most of the smoke from wildfires consists of well-studied carbon particles. But much less is known about the other sulfate, potassium, and fine ash particles. In 2019, a NASA aircraft flew through smoke plumes produced by wildfires, which researchers from the US and Japan analyzed using ion chromatography and transmission electron microscopy. They found that the fine ash-bearing particles were mostly collections of calcium- and magnesium-containing compounds, and made up eight percent of smoke particles by number and five percent by mass. Experiments have shown that these chemicals can affect the climate by promoting the formation of both clouds and ice. Their effect on health is currently unknown – though they are small enough to enter the lungs. Link
In other news
Researchers from the Punjab Forensic Science Agency, Pakistan, uncover heroin hidden in a fabric coating with a modified GC-MS protocol. Link

Chromatography column provider Phenomenex celebrates the 40th year anniversary of its founding – beginning as a "small idea in a garage" in 1982. Link

China-based researchers combine "bubbling extraction" – a new sample pretreatment method – with GC-MS to successfully analyze volatile compounds in beer. Link

France-based researchers use UPLC-MS/MS to evaluate matrix effects in water samples from lakes and rivers, and describe strategies for minimizing them, in a bid to quantify steroid hormone pollution in surface water. Link
Image credits: Photo by Lars Ploughmann / CC BY Photo by Datamax / CC BY
Receive content, products, events as well as relevant industry updates from The Analytical Scientist and its sponsors.