Techniques & Tools
Gas Chromatography,
Liquid Chromatography,
Mass Spectrometry,
Translational Science
What's New in Chromatography?
Exhaled breath analysis for disease diagnosis, a step towards solving the neuron puzzle, and exploring what gives a truffle its unique aroma... We present the latest chromatography research.
Georgia Hulme | | 3 min read | News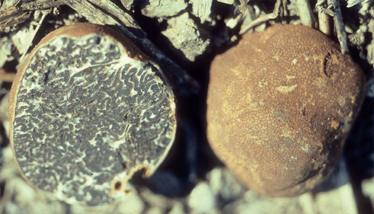 A new truffle in town?

Truffles: a scarce delicacy with a distinctive taste and even more distinct smell. So, what properties give the truffle its unique odor? Researchers from Laval University, Canada, investigated Tuber canaliculatum – also known as the North American Appalachian truffle – using headspace solid-phase microextraction paired with gas chromatography-mass spectrometry to identify the chemical fingerprint culpable for its aroma. Results showed 30 different compounds, including 2,4-dithiapentane, the main offender of the classic truffle oil scent. However, six compounds were unique to Tuber canaliculatum. The authors highlighted that this study may prompt further research into the species, in the hope that this North American gem will be commercialized and eventually share the same celebratory status as its fellow European cousins.
Deep breath

Exhaled breath analysis – less intrusive than blood or urine sampling – shows significant promise for disease diagnosis. But it has one problem: a distinct lack of standardized sampling and analysis procedures. A recent study examined the performance of two different comprehensive two-dimensional gas chromatography coupled to mass spectrometry platforms in different laboratories. Following the "Peppermint Initiative" – aiming to establish standards for breath analysis – guidelines, the participants were given a peppermint capsule, while the researchers followed a standardized workflow to collect exhaled breath samples at certain time points, monitoring selected peppermint metabolites. Both platforms enabled the longitudinal tracking of the peppermint oil metabolites in exhaled breath, and the increased sensitivity of comprehensive two-dimensional gas chromatography enabled the monitoring of 10 target compounds over a 6.5 hour period.
A piece of the neuron puzzle?

The evolutionary history of neurons has long puzzled scientists because their genetic and psychological properties remain largely ambiguous. Wanting to explore neuron evolution, scientists in Japan used LC-MS/MS to analyze short peptides belonging to different basal metazoans. Twenty-eight of these short peptides were extracted from sponges, comb jellyfish and cnidarians and their amino acid sequence translated. Results revealed some shared short neuropeptides but most significantly, both neurons showed similar proteins crucial for neuronal function. "We already know that cnidarian peptide-expressing neurons are homologous to those seen in more complex animals," said Hiroshi Watanabe, one of the authors of the study in the press release. "Now, comb jelly neurons have also been found to have a similar 'genetic signature'." This suggests that these neurons share the same evolutionary origin – as such, it's likely that neurons only evolved once.

Photo by Walt Sturgeon / CC BY
In other news…

Thin-layer chromatography method developed to improve size- and shape-selective separation of semiconductor nanoparticles known as quantum dots. Link
University of Texas at Arlington electrical engineering researcher, Yuze "Alice" Sun, receives $550,000 National Science Foundation (NSF) grant to develop portable, wearable chromatography device for rapid gas analysis that could detect illness immediately. Link

Gas chromatography-mass spectrometry reveals chiral monoterpene emission in plants fluctuates differently depending on stressful conditions – particularly drought. Link

Research using gas chromatography-mass spectrometry reveals that blending propanol with biodiesel can reduce polycyclic aromatic hydrocarbons (PAH) emissions, as well as improve engine performance and lower toxicity. Link

Liquid chromatography data-independent acquisition tandem mass spectrometry used to identify four potential biomarkers for high-grade serous ovarian cancer. Link
Receive content, products, events as well as relevant industry updates from The Analytical Scientist and its sponsors.