Business & Education
Gas Chromatography,
Business,
Education
The Show Must Go On?
No Riva. No Fort Worth. How do organizers – and attendees – feel about the loss of ISCC/GC×GC?
Lauren Robertson, Giorgia Purcaro, Philip Marriott, Luigi Mondello, Hans-Gerd Janssen, Tadeusz Górecki, Kevin Schug | | Longer Read
What makes the ISCC/GC×GC meetings so special?

Giorgia Purcaro: Riva and Fort Worth are the conferences with a capital "C" in the field of separation science. No other conferences have the same ability to gather together such high-level scientists in the area, from across academia, private companies, and institutions. Moreover, historically it has been the place where the most important advancements in the field of separation science have been disclosed and shared. It has always been a place of inspiration, and these meetings have seen the birth of many new ideas. The cozy and peaceful atmosphere allows you to completely disconnect from your daily routine and focus on separation science for a week!
Philip Marriott: As anyone who has decades of diligent ISCC/GC×GC participation will know, this conference was – and remains – synonymous with all the "breaking news" and technical innovations in capillary GC. This premier meeting on capillary separation technology has quickly become a must-attend for leading scientists and instrument manufacturers in the field. You can benefit from dedicated technology sessions, you can hear the latest research and technical innovations through lectures and posters, and you learn about emerging researchers and their research in keynote lectures. And it all happens in a most relaxing, pleasing, visually stunning, and gustatorily satisfying environment – especially when held in Italy.
Luigi Mondello: Riva, in particular, is a unique event – a conference where tradition meets innovation. You can begin to get a sense of the magic by listening to the way people speak about it. It is "the Riva event" first, and the ISCC and GC×GC conference second. In Riva del Garda, amongst such beautiful surroundings, we create a special atmosphere where people feel like getting together for a whole week to talk about science and life. It is the right place for companies to present their products, for young scientists to meet experts, for delegates to promote international collaborations, exchange ideas and find new opportunities. And everything is accompanied by fine Italian food in a friendly and informal atmosphere!
Kevin Schug: Let me answer this from the stand-point of raising money from sponsors and vendors for the recent Fort Worth meeting – the lifeblood of the conference. I have never considered ISCC and GC×GC to be one of those meetings where vendors leave with a huge wad of new leads in hand. And that is often a difficult measuring stick for some companies to set aside. However, here you have gathered, year-after-year, the great thought leaders in separation science. And, they are right there – accessible and available for interaction, with no place to run and hide. I think the size of the conference (around 350 attendees in 2019) is perfect for some real meaningful and personal interactions.
Tadeusz Gorecki: For the longest time, this has been the most important conference for me. I attended it for the first time in 1991, and have done everything I could not to miss it since. After I moved to Canada, I also started attending the North American branch of the conference.
Riva has always been special. The unique combination of the perfect location, the great scientific minds converging there and the fantastic social program was truly unbeatable. The only issue was that it was exhausting – there were just too many exciting things happening at once; by the end of day four, I would dream about getting some rest! The North American ISCC has always been a somewhat more muted affair, especially when it was changing its home every two years. Still, it gave me the opportunity to meet a different group of participants with fresh ideas.
Hans-Gerd Janssen: I've always found the Riva and Fort Worth meetings to be inspiration points. You see the ideas of others, and although these might not be directly applicable to your situation, new lines of thought can arise from these interactions. Inspiration also comes from the challenging discussions with fellow scientists in the lecture rooms, viewing the posters, in the corridors, and at the social events. The meetings also show you which groups to monitor in literature for the next year.

What about the importance of this conference to students?

Giorgia: As a student, Riva was the place where I found my inspiration and passion for chromatography. I also began to feel part of the family. I think the Riva/Fort Worth meeting has a fundamental role in motivating young scientists by showing them the potential of what they can achieve and what limits they can surpass.
Philip: I have brought a good number of – very thankful – research students to Riva, and to its US counterpart. Perhaps my enthusiasm for Riva is contagious, but they all invariably exhibit an air of great anticipation and excitement – it becomes all-consuming discussion in the office. One student prepared a long list of all the "famous" scientists she wanted to talk to – meeting them all, she was overwhelmed by their approachability and their generosity with time and advice. For most, this was their first conference, and the sheer "density" of the program made for an exhausting experience. But come Friday, we've always found the extra energy to tackle the chapel hike!
Luigi: This conference always offers great opportunities for students. Every year, many fellowships give young scientists the chance to attend the conference at zero cost. In addition, reduced registration fees have always attracted young scientists from every part of the world. For them, Riva is a big amusement park, where they can take an active part in the event.
Kevin: For students and other early-career scientists and professors, there is a real opportunity to connect with, rub elbows with, and even have a drink or share a meal with renowned international leaders in separation science.
Tadeusz: I often had the feeling that my students benefited from ISCC conferences even more than me. They all loved them and were extremely excited about everything that was happening. The chance to see and listen to the great scientists they knew only from papers was invaluable for them. They also got a chance to hone their skills as presenters in front of a demanding but always friendly audience. Finally, they loved the exhibition and the interactions with instrument companies. Being able to see and touch the latest and greatest toys was the cherry on the cake.

What's the importance of social interaction/ networking at these events?

Giorgia: Social interaction is the most important aspect of a conference for brainstorming and inspiration. This is where you can have true peer-discussion and advancement, not only between academia but also with instrument companies. The face-to-face discussions in front of an instrument with real data are an important moment of exchange and enrichment for both sides.
Moreover, Riva and Fort Worth are full of social events that constantly stimulate networking in a relaxing and friendly environment. Despite the number of attendees, participation always reminds me of a family reunion… And each time, we return home with some new friends to contact for the next project and some new ideas to try as soon as possible in the lab! These feelings are irreplaceable.
Philip: Many of the scientific problems that we tackle these days require collaborative efforts between laboratories. In-person conferences offer a setting where these interlaboratory exchanges can be initiated during a coffee break, an impromptu dinner, or a conversation during a sponsored social event. Some delegates find that even the shuttle journeys – Milan-to-Riva and sometimes the bus from Verona – become an opportunity to renew acquaintances, meet new fellow travelers, engage in discussions, and perhaps do a spot of mentoring.
Hans-Gerd: Social events for me are about building and maintaining personal relations. You don't necessarily exchange information, but you build relationships with others. Later, when back in the lab, it is then much easier to contact these people and ask them for a favor. And the likelihood they will help you is much higher if you had a nice evening with them!
A word from the organizers

Luigi Mondello and Kevin Schug offer their perspective on canceling the Riva/Fort Worth conferences – and the lessons learned

What's the real impact of having to cancel the meetings?
Luigi: The Riva conference requires more than a year of preparations for organizers, vendors, and delegates to make all the necessary arrangements – such as hotel and travel arrangements, scientific and social programs, exhibitions, and vendors sessions. The pandemic in Europe started in Northern Italy, with the first "red zone" very close to Riva. At that time (early March 2020) almost everything was ready for Riva2020. We took a few days to discuss and find the right solution – should we move Riva to later in 2020, postpone one year, cancel the event? It was not easy at that time, because the course of the pandemic was unpredictable. Finally, on April 1, 2020 we announced the cancellation. Today, one year later, I am sure that it was the right decision both for the safety of all the participants, and for the serenity of the organizers, despite the fact it cost us a lot in terms of work (pre- and post- cancellation) and money.
Kevin Schug: As the chairperson and organizer of the 2021 meeting in Fort Worth, now cancelled, the past year has been an emotional roller coaster. Of course, we first lamented the cancellation of the 2020 meeting in Riva. Our thoughts continue to go out to our Italian friends for their losses, both personal and otherwise, as a result of this pandemic. It's now a year since that cancellation was announced, and we felt it would be likely that the US meeting in 2021 could bring a reunion of the international separations community. We had plans to expand the conference scope. Our local organizing committee had brainstormed some new opportunities to entice new attendees. We even had some sponsors chomping at the bit to get back to an in-person event. Alas, as 2020 came to an end, it became quickly apparent that convening an international meeting, even in late spring 2021, would not be possible. Unfortunately, we now have even more uncertainty, as there are currently no future plans for reconvening ISCC and GC×GC… However, I believe that will rapidly change as we move out of the fog of this pandemic.

What are the lessons learned from this experience?
Luigi: For all of us, the pandemic was unexpected and certainly changed our lives. Organizing the Riva conference has been a big challenge every time – I've been doing it since 2012. Every time it has been even more complex to attract money and people, due to the increasing number of events competing with Riva all around the world. I truly believe canceling Riva2020 was the correct decision. Riva is Riva and cannot be adapted into a series of webinars or an online event.
Kevin: Thinking on this from the organizer's side, I will be blunt: having a member of our scientific community take on significant personal liability for the financial success of a conference is not a model that will work going forward, in my opinion. I do not plan to put my name on another such contract, especially given the legal consultations we had to endure to invoke a force majeure cancellation for the 2021 meeting. I would suggest that a society of some kind needs to be formed to oversee the annual organization of the conference and to serve as the financial back-stop for the meeting. The model very successfully propagated by the American Society for Mass Spectrometry would be one to emulate, in my opinion.
What – in your view – would be the impact of the ISCC/GC×GC conferences ceasing to exist?

Giorgia: I don't want even to think about a future without the Riva and Fort Worth Conferences. As I mentioned, I think it is the only place where all the experts in separation science are gathered together and where you can see the potential of techniques despite the specific application. Riva/Fort Worth conferences are the places where you imagine the unimaginable, where you see the instruments pushed beyond their limits, where you learn at each lecture, where you get to know the authors that have inspired and driven your work so far.
Philip: Importantly for me, Riva was the place I first hit upon the idea of cryogenic modulation – in a lecture by Hans-Gerd Janssen on the topic of large volume injection in GC. I can't imagine the thought processes that led to the idea, but I am a firm believer that if you attend conferences with the right attitude, an open mind that's willing to think laterally, and soak up the energy, then this might transform the next years of your research. It would be a shame to see this opportunity gone.
Luigi: ISCC and GC×GC have a long history of successful events, year after year. This is because there is no other conference series that includes all the same elements – it's completely unique. Therefore, I sincerely hope the pandemic has only temporarily stopped such a great event, and that it will be planned again, in full safety, by people that truly loved it – the "Riva conference lovers."
Tadeusz: It would be tragic if the ISCC/GC×GC conference ceased to exist. The conference is truly unique, and I really cannot see any viable alternatives. No virtual meetings or webinars will ever be able to recreate the unique atmosphere and energy of the conference. There is no replacement for heated discussions with fellow scientists over a glass of wine. Hopefully, other meetings will step in to fill the void, in the unlikely case that we aren't able to meet again in Riva/ Fort Worth. One possible example could be HTC: it takes place in an attractive historical location (Ghent) and gathers many of the same scientists. Belgium is famous for its beers and chocolate, so there is potential. Unfortunately, Ghent in winter is definitely not as welcoming as Riva del Garda in late spring…
Hans-Gerd: Surviving a year without a conference is possible. I had to do that before when my company introduced travel bans for financial reasons. But if you are no longer exposed to the high level discussions at a conference, at some point you will be trapped in your own limited creativity. Literature complements discussions, but does not replace them.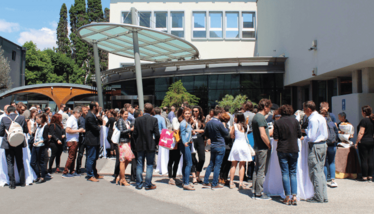 What are we missing by not having events like this in-person?

Giorgia: The truly inspiring moments of these conferences come about when you are chatting about a project with a glass of good wine – this is when the real brainstorming (without filters!) begins. We are indeed missing the feelings, the sensations, and the actual feed for creativity!
Philip: GC×GC is a rapidly moving target. Technical innovations crop up in many ways, and applications will always be extended and challenged to apply GC×GC in new areas. I am a great believer in the ingenuity of researchers/ students to move with the times, but feel that in the absence of face-to-face meetings, there will be a perceptible shift in the pace of technical transfer and innovation. However, I have no firm evidence. All I know is that some of my own key innovations probably would never have happened without the face-to-face meeting. Our most recent publication started with the attendance of a company researcher at my talk, and then a follow-up chat. This eventually led to a publication and what we believe is a potential new research initiative.
Luigi: ISCC/GC×GC is a 360° event. Riva is the perfect place to get people together all day… and also at night. We are missing the "added value" of an informal discussion by the lake or around a table with good Italian food or simply a cup of coffee.
Hans-Gerd: Virtual conferences and webinars are good, but I don't think they can fully replace regular meetings. The lectures are not the problem, it is the posters, the instrument shows and the discussions with the manufacturers that you have there that are difficult to replace. I have the contacts within the field, but for the emerging leaders and youngsters, real meetings are crucial to build their network.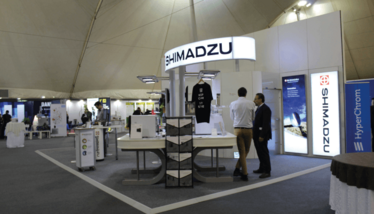 What are your thoughts on virtual conferences as an alternative?

Giorgia: I acknowledge that, in the beginning, virtual meetings seemed a good alternative – but they have become so easy to organize and increased in frequency so much that it has become impossible to follow them properly. They also don't have the same efficiency – they are limited, there is always another meeting waiting for you, there is always another task that it is occupying your mind. Being in a conference, far from your office, you can leave everything else behind and take the time to fully focus.
However, virtual events have opened up some nice new opportunities. Attending is obviously simpler – which is a big plus for students and smaller research groups with a limited budget, and means these events can reach a wider audience. Short workshops or webinars of a couple of presentations have also gained popularity and are a very effective way to guarantee dissemination of information.
Luigi: For all the reasons that have already been mentioned, I do not believe the Riva conference can be replicated as a virtual meeting. We have to wait until we are able to plan an in-person event that will celebrate science in the same way. I truly hope this opportunity will come soon. Of course, we have been very lucky to have online platforms that give us the possibility to have meetings and conferences that continue our research activities.
Kevin: I attend conferences as much for the social interaction and "catching up" as I do for the scientific content. I do not think that experience can be well replicated in a virtual environment. I believe that much of the success I have had working with different companies has come from interactions forged and strengthened through personal interactions at conferences like ISCC and GC×GC. Even now, as I work to develop new relationships with new partners, the virtual medium proves to be more difficult. Perhaps there is so much happening in the virtual space, some communications get lost in the noise.
Hans-Gerd: Webinars are a very good alternative for information exchange, and it is easier to skip a lecture that you find less interesting. What is missing from virtual events is the interaction with the speaker, the ability to ask questions, to give suggestions. Actually, I think the fact that you can easily move away from a not-so-interesting lecture is detrimental for creativity. In a lecture room, you start to think about your situation with certain aspects of the lecture in the back of your mind. Unintentionally – and without noticing it – the lecture will inspire you. There is nothing else to do in the room other than think!
Also, posters for me are a very important aspect of a scientific meeting. In a typical Riva meeting you can maybe attend 40 lectures, but you can easily see 500 or more posters. And posters are intended to stimulate discussion. For me, the weakest point of virtual meetings is the difficulty of seeing posters. I have seen several options for virtual poster presentations. Alas, none of them really worked. The best is the 3 minute poster presentation backed-up by a digital copy of the poster, but it's still impossible to sit through 500 posters of 3 minutes each.
A word from the instrument manufacturers

Ralf Loescher (LECO) and Björn Thoralf Erxleben (Shimadzu) give us their perspective on the impact of conference cancellations

What is the importance of these conferences to you?
Ralf: The ISCC/GC×GC symposia are seen as something to look forward to by so many scientists from across the world. Traditionally, it could be said that this was a community, and there has been a closely knit association of specialists from both academia and industry sharing a common aim to develop new and deploy best practices to further capabilities, which translate to real life measurements benefits. These events have allowed a group of revered experts to take the stage alongside many aspiring scientists – and for new ideas to be shared and refined in a forum of experience, insight, and innovation. It is definitely true that the mix of the eagerly anticipated social agenda alongside high-class scientific content has equally been a catalyst for momentum in analytical research and development as well as instrument sales and product development.
Björn: At these events, attendees get direct contact and communication with scientists about their direction, wishes, and recommendation for future development. They also provide sales leads and firsthand information about trends in the market. Finally, they are a good forum to listen to a bigger group of researchers.

What do you miss by not attending these conferences?
Björn: ISCC has, for years, been a place for both scientific sessions and social interactions. It was always a good opportunity to meet all the people working in this field – to talk to the opinion leaders in comprehensive chromatography and show new developments suited for such applications. Posters and oral presentations gave an idea of the latest work and potential of different techniques.
Ralf: The COVID-19 crisis has been hard in general for so many, but speaking purely with regards to this community, who do so much look forward to participating, it's worth remembering that there's a reason why; the feelings and atmosphere experienced is special. Not just because of the joy of coming together but because of what it leads to. There's nothing better than real, in-person interactions and exchanging ideas, which always lead to inspiration and learning that drives science and can contribute to making the world a better place.

From your perspective, can virtual events replace in-person ones?
Björn: For an instrument vendor, web conferences and webinars offer less (or nearly no) place to get in dialogue with scientists and present instrumentation and new developments. You also miss the feedback you get from meetings at the booth. On a more positive note, recorded sessions can be watched afterwards with no issue around parallel sessions or missed presentations due to meetings.
Social interaction, open exchange of thoughts, and relationships with scientists are all important because any input about new ideas, trends and "wishes," as well as science-driven "small talk," decreases the distance between researchers and industry. It is somewhat difficult to quantify the impact, but future development at the industry level needs such social interaction as a source of new ideas. Where else is there a chance to meet opinion leaders that mainly work with competitors?

What are your thoughts on the future of such events?
Björn: I think conferences will take place again in person after this situation passes, but whether the size and spending will be the same is questionable. Online conferences have established and improved during last year, so I'm sure there is a place for them in future. It might be that we will see a kind of hybrid event in future: a classic conference with online capabilities. It's difficult to say how much this may impact the total number of participants, but it will. For online conferences, there should be a discussion of how we can better include industry instead of just being a sponsor.
Ralf: In future, we will definitely do things differently, but the blend of possibilities in terms of how we interact could be more powerful based on how we've adapted during the COVID-19 crisis.

At LECO, the use of online meetings, which have now become routine, has also led to a strengthening of the interactions and collaborations between our internal employees globally and also with our partners and customers. We see that real benefits can be achieved in future by mixing the online activities with those vital personal meetings. It can only improve communication!

By blending the interaction of those able to travel and attend in person, together with many more enthusiasts in other locations remotely at the same time, the community will certainly grow and get stronger.
What do you foresee for the future of such events?

Giorgia: Although I think the physical conferences are irreplaceable, I think we will see an increase in the organization of virtual events. Most probably, these will be hybrid situations where a few sessions are made virtual to reach a broader audience or to guarantee the participation of authors with travel constraints. Still, nothing will be able to fully replace a physical presence at conferences.
Philip: GC×GC has a vibrant, enthusiastic and committed community who will demand – in the nicest possible way – that the meeting continues to serve the needs of the users who surely are still fascinated by the power, beauty and utility of the method. We hope that the best days of GC×GC are still to come!
But who knows in what form this will be. We cannot accept a no-conference future. But maybe face-to-face conferences will become a part of a new mix of online offerings, including other avenues of information transfer. A 'hybrid' model allowing online attendees to participate in some manner in a face-to-face meeting may be a way of meeting the desire of an in-person meeting for some, with the lower costs and maybe convenience of the virtual environment. Making this attractive but not destroying the budget of a conference (for example, if too many opt for virtual) will require some careful planning. Moving forward, there might be a need to have discussions between industry and academic institutions to develop a new model of conferences that provides benefits to companies and researchers – and their institutions.
Luigi: ISCC is a well-established event, with more than 40 successful editions. The Symposium began in Hindelang, Germany, in 1975, chaired by Rudolf E Kaiser, and was moved to Riva del Garda in 1983, under the chair of Pat Sandra. Pat greatly contributed to the growth and success of this symposium, increasing its popularity and international character, and introducing non-EU editions (Japan and USA) from 1986. Since 2006, ISCC has been merged with GC×GC, due to the increasing popularity of comprehensive GC and the common interests of many ISCC attendees. Due to the high level of the scientific program, the importance of the topics, and the way the conference is organized – I can imagine that the conference will soon return to an in-person event on the shore of Riva del Garda again.
Kevin: I see ISCC and GC×GC as the premier conference for GC, in general, and for multidimensional separations. Of course, there is so much more, but I feel that these areas are not as adequately emphasized at other meetings. It would be a shame for the conference series to falter, especially as the popularity of multidimensional separations is on the rise. But, the crystal ball is still too hazy. I expect we will have more clarity as we get to the end of 2021, and I expect that ISCC and GC×GC will return in-person, in some form, sometime, and somewhere.
Tadeusz: I might be old school, but I cannot imagine science without real conferences. Virtual meetings have their merits, especially for people who cannot travel for one reason or another, but they are no replacement for face-to-face meetings. Social interactions over Zoom are not the same as real-life interactions, as we have all painfully learned during the pandemic. I am pretty sure that there will be some virtual component to future conferences to gain a broader audience, but I am convinced that real conferences will make a quick comeback as soon as the COVID situation improves sufficiently.
Hans-Gerd: The field of capillary chromatography is too important not to have meetings any more. There are still many issues to solve in the field, and doing that will require the combination of creative minds, which is most readily obtained via in-person meetings. For me, it is back to the old system, but with parallel virtual broadcasting to combine the best of both worlds, reduce the environmental impact of travel, save time, and expand the target audience. This is the time for new ideas, building on the good aspects of the past, improving the shortcomings, and using new technologies.
Receive content, products, events as well as relevant industry updates from The Analytical Scientist and its sponsors.
---
---
---
---
---
---