Deirdre Cabooter
The Power List 2018
---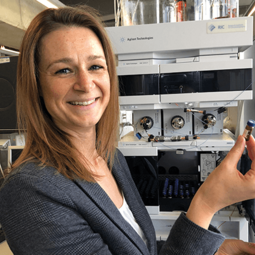 Deirdre Cabooter
Associate Professor, Department of Pharmaceutical and Pharmacological Sciences, University of Leuven (KU Leuven), Leuven, Belgium.
Research
We are looking into new ways to rationalize and automate liquid chromatographic method optimization for complex samples by developing new software and hardware tools. Plus, together with Gert Desmet, we continue our work on trying to better understand mass transfer phenomena in liquid chromatography.
Greatest achievement
I'm grateful to have been given a permanent position at the University of Leuven, giving me the space, tranquility and freedom to explore new research ideas. I'm also very proud of my current research group, consisting of smart, enthusiastic people that work together in a very constructive way.
Scientific hero
Gert Desmet, who is my mentor, my friend and my greatest source of inspiration. He is incredibly intelligent, extremely dedicated and one of the most original analytical scientists I know.
Advice
Work hard, be persistent and don't give up too easily! Take every opportunity you can to learn, and collaborate to expand your horizons.
---