Francesco Cacciola
The Power List 2018
---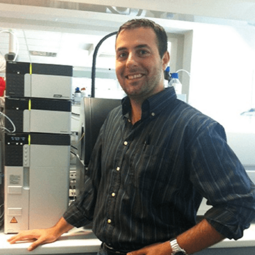 Francesco Cacciola
Associate Professor of Food Chemistry, Department BIOMORF, University of Messina, Italy.
Research
The application of innovative analytical techniques, in particular comprehensive two-dimensional liquid chromatography, for the characterization of bioactive molecules in food and natural products.
Greatest achievement
The successful development of comprehensive two-dimensional liquid chromatography by using reversed phase in both separation systems for the characterization of food bioactive polyphenolic compounds.
Scientific heroes
Luigi Mondello and Paola Dugo, my mentors and former promoters, who introduced me to the world of chromatography with great enthusiasm. Plus, Pavel Jandera, an extraordinary scientist and my official supervisor when I started my PhD at the University of Pardubice, who pioneered 2D-LC separations of polyphenols in wine and beer.
Objective
To keep pushing forward with the application of 2D-LC separations in the field of food and natural products analysis with the aim of sharing my enthusiasm and passion for research with young researchers.
Nominator comment:"Cacciola is an outstanding researcher in the field of comprehensive two-dimensional liquid chromatography. His findings have enabled significant evolution in the field, especially in food analysis."
---