James Grinias
The Power List 2018
---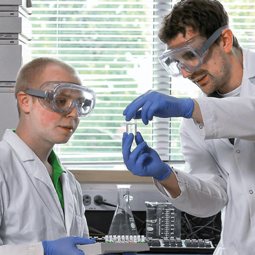 James Grinias
Assistant Professor, Department of Chemistry & Biochemistry, Rowan University, Glassboro, New Jersey, USA.
Early inspiration
As an undergraduate student, I planned on being a physician. I was lucky enough to be recruited to do research with an analytical faculty member (Heather Holmes) on a fundamental GC project, and I fell in love with the field of chromatography. I haven't looked back since!
Research
My lab has several separations-focused projects that revolve around the theme of "reduction": reducing the size and cost of instrumentation, reducing cycle time and generated waste of analytical methods, and reducing hurdles for new practitioners to learn about analytical chemistry.
Scientific heroes
There are far too many former mentors and colleagues to name just one or two. However, when I look at the authors on my book shelf, I realize how much all of us owe to many giants in the field, such as Giddings, Horváth, Kirkland, Snyder, Dolan and Neue.
Advice
Never stop trying. Research is often difficult when you are trying to make a new observation or discovery, but it makes the eventual success that much more satisfying.
Nominator comment:"Jim trained with two chromatography legends and is now independently successful, securing grants from the NIH and ACS (impressive for a new professor)."
---