Livia S. Eberlin
The Power List 2018
---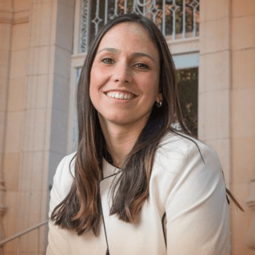 Livia S. Eberlin
Assistant Professor, Department of Chemistry, University of Texas at Austin, Texas, USA.
Early inspiration
I am passionate about developing new technologies that can directly impact and improve human health! Being a scientist in academia gives me the freedom needed to pursue creative research ideas with other incredible scientists and collaborators.
Scientific heroes
My PhD adviser, R. Graham Cooks. He has made immense contributions to mass spectrometry and in the process has mentored and trained an army of mass spectrometrists!
Advice
Recognize your strengths and weaknesses, professionally and personally. Use your strengths to build your career and help others, and surround yourself with people and resources that help counteract your weaknesses.
Nominator comment:"I believe Eberlin is unique among the many talented analytical chemists, specifically mass spectrometrists, under the age of 40. In her short career, she has worked on medically related topics with the aim of improving medical decisions via molecular measurements. Her work (and that of her lab) is exemplified in the development of the MasSpec Pen for intraoperative cancer diagnosis."
---